Food Service Employees Face Problems Under Chartwells
Though new dining options may be the talk of the school as Seattle University transitions from Bon Appétit to Chartwells, many employees working for the university's food service have been concerned with more ominous problems. They've reported partial paychecks, excessive hours, and unresponsive management.
Two employees, who wish to remain anonymous, reported that their biggest concern with Chartwells was the lack of products and tools they needed to effectively do their jobs.
"What's changed about our work is we no longer have the tools we need, so we're constantly lacking products," one of the sources said. "Often times we're missing food: grab and go, salads, we're missing coffee. And our job is to sell and interact with customers who tend to not understand why we we're constantly out."
They said that they never experienced shortages of this scale when with Bon Appétit.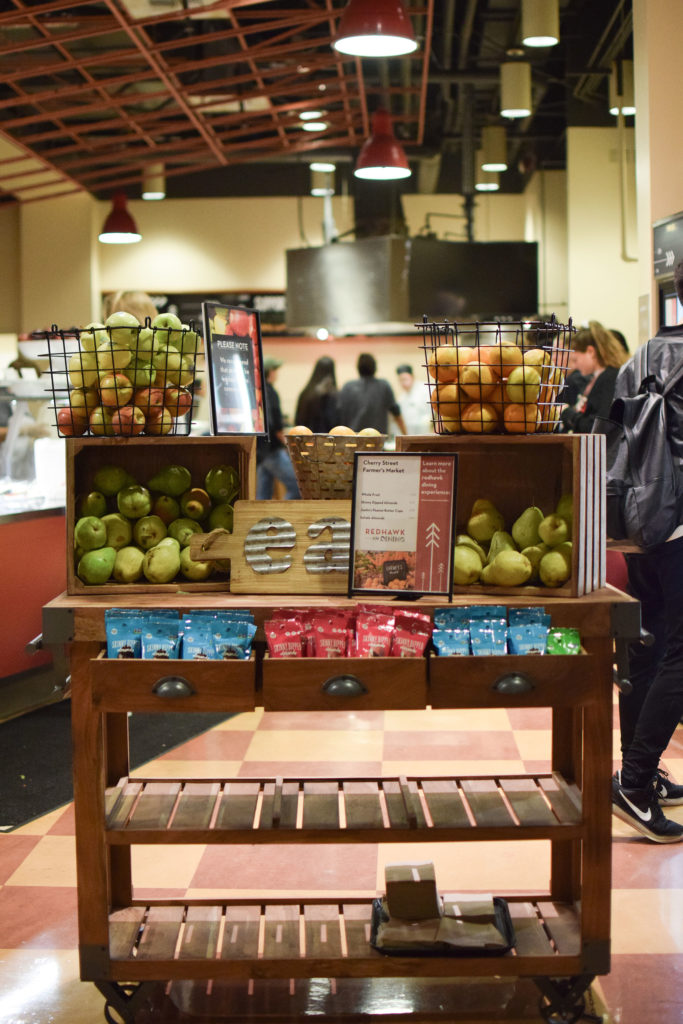 Chartwells took over food service during the summer of 2018, replacing Bon Appetite as SU's primary caterer.
Shelley Strayer, Resident District Manager, said that they are still in a transition process, and that they are learning about trends specific to Seattle U's food environment.
"It's just a matter of being able to understand that rhythm of business and get that historical data behind us, which takes more than two weeks," she said.
Another issue employees have with Chartwells is getting paid in a timely manner. One of the anonymous employees explained that ever since the company transitioned into Seattle U, there has been no consistency in getting paid. Further, when they do get paid, it's often an incorrect amount.
"Last week I got paid most of my check nine days late, and eventually they paid me in cash," one of the sources said.
They continued, explaining that the issue was widespread among employees. Multiple other employees have yet to receive a paycheck for their latest pay cycle.
The concern is that Chartwells has been part of Seattle U for three full months, and things that should have been set up immediately—such as payroll—are still incomplete.
"We're entering the fourth month now. We shouldn't be having issues with not being paid on time. Our rent and our bills don't wait," the employee said.
These problems have caused a large number of employees to quit their jobs. For many people, the inconsistency with their pay was the last straw. They cite that they are unable to communicate with management because of their unresponsiveness.
This issue doesn't stop with the non-student employees. Student employees are also having similar issues in regards to communicating with management and receiving their paychecks. According to a student employee, who also wishes to be anonymous, they have yet to receive their first paycheck since coming back from summer.
"I didn't get paid," they said. "I don't know what's going on. I've been able to clock in and clock out; it should be on the payroll."
After the employees recognized that their payroll was not being processed and that it was delaying their paychecks, they attempted to reach out to the management team. Many employees have tried to speak to Melissa Flood, the Retail Director at Chartwells, but without resolution.
The student employee noted that they've seen a significant difference between the accessibility of management with Bon Appétit and Chartwells. With Bon Appétit, according to this employee, getting ahold of managers was simple, and they were always willing to assist at locations.
"We never hesitated to call them, and they were super easy to get a hold of, for the most part. Sometimes emails didn't get responded to but if you texted them or called them, you'd always get a response."
Strayer assures employees that the problems with their pay have been resolved and urged them to contact management if it is still occurring. She expressed that she understood the severity of their concerns.
"I believe that I am very responsive to employee concerns when they're brought to my attention," Strayer said. "I address them immediately and make sure that we work through resolution."
The student employee said that now, the correspondence with management is nonexistent, especially when bringing up concerns about work hours for students. In fact, they claim Chartwells expects students to work full-time shifts.
This student employee currently works four days a week, working eight hour shifts. They explained that every location is understaffed and that employees have no choice but to overwork themselves.
Despite all the employee concerns, they shared the general consensus of desiring the success of Chartwells at Seattle U.
"We have our frustrations with this company. We were very angry and upset to a large extent, but we don't want this company to fail," an employee said. "Not only do we care about the students here and making sure they are well fed and taken care of, but our jobs also depend on this company succeeding."
Asma may be reached at
[email protected]
Leave a Comment