Throughout the city of Seattle, the word "Amazon" seems to echo down the streets, up the Space Needle, over the Sound and into every sparkling window of every shimmering skyscraper. Hosting the world's fourth-most valuable company is no easy feat for the Emerald City, and on Wednesday night KUOW hosted the first session of the "That's Debatable" series called, "Is Amazon good for Seattle?"
The debate was co-produced by KUOW's Lisa Wang, Zaki Hamid and Ross Reynolds, who also moderated the event.
The team arguing that "Amazon is good" included Maud Daudon, the previous CEO of the Seattle Metropolitan Chamber of Commerce, and Marilyn Strickland, the former mayor of Tacoma.
On the "Amazon isn't Good" side was Urban Planner Cary Moon and Attorney Nikkita Oliver. Both Moon and Oliver are former mayoral candidates from Seattle's 2017
general election.
The debate began with polls in which audience members voted by texting in their answers. The live feed was broadcasted on the big screen to display the answers to questions like "Are you an Amazon Prime member?" to which 77 percent of the audience answered "Yes." The polls also showed that 17 percent of the audience worked at Amazon and that "growth" and "gentrification" were the most popular words that came to mind in thinking of the corporate behemoth.
---
Ross Reynolds (center) moderated KUOW's debate, "Is Amazon Good for Seattle" with panelists Maud Daudon, Marilyn Strickland, Nikkita Oliver, and Cary Moon (from left).
---
Despite the fact that more than three-fourths of the audience had Prime accounts, only 56 percent of the audience expressed that "Amazon is good for Seattle." Even Amazon's Alexa showed ambivalence in replying, "Sorry, I don't know that one."
One audience member, Andrew Tomes, had heard about the debate on the radio like many other attendees, and thought it would be interesting to hear other people's perspectives on Amazon. "I buy stuff on Prime and I don't really think about the effect Amazon has on the city," he said.
Daudon opened the debate by expressing, "This proposition of all-good or all-bad is a false premise. I'm hoping that we can dig a little deeper than that because it's always nuanced."
Throughout the debate, the panelists brought up popular points of debate, such as Amazon's funding and employment, the city's housing and homelessness crisis and advice for the future location of Amazon's second headquarters, which has yet to be announced.
Moon referenced the lack of transparency in Amazon's secret tax negotiations.
"A great city must provide excellent public infrastructure and everyone has to pay their fair share. This is a social contract—everybody pays everybody's benefits, including corporations," Moon said. She pointed to the evidence that school and transit funding suffers from these strains. "Amazon is not paying their fair share," Moon said.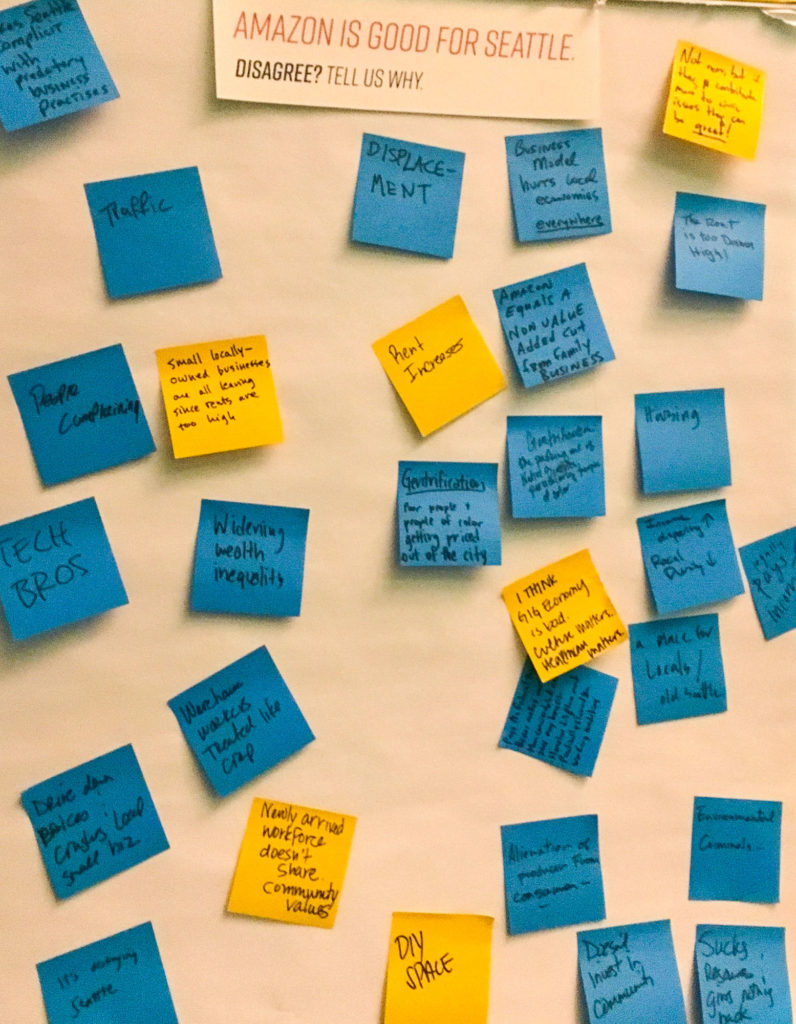 Attendees wrote on Post-It notes to express why they didn't think Amazon is good for Seattle.
In response, Daudon called upon the fact that for every dollar Amazon invested, it generated an additional 1.4 dollars for the city's economy overall. Strickland also mentioned that Amazon is one of the corporations that contributes to the $500 million budget allotted to the city's general fund that covers basic services such as the police, human and library services.
The opposition questioned Amazon's work outside of philanthropy to actively contribute to the city's goals of being a progressive city. Daudon referenced Amazon's warehouse program, Career Choice, through which the company is trying to advance people out of warehouse work and bring the community college system right into the warehouse.
They also mentioned various empty spaces on the company's properties that were transformed into homeless shelters, which housed hundreds of families, including 700 children. Amazon is also currently creating a permanent homeless shelter in their headquarters building.
Oliver countered the Career Choice program by providing the findings of their research in talking to warehouse workers and Amazon employees.
"We know that these fulfillment center have high turnover rates because the working conditions are poor, they pay less than $15 an hour and they don't provide benefits, so as a result, workers leave before their access to benefits even vest," Oliver said.
Lastly, the panelists were asked to give advice to the cities vying to host Amazon's second headquarters.
"Make sure you have a transportation system, make sure you have zoning in all your neighborhoods that can actually accommodate growth and don't protect and make multi-family housing illegal in most neighborhoods," Strickland said. "Learn from some of the things that Seattle maybe didn't get right so you can get it right."
In her closing statement, Oliver appealed to the audience.
"It's time that Seattle really be the progressive city that we say we want to be, and put regulations on corporations that build our city to achieving its goals. The brand of Seattle is not those corporations that were named. The brand of Seattle is…places that will be forever changed as gentrification displaces and pushes out people who make Seattle the city that it is."
After the deliverance of the panelists' closing statements, the initial question was asked again.
"Is Amazon good for Seattle?" The final survey concluded 50 percent "Yes," and 50 percent "No."
Elise may be reached at
[email protected]