On Pizza Week: Michaela Doubles Her Caloric Intake
My meals consisted of four different types of pizza this week, and it is a sacrifice I made so you don't have to. Seattle's first ever Pizza Week, started by Seattle newspaper, The Stranger, offered up specialty slices from 11 different restaurants—all at two dollars a pop.
The journey began just a few blocks from campus, at a small, rustic spot on the outskirts of the International District. Humble Pie, a small counter-order joint, stays true to the name. Humble Pie has been serving up pies since 2013, but Pizza Week had Humble Pie serving slices. According to Humble Pie employee Ben Viehoff this was an irregular move for the restaurant.. The inspiration behind the Pizza Week featured slice—The NW Fall Experience—draws from the passions of Humble Pie owner, Bryan Solazzi.
"We always do a fall forager pizza because the boss man Bryan loves foraging mushrooms," Viehoff said.
The NW Fall Experience pizza traded a traditional red sauce for a creamy squash sauce on a thin, soft crust that was crunchy where it mattered. This slice is vegetarian and features locally foraged mushrooms, sage and tender caramelized onions with patches of goat cheese splattered across each slice.
Viehoff is proud of how the slice was received during Pizza Week and how pizza week went in general.
"I think overall it was pretty good. We got a lot of different types of customers that came in, usually this is a family or date type of place," Viehoff said. "Pizza Week is mainly about creating more awareness about different pizza groups and pizzerias."
William Lim, a finance major, expressed his interest in Pizza Week. "I quite like the idea, it sounds good to have a themed week where pizza restaurants are cheap," Lim said. "I just wish the students were more aware of it capitalize on the opportunity."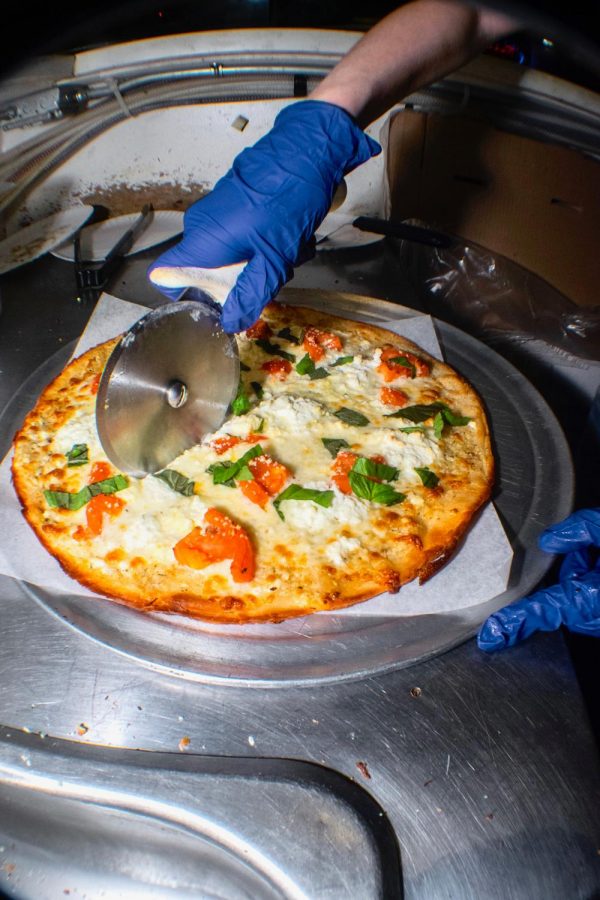 Echoing Viehoff, Lim also emphasized why an event like this is important. "So many of us are focused on schoolwork, athletics, family even that there's not enough time to get a look at some of the happenings around Seattle," Lim said. If a pizza week encourages a slowdown and some cheap pizza, I'm all for it."
The next place I ventured to was Lower Queen Anne favorite, dive bar, Ozzie's. This bar has a unique dining atmosphere that felt like it belonged in a small town. Small town feel but the pizza radiated big city energy. The plot twist for this pizza: cauliflower crust pizza. Ozzie's "Bacon Margherita on a Cauliflower Cloud Crust" had the classic margherita pizza components: tomatoes, mozzarella and basil, but it was not a classic margherita. The cauliflower crust was doughy and perfect in every way imaginable, complemented by the crispy bacon on a garlicesque sauce.
The Pizza Week cravings led me to Belltown Pizza. "You Had Me at Chanterelle" is another pizza featuring mushrooms, a great texture for the pizza. Belltown Pizza used a white cream base and burrata cheese, creating a particularly rich slice. However, the best part had to be the crust (I also just really love bread if you couldn't tell). This crust was by far the best one—it was pillowy and thin, and I could not put down.
Last stop was downtown at Andare Kitchen and Bar, located inside the Hyatt Regency Hotel. This was different because rather than one large slice, it was broken down into four bite-ish size slices. "Cloudy with a Chance of Meatballs" was the name, and flavorful sausage was the game.
Andare went for more of a traditional approach though, with red sauce and topped with mozzarella. The star of the pizza, the sausage, had a little spice to it, as it was made with Italian sausage along with veal and Uli sausage.
This crust was almost like a distant cousin to a flatbread, with a similar crunch but quite not as thin. This was a pizza that could be enjoyed by anybody, as it was not just a unique Seattle-like pizza.
Pizza week was a great way to try new flavors and just explore Seattle in general. No Capitol Hill pizzarias participated in this years' Pizza Week, which is disappointing given how many beloved spots for a slice there are on Capitol Hill.
Debongi Choudhuri, a math major, explained her love of pizza and how it is more than food.
"Pizza is something that creates community. I love to hang out with my friends and get pizza because it is easy to share, being close to so many options is nice on Cap Hill, too. I think [Pizza Week] is a cool way to discover new places that you normally wouldn't go to and I hope more events like this happen."
Michaela may be reached at [email protected]
Leave a Comment