Spooky Lit Crawl Brings Out Hordes of Writers
Packed rooms full of patrons occupied coffee shops, bars, bookstores and even glasses shops across Seattle on Thursday night for the love of literature. The Seattle Lit Crawl attracts writers, poets and general enthusiasts for all things writing to come out and spend their night walking—and in some cases stumbling, from event to event.
The Lit Crawl is a yearly event that attracts the literary community of the city and invites them to walk around, meet new people and drink. There were dozens of events this year in four categories: poetry, prose, party and ghosts—with each offering different experiences for attendees.
With many events slated each hour, each with a unique lineup of writers, it was impossible to go to every event. Kennedi Finnes, a second-year economics and environmental studies double major, attended the event and enjoyed the opportunity to get involved in the vibrant community.
"It's so crazy that this whole community is here. It definitely isn't something that I would have found out about without this event," Finnes said. "There are so many passionate people and the readings were just so interesting."
This year the event had an extra spooky theme different from years past that designated the types of readings that were performed during the crawl. With Halloween right around the corner, this was a perfect theme for those who wanted to get into the spirit of the season, and more ghostly reading populated the crawl than in years prior.
Some of these scary events included "Scary Stories to Tell in the Bar," which did exactly what the title implies. Not all of the events were directly related to the horror inspiration of the night, providing a wide range for audiences to choose, such as from parties to music.
Each event had a different title, like poetry reading "Haunted by Heartbreak" at Ollie Quinn or Winter in America reading at Bauhaus. These events, while not specifically tailored for a horror audience, included elements of the theme through loss, sorrow and addiction.
Anne Lui Kellor, a local writer and presenter of the "Haunted by Heartbreak," talked about what it is like writing for a theme and how these different events are connected. "Who isn't haunted by heartbreak? It's the stuff that really stabs at your soul," Kellor said. "When we were trying to come up with a theme for our reading, it just felt like a universal one that you could draw from, you can draw from the pain of relationships or just the disappointments of life in general."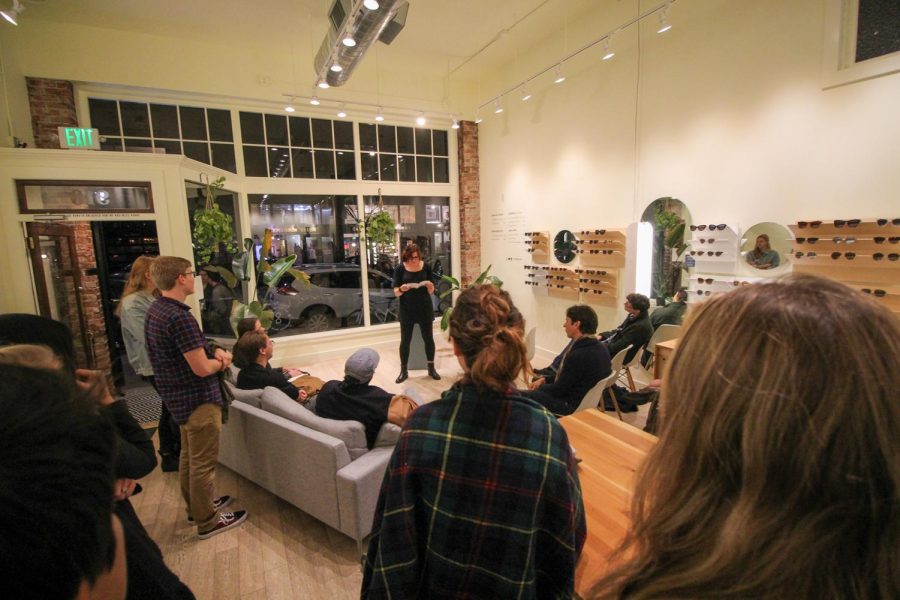 Lit Crawl is not only an event for spectators, but also a time for writers to meet up with each other and see old friends. Juan Carlos Reyes, a creative writing professor at Seattle University and reader at "Playing In the Dark: Works Inspired by Toni Morrison," enjoyed the camaraderie the night brought.
"It was really fun to read with friends, and to know we are all coming at this with the same spirit," Reyes said. "It's a great time to catch up with old friends, so many of us read at venues around town and see each other in passing, but it feels so good to be hopping around and supporting each other in a single night and catching up and being in each others presence."
Hosted through the Hugo House—a resource for Seattle writers who are looking to expand their craft through classes, workshops and fellowships—the event also has an after party for the tipsy writers and readers to attend after so that they can really get to know one another and celebrate another successful Lit Crawl.
The Hugo House offers a select number of scholarships to students who are looking to continue as writers. They also need volunteers to help run the project and events for those that want to get involved in the community. Hugo House also just opened up a new house in the summer of 2018 for writers right in the middle of Capitol Hill.
Many of the writers created stories and poems just for the event, but it is not the only literature event of the year. There are readings and workshops all over the city held by Hugo House and can be found on their website. Lit Crawl is a yearly event, so be sure to keep an eye out for the fun next year.
Logan may be reached at [email protected]
Leave a Comment