Crosscut Festival Returns to Seattle U for Second Year
Attendees from across the country came together at Seattle University this past weekend for the fourth annual Crosscut Festival. The event featured a diverse range of speakers including Macklemore, Seahawks wide receiver Doug Baldwin, New York Times columnists Thomas Edsall and Jamelle Bouie, and Washington Post investigative reporter Emma Brown.
The two day event saw these speakers and others talking about relevant issues in the world today and collaborating to curate ideas for how to approach and solve these situations. The first day of the event began with the Festival Convocation given by Eric Liu, the CEO of Citizen University.
Doug Baldwin, alongside Seattle artist Macklemore and moderator DeRay Mckesson (both not shown), disusses how he approaches advocating for social issues despite possible controversy from doing so.
Following his speech was the keynote, moderated by David Plotz of online travel magazine Atlas Obscura and speaker Janet Napolitano, the former Secretary of Homeland Security for the United States. Two book signings took place on May 3, and attendees were informed that they should plan out the sessions they wanted to attend through the Crosscut app to make the most of their time and attend as many sessions as possible.
Sessions and book signings took place all day Saturday, May 4. Sessions ranged in topics from "Is the News Broken?" to "Planting Seeds for STEM," "Has the Next Civil War Already Started?" and "WA To Do About Wildfires?"
Second-year Communications major Asa Twigg-Smith heard about the Crosscut Festival via email and chose to attend due to the large variety of speakers.
"I had never heard of the event before, but when I saw that there were going to be a lot of intellectuals who have helped in shaping our world today, I knew that I couldn't miss this opportunity," Twigg-Smith said.
Crosscut also made sure to provide easy access to food for attendees and had food trucks available in the morning in front of the Engineering building. There was also a large variety of food present in The Quad from 12:00 p.m. to 2:00 p.m. so that attendees could grab food in between sessions.
Seattle U student Graham Wielgos is a first-year political science and communications double major. He first saw an advertisement for the event at a Seattle U basketball game and thought it would be a great opportunity for him to see and listen to individuals that he admires in person. Wielgos volunteered with Crosscut to help facilitate the event and attended the sessions as a student.
"It was awesome to have Valerie Jarett who is someone from Chicago and is my hometown hero," Wielgos said. "She had awesome things to say and spoke on her journey from college to her career and it was very inspiring."
There was an opportunity for audience members to participate in the conversations taking place on stage by using a website called Slido. The individuals moderating each session would pick questions provided by the audience and ask these questions in the last ten minutes of each session.
---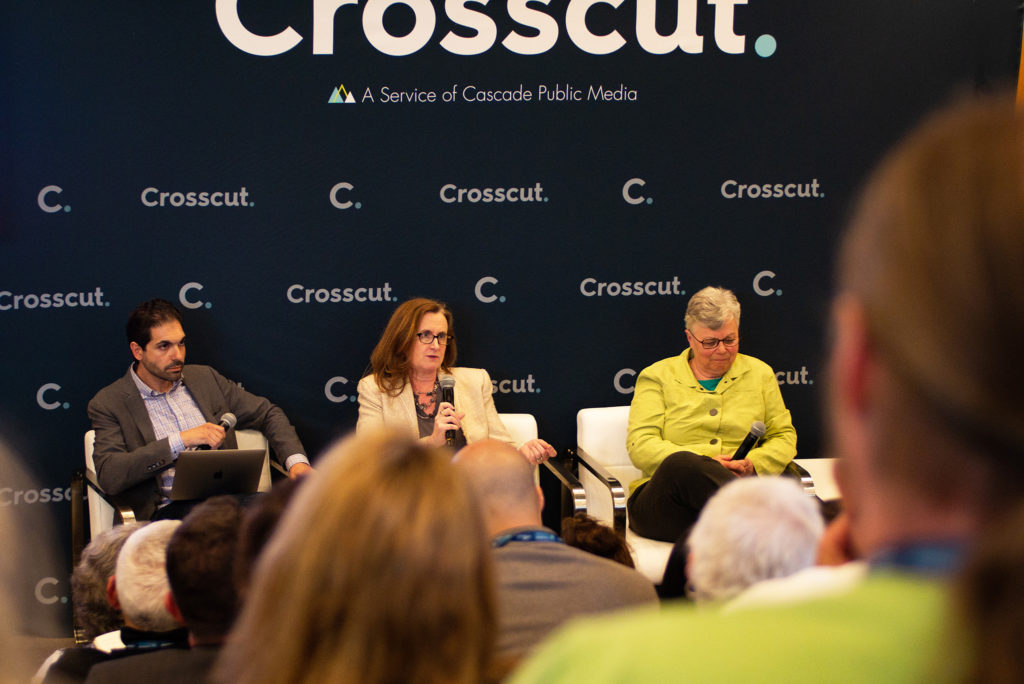 From left to right: Michael Camilleri, Jackie Miller, Connie G. Anthony, discuss the difficulties of democracy in areas of the world were harsh dictators rule.
---
Second-year Political Science and Philosophy major Emma Byrne attended Crosscut last year and believes the event is a great opportunity for students on campus, so she made sure to attend the event again this year.
"My favorite session was called '#Activism That Works'. It was smaller and took place in the Student Center and it was very interesting because of the great panelists who had natural conversations. They all focused on unique issues that overlapped and it was really cool," Byrne said.
Following the sessions on Saturday was an afterparty that took place at Optimism Brewing Company. This allowed attendees to keep the intellectual conversations going amongst each other and with speakers.
The first 150 attendees were able to get a free drink. Those who attended the afterparty were able to enjoy drinks, snacks, casual conversation, and a photo booth.
Crosscut Festival provided students and other attendees a chance to participate in conversations that are relevant to issues that occur in our everyday lives. Whether the problems are social, economic, climate based, or more this festival allowed individuals to come together and attempt to take on these complex problems and inspire one another.
Myrea may be reached at
[email protected]
Leave a Comment