Pumpkins, Puppies and Plenty More
Arguably one of the best events of the Halloween season, Barktoberfest blessed Seattle once again for the third year in a row.
Downtown Dog Lounge hosted the event, bringing hundreds of pups and their humans to Van Horst Plaza for a spooktacular time. Being the Downtown Dog Lounge's biggest event of the year, the plaza and surrounding block were reserved exclusively for the event.
With a friend and camera in tow, not emotionally prepared for what was to come, I was on my way to Barktoberfest. Walking into the event was almost impossible because of all the costume-clad dogs strutting around. From a Great Dane dressed as a spider, to a Labrador dressed as an Amazon Echo, there were dogs of all shapes and sizes brought together for a wholesome Halloween party.
The plaza itself was decorated with large inflatable monsters, skeletons, and plenty of dog art. There were tents set up with a variety of things to check out including adoptable dogs through Dogs Gone Seattle  which is a great local no-kill dog rescue organization. Aside from being surrounded by so many pet-able dogs, the best activities included the outdoor photo studio and the Haunted Garden for dogs.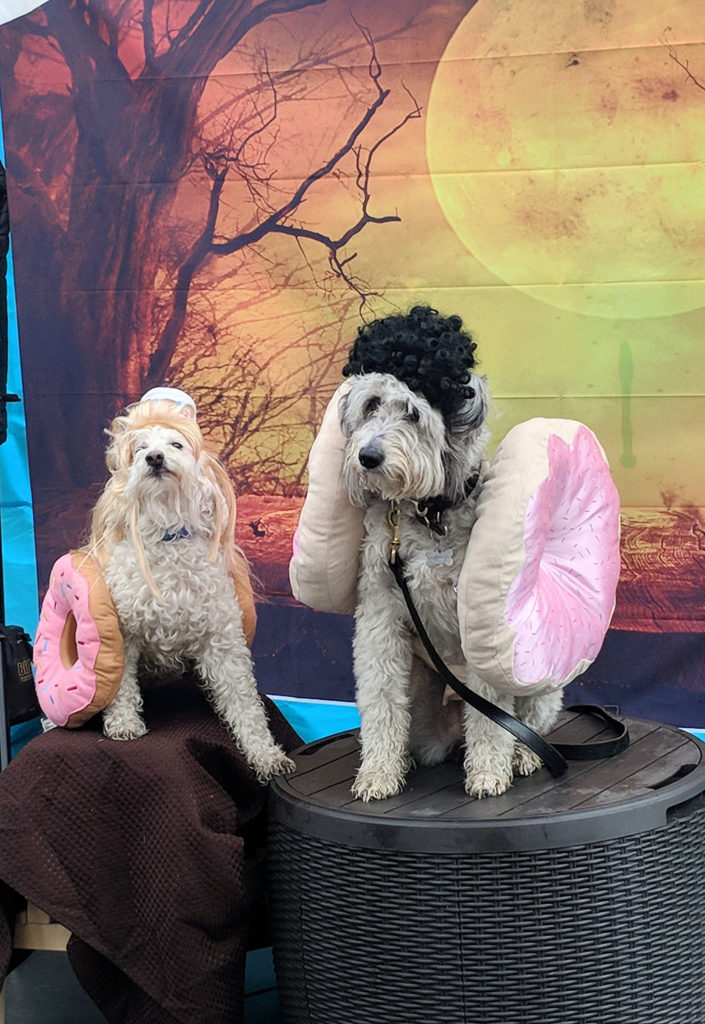 Doggie donuts are just a few of the canine costumes featured at this year's Barktoberfest.
I checked out the Haunted Garden first because it had a massive 10 foot tall Babadook guarding its entrance. The garden was decorated to look like a haunted cemetary mixed with a dog play pen. I stood in awe watching owners lead their dogs through the dog tube or in front of a haystack to pose for a pic, probably for the 'gram. At one point the garden was full of dogs causing a ruckus so I went to check out more activities.
The outdoor photo studio included a spooky-themed backdrop in addition to boxes filled with a variety of dog costumes and wigs for owners to choose from. My friend and I watched for a good 20 minutes as dogs got dressed up—some less enthusiastic than the others—to get their photos taken. Notable dog-dress included donuts, hot dogs, a chinese take out box, a lion and a viking pup.
Seattle has more dogs than children, and going to Barktoberfest made that face a reality. Whether you have a dog or not, the annual Barktoberfest is a must see event for all dog lovers. Forget the loud music and rowdy people of every other Halloween parties. Go to a dog party and pet some pooches. You won't
regret it.
Adriana may be reached at
[email protected]