In light of the national discussion surrounding domestic violence and sexual assault, Health and Wellness Crew (HAWC), in partnership with Survivor Support Network (SSN), hosted Seattle University's Take Back the Night on Wednesday in an attempt to create community and healing for survivors.
---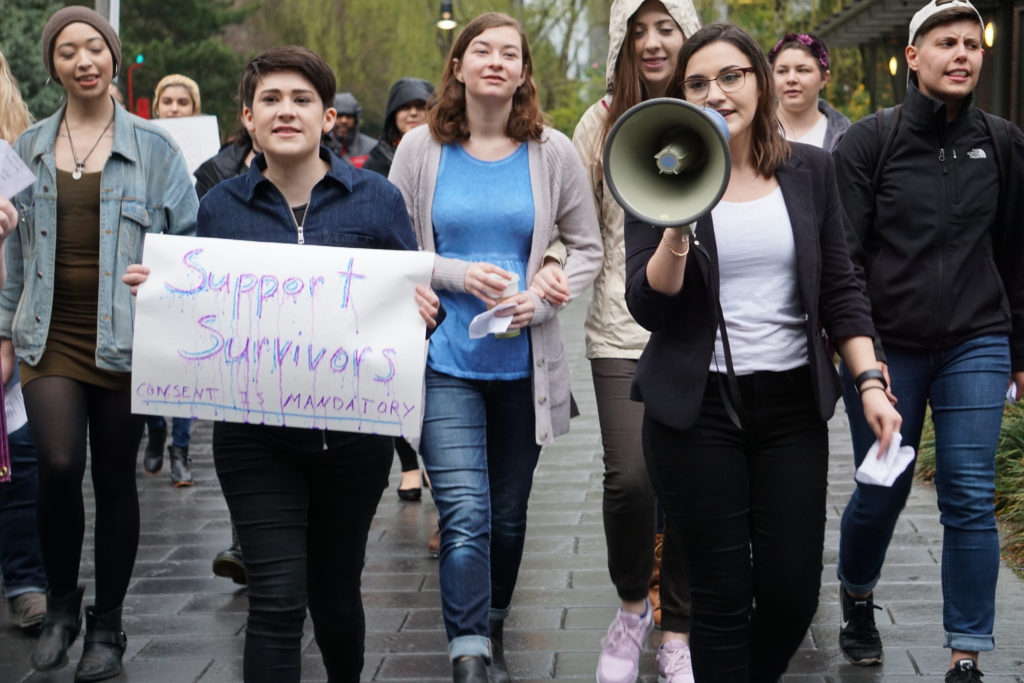 "We have the power / We have the right / The streets are ours / Take Back the Night!" Supporters and organizers chanted as they marched across campus Wednesday.
---
The night started off with an event called "Taking Action," where local organizations provided information about the resources available to survivors and allies. These organizations included both off-campus groups like Gay City, as well as on-campus resources such as HAWC, SSN and Green Dot.
As for what these organizations do, some, like SSN, seek primarily to empower survivors after violence has already occurred.
"SSN is a survivor-led organization that focuses on building community around survivors, but then also creating a campus climate where staff, faculty, students, all understand what it means to support survivors in various ways," said senior social work major and SSN co-founder Greg Osberg. "The programming extends to everything including awareness events…and also healing spaces like this, Take Back the Night."
While SSN, which was founded this fall, seeks to empower survivors and provide resources after violence occurs, Green Dot focuses on empowering bystanders to prevent dating violence and sexual assault.
"If you imagine a map of SU's campus, and if every time an act of power-based personal violence would show up on our map as a red dot," said HAWC Director of Wellness and Health Promotion Ryan Hamachek. "Every time there was a sexual assault, a red dot would show up on our map. Every time a student experienced dating violence, that would show up as a red dot on our map, or every time a student's stalked, it shows up as a red dot on our map."
Hamachek explained that Green Dot aims to replace those red dots with green dots, which means violence was prevented.
In order to prevent power-based personal violence, Green Dot provides training for community members, and particularly students who have been nominated by their peers.
After "Taking Action," about two dozen attendees marched around campus, followed by a series of speakers, an open-mic portion and a candlelit vigil.
The speakers included some survivors of power-based violence, who wanted to both share their experiences and help other survivors understand how best to process many of these experiences.
"I spent a very long time blaming myself," said slam poet Rio Chanae. "Not understanding that assault is only ever your abuser's fault, and never yours, no matter what you did, what you drank, how late you were out, what you were wearing. It's such an incredibly isolating feeling."
Survivor Support Network co- founder Kayla Todd shared similar sentiments with the audience.
"I can't possibly express everything I would like to tell you tonight, but I'll start with this: I believe you," Todd said. "Your experiences are valid and you are not alone. All of our narratives may vary, but one aspect is consistent: This shouldn't have been a part of our lives. But here we are now, together in this room, and that's important."
Todd went on to describe her personal experience with abuse and domestic violence.
"A lot of people don't conceptualize their experiences as domestic violence until after the relationship ends," she said. "I'm only going to talk to you about one of my abusers tonight, and this was the reality for me when I was with him. Despite having been in an abusive relationship before, for my entire relationship with this man, I just thought I was dating a shitty person."
After coming forward with her experiences, Todd said she encountered some harmful responses from some friends.
"Some of my friends were really good at minimizing after I told them about my experiences with my abuser," she said. "I think this served two functions for them. One, if it wasn't actually rape and it didn't really count, they didn't have to deal with the knowledge that I, someone they cared about, had been hurting for so long. And two, if it wasn't actually rape and it didn't really count, they didn't have to deal with the knowledge that they were friends with a rapist."
As for the responses she found helpful, she said that her friends were most supportive when they respected her decisions.
"Survivors have had enough choices taken away from them," she said. "The last thing we need is for our friends to try to do the same, no matter how good the intentions are."
After all of the speakers finished, there was an open-mic portion, with survivors speaking about their experiences to the crowd. The night closed with a vigil, with attendees lighting candles, meditating, praying or talking to members of HAWC.
"A lot of people don't think about these issues ever touching their lives, but they touch all of us in some way, whether or not that's you or a friend," Osberg said. "And it's important to recognize that and make this campus more accessible for the people in your life who have those experiences and hold that narrative."

Josh may be reached at
[email protected]