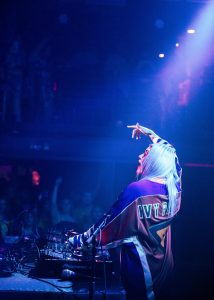 Mexico City historically has not been known for its bass music scene. However, over the past few years, that has come to change due to the efforts of artists like Jessica Audiffred. Hailing from Mexico City, Audiffred started her career as a DJ and music producer, playing tech house music in clubs; playing anything heavier like dubstep would get you thrown out of the venue. 
Due to the monotony that she felt with playing exclusively house, Audiffred switched to Electro as a way to ramp up her energy. However, being a 90s girl and having grown up listening to nu metal, this was not where she landed in the long run. 
"I grew up listening to nu metal and early 2000s electronic music like Fat Boy Slim and Massive Attack," Audiffred said. "So when I found dubstep, it was the perfect mixture between nu metal and electronic music, which were the two genres that I loved."
Because promoters did not want dubstep to be played, she started hosting her own events which led to starting her label 'A Records' and starting her own Mexico City-based festival 'Mad House,' which has now sold out both years. 
Five years ago, Audiffred hosted a showcase through her label where she was expecting to have an intimate setting to showcase Mexican producers and the work they were doing at the time. Quickly, it went from something that was supposed to be a showcase for friends and other people already a part of the bass scene, to being an out of control event that gave her the idea to start her music festival. 
"The venue was for at most 200 people and then suddenly the lines were maybe a hundred people or more than the capacity," Audiffred said. "That's when we knew that we could do something else, something bigger. That's how Mad House Festival was born."
Mad House Festival started out as just Mexican artists, but has now expanded to 50% Mexican artists and 50% international artists as a way to bring bass artists to Mexico and expose people to a broader spectrum of what bass music has to offer.
It makes sense that Audiffred would start a bass festival, given that when she started making music she wanted to make music that would be a hit at festivals. 
"In the beginning, I was thinking more about songs that I could play at a festival and that people would like to hear at festivals and make them go hard," Audiffred said. "Now, after all these years of producing, I want to get more personal with my songs. Whether it's the lyrics, whether it's melodies, but I want people to understand what I've been going through in my life."
According to Audiffred, making music is always a personal thing. But her point of view has now changed after reflecting on her listening habits which led her to want to share her story with listeners. 
"Music that has been made on a more personal level has a deeper connection with the audience," Audiffred said. "I noticed that even for myself, I try to follow the artists that I love because of what they've been through. So to me right now, the most important thing is to have that personal connection with the audience."
Audiffred has new music coming out soon starting with a Sullivan King and Ray Volpe remix, as well as several other tracks scheduled to come out over the next year.
Are you or someone you know a musician or involved in music? Do you like to talk about your music? Well, email sea[email protected] to potentially be featured in After the Show.