I'm going to start this piece with the caveat that I'm biased and have seen The Unlikely Candidates perform several times. 
Get these guys a bigger stage.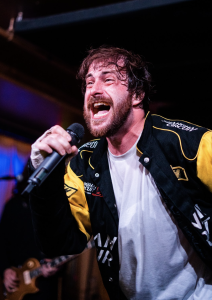 Not just because their sound is catchy and I think more people should listen to them, but Kyle Morris, the lead singer, consistently jumped around the stage, threw himself on the floor, and stumbled from side to side. I was worried on more than one occasion he was going to fall off the edge and hurt himself. Especially given the fact he was already sporting a hand injury. 
Despite the fear of further injury I carried, the antics did its part and the crowd loved it. The crowd, when asked who had seen them before, showed very few had. But once the music started, everyone was up and moving. There was no shortage of people either, with around 50 fans occupying the dance floor at the small Capitol Hill venue. 
"We are just glad to get out and play," Morris said. "We haven't played the west coast in over a year so it's cool to get out here. We are also playing a few new songs so it's exciting to see how people respond to them."
The band is from Fort Worth, Texas. Which, according to Morris, has an isolated music scene without much bleed from outside influence. Their newest album titled "Panther Island" is named after their home city and carries many themes centered around the city. 
The band first came together when Morris attended a party in high school. At the party, he ran into Cole Male who later became a guitarist for the band. Male was playing some Green Day songs and Morris, who had never sung in front of anyone, decided that the energy was right and this was the time, so he joined in.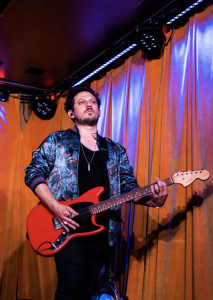 "Something clicked in my head," Morris said. "I really enjoyed that feeling so I asked Cole if he wanted to jam the next day and we never stopped."
The name Unlikely Candidates came from a list of 200 band names. When they saw it on the list, however, it was apparent that it was the only suitable one. 
"It fits us," Morris said. "Neither of us had ever written a song and Cole only knew a few chords, so I guess we were pretty unlikely."
Despite having an Unlikely start, the now five-person band has had quite the 15-year run, producing multiple EPs and an album. Also collaborating with artists like Elephante, Dirty Heads, and others. For fans of Alternative Rock that are looking for something different with pizazz and energy, give The Unlikely Candidates a listen. 
Are you or someone you know a musician or involved in music? Do you like to talk about your music? Well, email sea[email protected] to potentially be featured in After the Show.