The Seattle Queer Film Festival (SQFF) took place Oct. 12 to Oct. 22, incorporating a virtual program Oct. 22 to Oct. 29, available in Washington, Oregon, Alaska and Idaho. SQFF is a film festival to experience queer media that is not as mainstream in today's society, while enjoying a wide variety of films created by queer people, made for queer people.
Kathleen Mullen, the festival and artistic director, spoke about the essence of this year's 28th annual SQFF.  
"How do we as a community find support and community and collective action against us, because we're here, we're queer, we're everywhere," said Mullen. 
The films that have been carefully curated for this year's festival are showing throughout different theaters in the Seattle area. Some of the categories featured in this year's festival included documentaries, shorts, comedies and narratives, all of which had a focus on gay, lesbian, trans, non-binary, bisexual and QTBIPOC experiences. There truly is a film for anyone who is interested in the festival and what it has to offer. 
This year, Actress and Screenwriter Guinevere Turner will be receiving the Luminary award for her work in this year's Sapphic Centerpiece titled "Healed." Turner did a film in the early 90s, "Go Fish," that was a crucially progressive lesbian film at the time, along with many other bodies of work she was involved in that are being recognized Oct. 22. 
"She's been working as a writer, screenwriter, actor, director for 30 years, and we really wanted to recognize her body of work and her dedication and work in terms of lesbian and queer storytelling," Mullen said.
The film festival is unique in that it not only reinvents methods of storytelling, but completely changes the way in which queerness is represented and expressed in media of all forms. Queer filmmakers are given the platform and creative freedom to produce films for other queer people, and the SQFF features just some of these films that are not as widely spread. 
A prominent trope in the film industry is the "bury your gays" trope. A trope aimed to kill off gay characters in movies or shows where heterosexual characters are the main focus. Seeing queer people exist as regular people and the complexity that comes along with just being human, regardless of identity or sexual orientation, was refreshing.
Queer people are multifaceted, just like anyone else, and killing them off does nothing but belittle their existence on screen which translates to how queer people could feel about themselves in real life.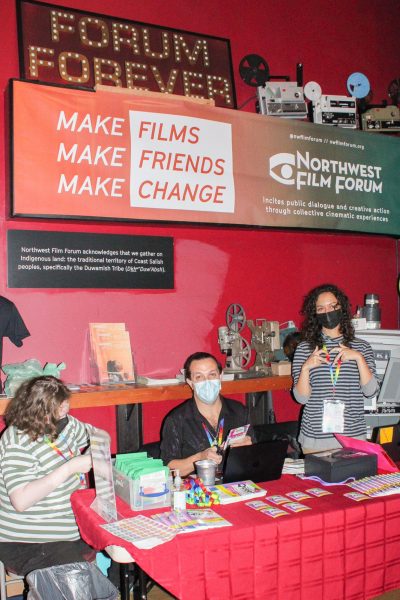 The films shown at the SQFF completely reinvent that idea and display authentic representation.
In attendance at the Northwest Film Forum, I was able to catch the showing of "Chance Encounters," a series of gay short films that were all unique from one another and that told very diverse stories, some to laugh with, some to cry with, and others that just left you to think. 
Afterward, I was able to talk to Greg Campbell, W Seattle hotel sponsor for SQFF, who spoke before the showing and elaborated on how the festival is great representation for the community. 
"It provides a space or place for us to celebrate our queer culture," Campbell said.
The main thing I noticed while watching some of these films was that the filmmakers emphasized the story, themes and plot rather than fixating on the fact that the characters are queer. In most blockbuster films, there will be one queer character that is known for just that, being the token queer person and not expanding on their story or background any further. 
Another film I was able to watch was "Artist Unknown," a rom-com directed by Cinder Chou, which had the audience laughing from beginning to end. This film encapsulated the idea that queerness in media does not need a melancholy or tragic undertone; it can be experimental, intuitive, and most importantly, fun.
For Volunteer Emily Carlson, she wanted to meet more queer people in Seattle while pursuing art in film, so she decided to become a volunteer and work on-site for the SQFF. For Carlson, the SQFF is a fun way to sit in a theater and know that everyone in the audience is experiencing something special at the same time. 
"I hope that people are inspired to go find more queer films, especially small indie films or DIY films, and just enjoy the art that we are making for ourselves," Carlson said.
Not only is it the filmmakers and directors that make this event, but the community. It is a place where queer people can gather safely, comfortably and warmly while surrounded by other people in the community eager to see their representation on the big screen. 
"Queer joy is resistance, queer joy is love, queer joy is protests, queer joy is trans, queer joy is comedy, queer joy is queer," Mullen said. 
This inclusive, fun, curious, queer film festival has something for anyone in the queer community. If you want to be immersed in an amiable queer community where you can see people like you on the screen that accurately exhibits what it is like to be queer while feeling all the emotions it encompasses, the SQFF is for you.