People were not dancing, were not talking, and most were not pulling out their phones to capture the moment. This was a moment that had to be lived! As the reverberations of the music filled the theater, people stood mesmerized by the otherworldly sound of the joint musical endeavor of Arooj Aftab, Vijay Iyer and Shahzad Ismaily. 
Not all concerts are about dancing, partying and being social. Sometimes listening, focusing and being present in the moment; letting the artist take you to worlds separate from the one outside—sometimes that's what it's about.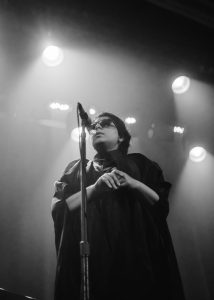 The only brief breaks were when Aftab would talk about the tour, tell some jokes about not putting on eyeliner and that is why she is wearing sunglasses during the set. These interludes would shift the tone and give a little pause before the next dive into the melodic space that their music creates. 
The lights coming back on and the buzzing of the crowd after the end of the performance felt shocking to the system and I realized: Wait… I'm still in the city, life is still happening. Thankfully upon stepping out onto the sidewalk, the rain brought back some of that calm serenity that the show expressed. 
The album, titled Love in Exile, was created in the moment by the three artists with no preparations beforehand. This creates a unique experience for both them and the listeners.
The idea for this album and performance found its roots in 2018 after the trio had just played a show in New York. They had felt such a strong connection that they decided to go and make an entire album of "music in the moment". 
Regardless of what your listening preferences are, I could recommend this album to you. It is a different journey altogether, a unique experience that left me feeling warm and maybe it can for you too. 
Are you or someone you know a musician or involved in music? Do you like to talk about your music? Well, email sea[email protected] to potentially be featured in After the Show.