Between the United States and Canada, there are over a thousand music festivals in a singular year, or almost three a day, with new festivals being added each passing season.
Yet among them, Monstercat Compound stands out. Emerging in 2017 amidst the vibrant backdrop of Vancouver, Compound's core ethos lies in community enrichment and relationship-building. Part of the community giveback is providing a packed day of music on multiple stages for free. 
Unlike many festivals driven by profit, Compound is firmly rooted in community spirit. Max Nied, head of events for Compound, underscores its mission: to showcase Vancouver as a dynamic hub teeming with musical talent, diverse vendors, and all the vibrant elements that define festivals. Spanning two city blocks, the event's layout embodies a deliberate effort to spotlight the city's diverse essence.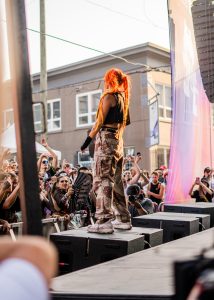 The festival lineup featured the artists Nostalgix, Godlands, CHYL, Ace Aura, Punctual, Warner Case, Kelland, Yurie, Keepsix, with Blanke and Crankdat headlining. Drawing from artists affiliated with the Monstercat Label, as well as rising stars hailing specifically from Canada, and more specifically British Columbia.
"Vancouver isn't often at the top of people's lists as being a major entertainment hub," Nied said. "We don't agree! Vancouver is an incredibly international city for culture and innovation; we hope our audience comes away with a glowing opinion of Vancouver and British Columbia, whether or not they're a BC native themselves," Nied said.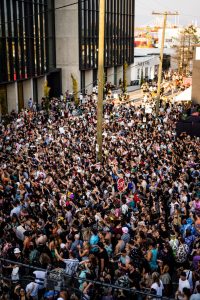 The festival's planning started promptly after the conclusion of last year's event. A strong focus was placed on integrating feedback gained from prior editions into the current year's preparation. A major aspect of the preparations is working closely with the city of Vancouver to secure permits and all the necessary formalities. When the six week out mark hits, the pace escalates, marking crunch time, as Nied described it. During this critical juncture, all final preparations, encompassing setup logistics, marketing endeavors and any other finishing touches, are executed. The event had thousands of RSVPs and sold out of the VIP tier tickets, the only tickets you had to pay for. One could say the event was a success in regard to the amount of attendees. 
Before the show, The Spectator was able to talk with both headliners about the event and their approach to performing.
The following is an excerpt from our conversation with Blanke (John Paul Orchison).
How do you feel your music and sound fit into the line-up? 
I have a diverse range of sounds in my music and my sets. I think that specific energy, that unique flavor I bring is what sets me apart and simultaneously fits me in. It's all about balance!
What do you hope to get out of this event? 
To get out of it? I don't go into any event wondering what I'm going to "get out of it." Having the attitude of something like this being a transaction or an exchange isn't the right attitude in my opinion. I aim to give what I can perform as well as I can, and hope the people watching enjoy themselves. I hope to expose my project to more people for them to decide if they want to come on board with this journey with me. That's what all of my shows are about.
What makes a show like this, in general, successful for you? 
Watching people enjoy themselves with something I've created. If I can walk away from a stage and be energized by the crowd, knowing I've given my best, then it's a success. As an artist, knowing how much time and effort goes into putting a set together, playing a show, and physically getting there from whatever part of the world I was in the night before, all of these things add up to be condensed and expressed into the 60-90 minutes we get on that stage, to people who either haven't heard of us or who have been waiting months or years to see us. They are the priority, and what makes it feel successful at the end of the day.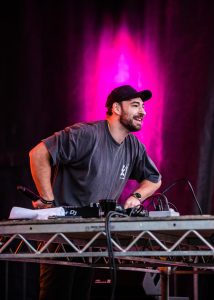 The following is an excerpt from our conversation with Crankdat (Christian Smith).
What had you most excited about this event?
I've known about Monstercat Compound for a long time. To finally be able to play it is really cool. To headline is even cooler!!!
What do you hope to achieve during this event?
You know, I think if I can play a good set, have some good crowd reactions, and make the fans that show up to see me happy, it's a successful day! I think every show has different circumstances, but making as many people dance as I can is always the goal.
Compound stands as a strong example of what a community-driven festival should look like.