Fashion, Food and Performances: African Student Association Celebrates "African Night"
The Seattle University African Student Association's (ASA) African Night was vibrant, filled with everything from poetry, music and fashion—all underscored by a powerful celebratory atmosphere. 
Poets, musicians, dancers and models kept the audience thoroughly engaged throughout the three hour event. The program was coordinated impressively—close to ten different performances took place, all of which showed a different aspect of a multifaceted and multiethnic African culture. Some of the musical highlights included Afrobeats artist Izzy-Baba-Melo, The Revelation Band, as well as Young Matondo, a Seattle U fourth-year student who performed an original rap while sporting a Congolese football kit. 
At the event, it was impossible to ignore the fashion show which miraculously turned an auxiliary room of the Student Center into a runway. Martha Akinbade, a second-year business marketing major, was the primary organizer behind the show.
Akinbade has been a member of ASA since her first-year and holds the role of Assistant Event Coordinator. A model herself, Akinbade was able to coordinate with local African designer JDX Designs to use their different collections for the show and partnered with SMG and Heffner Models for volunteers to walk the show.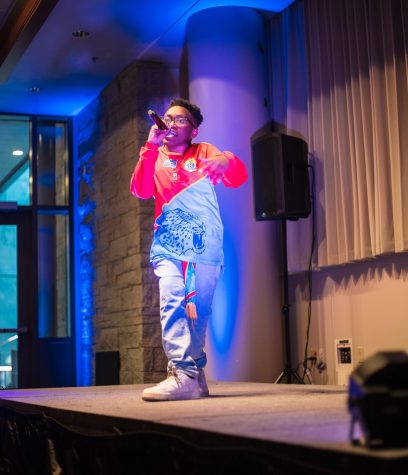 Akinbade credited her professional aspirations as a reason she decided to produce a fashion show for the event, also taking advantage of the chance to celebrate the range of African fashions, designers and models. 
"I chose a fashion show because I'm really involved in fashion, but also see it as a great form of representation," Akinbade said. "The biggest goal of the show was both to promote the diversity of African culture and fashion, as well as give a platform for an African designer." 
Talking before the show, Akinbade mentioned that she was most looking forward to the live music and the chance to dance and be in company with other Africans—an opportunity she doesn't have very often in Seattle. 
Excitement surrounding building community is a feeling also extended by the co-presidents of the ASA, Eloho Okoloko and Mbeypenda Mbowe, both of whom are third-year psychology majors and who have been involved with the ASA since their first-year at Seattle U. 
It was during the fall quarter when Okoloko and Mbowe were voted co-presidents and the planning for African night started. Mbowe wanted the event to create space for the relatively small African, and Black, Seattle U affiliates to celebrate their cultures.
"One of the main reasons we want to have an event like this is to bring the African community together," Mbowe said. "Having events like this is vital for having the community keep going and offering a sense of belonging."
Challenging common misconceptions, like the idea that Africa is one big country, or a monolithic culture, Okoloko put emphasis on education when organizing the event in hopes that the non-Africans who attend leave knowing more than they did coming in. 
"The event is not just open to Africans, it is open for the whole community. During African night we try to make an emphasis on how Africa is a continent with many different countries and many different cultures," Okoloko said. 
The diversity and broad range of African cultures can also pose a challenge, especially when the ASA is meant for the entire African diaspora. At Seattle U, since there are fewer students, each student represents their own country in the club, according to Okoloko. Currently, there are around 20 to 25 active members of the ASA, and over 50 registered members.  
 With a focus on providing community, as well as highlighting diversity, African night was ultimately focused on celebrating all of the similar and different ways members of Seattle U are uniquely African, through food, music, dancing and fashion.
Leave a Comment