The Invitations of Quadstock 33: Into the depths of the Rubber-Scented Arena!
There was a gothic ill which harvested itself in the musics of the night— a still, American punk that bodied the fashions, murky blue light, food and lyrics galore! The mood transpired the crowd into an idyllic groove the headliner, Ricky Montgomery, dubbed "ritualistic." 
Due in large part to budget restrictions, according to Sofia Marti Devolx, a fourth-year communication and media major and the Quadstock coordinator, the Student Events & Activities Council (SEAC) were compelled to bring the music festival indoors despite years of celebration on the Quad. 
Seattle University's annual Spring event Quadstock repped a soft grunge inside the gymnasium, the sports achievements still plastered across the walls of the rubber-scented arena.
Students paid double what they did past years, with entry fees accommodating their hot dogs and cotton candies and sodas. The name of the game was dressed in 60s and screaming loyalties in support of local bands and kids clinging to the gates. The energy at the event was electric despite a modest crowd. Eyes wide and hands up, the collective grew curiouser and curiouser at the gogo boots and candy apple bass that enveloped the young talents.
"I don't think we're doing anything special," Fern Creson, a first-year photography major and the lead vocalist of All Friends Here, said. "I think it's just fun for us." 
Hours before showtime, the band described their introduction to music, reminiscing their adolescence, forgetting the genesis of their adoptive gifts.
"I don't remember why I started playing the guitar," Zach Hochstein, a first-year arts leadership major and member of the band, said. "But I did."
When asked about their musical instruction, most of the talents described being self-taught. 
"In the end of last summer, my friend was like, 'Do you wanna take this bass? I have this bass my ex-boyfriend left at my house, and he's not coming back! Do you want this bass?' And I was like 'Yeah sure' and took it to college," Keagen Brooks-Torres, a first-year English major, said. 
She described her music tastes, flushed with kaleidoscope eyes, of the experimental rockers, underground punkers. Brooks-Torres, the band's bassist, strung her instrument in tune with the swirls of her freaky galaxies in mere months and was ready to play. They'd classified their sound as "indie punk," to me, it screamed lonely exotic with a sci-fi consciousness. 
"I feel like our tastes are  all over the place," Hochstein said. "It's kinda interesting how consistent of a sound we've made when we don't listen to the same music at all." 
All Friends Here grew angsty in what people would think of their selections, but in the afterward, the indie punk band performed with an undisturbed psychedelia, Creson throwing kisses at the assembly of music lovers.
The new teen pop-rock project, THEM, is an all-female Seattle-based band housing its members in the basement of Mode Music Studios. The four met in a class led by artist Eva Walker of The Black Tones and curated their sound after pop.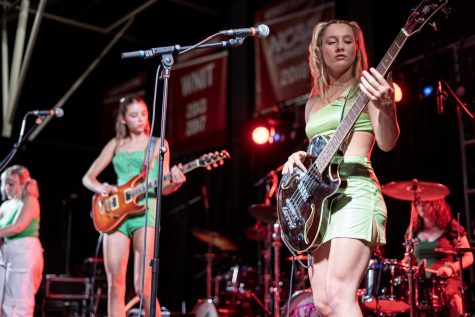 "I think that's definitely the goal [for the future of the band] is trying to put as much emotion and beauty and human nature in the music as possible," Producer Destin Mai said. 
Mai had always wanted to produce, and after he and Ellie matched on Tinder, he'd noticed the potentials of the young talents assuring "the next wave is going to be 10 times bigger than the last one." The band has since charted no. 5 on KEXP just days after the debut of their single, "BAD 4 U,"
Montgomery sat down and disclosed the strangeness of his abrupt popularity.
"It was definitely weird because I had sort of shelved those songs for a number of years and for them to suddenly be my biggest songs was a real mental gymnastics thing at first," Montgomery said. "I'm a bit more at peace with it, but it was a sound I really intentionally distanced myself from."
Montgomery was timid and thought it bizarre to revisit those pockets of melancholy.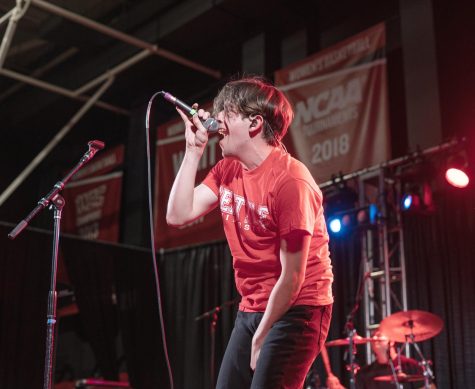 He put out an EP after the unlikely boom of his hit songs on TikTok called "It's 2016 Somewhere," a capsule for his feeling trapped in a hall of funny mirrors. 
"It was like the year 2016 was being reflected back at me endlessly," Montgomery said. 
Before his success, Montgomery, broke and passing though any number of jobs, wanted a sort of escapism from family life and something like boredom, so he took to music. In and between his breaks in employment, he was always going back to writing, continuing because he didn't know how to do anything else and because of its haunting over every aspect of his life.  
Montgomery closed Quadstock 33 with his second viral hit, "Mr Loverman," a heavy slow-beat sleaze that he called "ritualistic and definitely gothic." This event, dope and modern in comparison to previous iterations, inaugurated the limited crowd to the experimental sound of the bands and the future of untypical art. 
Leave a Comment