Wigs? Snatched: Seattle U's 17th Annual Drag Show
A showcase of outrageous, extravagant and delightfully raunchy drag performances; the Seattle University Triangle Club's 17th Annual Drag Show turned out impressive numbers, gravity-defying wigs and even bigger crowd reactions. 
"Invasion of the Wig Snatchers" boasted a plethora of flashy acts from Seattle U Drumline, student drag queens and kings, student volunteers from the audience who competed in a dance competition and professional drag artists, many of whom are alumni of Seattle U.
Heaven Sake, a recent Seattle U graduate working full-time as a microbiologist, was one of the talented drag queens that took to the stage, embodying the event's space theme with pink skin and antennas.
"I knew I wanted to be an alien for this show because I love having crazy skin colors, and it just worked," Sake wrote to The Spectator. "I've also been trying to get more into making my own wigs, so I knew I wanted my hair to be as giant as possible."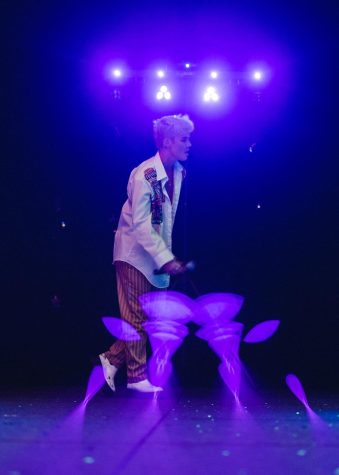 Anabella Vucci, a second-year public affairs major, attended Seattle U's drag show for the first time and was captivated by the extravagant performances and audience reactions.
"Quite honestly, I didn't know what to expect, but I was blown away by all of the performances and the crowd participation," Vucci said. "It was a truly incredible night."
Maya Walthall, a first-year political science major and member of the Triangle Club, highlighted the prominence of the annual drag show within the club, explaining that it's their main event. 
"It shows the university students who we are. Working on such a big event also help[s] bond the club because we g[e]t to see each other and work with each other outside of the normal one hour a week," Walthall wrote to The Spectator. 
The Triangle Club is focused on supporting and uplifting the queer community, of which drag occupies a deeply influential role.
"Drag has been very important in queer history and was often used as a way to hide queer relationships. I think modern drag being so bold and showy is an ode to how far we've come," Walthall wrote. "It allows us to take pride in our sexual orientations and gender identities instead of hiding them."
Collin Durfee, a second-year political science major, had his first drag performance as Gayle Marriage at this year's drag show after gaining interest in the artform during the COVID-19 pandemic. 
"I still can't truly explain what the performance was like for me. It was just wonderful, and it felt so affirming that [drag] was something I wanted to do, and I had just done it," Durfee said.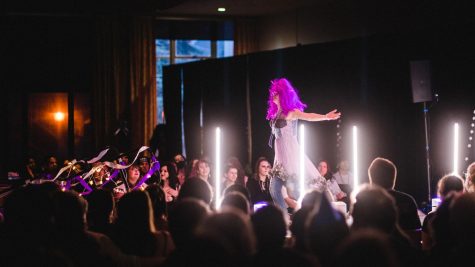 Cameron Kidd, a third-year marketing major, is also newer to the drag scene, performing as Prince Albert Fisher, and has enjoyed the manner in which drag challenges and widens the scope of gender. 
"For me, it's this gender-bendy f— all the rules type of thing, and it's really fun for that reason," Kidd said. 
Sake echoed Kidd's sentiment that drag is a response to rigid perceptions of gender and sexuality, as she views the art of drag as a form of political protest.
"It is satire at its finest. It is essentially a big f— you to gender roles and stereotypes," Sake wrote. "It pokes fun at all the terrible s— in our society. It is artistic activism dressed up in a wig and lipstick."
The political nature of drag has become ever more apparent amidst the recent onslaught of anti-drag bills stretching across the country, including the banning of drag in Tennessee. 
As a new drag performer, Durfee discussed his fear in exploring the artform within a hostile political environment and the questions he is faced with as he delves into the persona of Gayle Marriage. 
"I am worried, as someone who is just getting into drag at the start of this anti-drag movement, what the future will be like for me if I keep doing drag," Durfee said. "Will I have to fear for my life?"
For Kidd, the amalgamating legislation and social hysteria surrounding drag has reinforced a sense of relevance and communal resistance.
"It almost makes me want to double down. It makes me more emphatic about it. It feels more important," Kidd said. "It gives people this stronger sense of 'we're in this together.'"
While acknowledging the privilege they have living in a state that is not presently affected by anti-drag legislation, Sake discussed her pain in watching her community being put under attack.
"It feels unfair that our existence is being debated and that we are labeled in such derogatory ways for simply being ourselves," Sake wrote. "These sorts of bans affect the trans community so much harsher than the drag community. At the end of the day, I can put my heels away. These sorts of laws that target 'female impersonation' are essentially trying to ban trans people from any sort of public appearance."
As a queer student, Vucci works to remain conscious of issues facing the queer community and took particular note of the drag show's continuation amidst the political noise surrounding queer expression.
"We are living in a society that is constantly attacking any mode of queer joy, so although we live in a rather progressive—by some standards—city and attend a rather progressive—by some standards—institution, it was notable that we still had the drag show this year," Vucci said. "While I don't personally know how the school feels about the drag show, the fact that it continues to be a staple that Seattle University students can look forward to every year, and students who want to participate in drag have an opportunity that is rather safe to perform. I think it is noteworthy and important."
Walthall acknowledged the importance of queer spaces on campus and highlighted the drag show as a celebration of queer culture. In congruence with this acknowledgement, however, Walthall discussed homophobia and transphobia that can exist in seemingly progressive environments. 
"The drag show is still sometimes seen as a more radical event. Even if we are currently more protected from these laws because of our location, I think anti drag laws can allow for a culture that normalizes stigmatization against drag performers and drag as an art form, which can grow to subtle homophobia and transphobia being much more widely accepted, even in places like Capitol Hill," Walthall said. 
While Seattle U is positioned within a progressive city with a vibrant drag scene, drag has not been uncontested in the university's history. 
In 2018, Fr. David Leigh, S.J., a professor emeritus of English, removed copies of The Spectator from newsstands around campus due to his perception that the cover photo was inappropriate. 
Although this event occurred five years ago and under a different university presidency, disputes over the artform on campus are part of Seattle U's history. Compounded with anti-drag legislation being introduced in many state legislatures, recognizing that drag is not a protected form of expression is understood as imperative to drag artists working to maintain the art through ideological, political and legislative opposition. 
"Drag has and always will be political," Sake wrote. 
While this year's drag show was an electric installation in a 17-year-long tradition, the advent of a room full of hundreds of individuals rallying around an artform that celebrates diversity and queer identities takes on new meaning when placed against a backdrop of boycotts and rallies. 
"In this anti-drag age that we seem to be in where people are boycotting and attacking drag performers, I think it's important to be done now to show that it still can be done," Durfee said. 
Despite the controversy surrounding drag and drag performers, Heaven Sake, Gayle Marriage and Prince Albert are all excited for their future in drag and plan to continue honing their craft and practicing drag as an act of resistance. 
"Drag is not going anywhere," Kidd said.
Leave a Comment