I Got a Tattoo for an Article About Supergenius Tattoo's Joint 4/20 & Earth Day Flash
Supergenius Tattoo's joint 4/20 and Earth Day flash event buzzed with the sounds of tattoo machines and conversations between enthused clients and equally spirited artists. Held over the course of three days and conveniently located a couple blocks away from Seattle University, clients (or money-starved students like me) could choose tattoos from 12 sheets of designs from 11 different artists to add to their bodily art gallery. A portion of the event's proceeds went to Puget Soundkeeper, a non-profit whose mission is protecting the Puget Sound. 
The shop holds multiple flash events per year, usually on holidays like Halloween and Valentine's Day. Their corresponding flash sheets are advertised via Instagram. Flash event pieces are unable to be claimed by a singular client, so a visitor can choose to attend any day of the event without worrying about their favorite design being claimed. Flash events also offer a great way to get a cost-friendly—but quality—tattoo.
Flash Joyner, a tattoo artist at the event, has participated at flash programs throughout his six years as an artist.  Flash events are profitable for artists and an exciting experience for the clients, Joyner says, because artists can get a lot of tattooing done in a short amount of time and clients get a discounted tattoo. 
"I think that when we lower that price for a couple days, it gets people in here that maybe couldn't normally afford a bunch of tattoos. It kind of gets more people included," Joyner said. 
The profits the artists make are one reason flash events are held. Mich Quitugua, another artist at the event, enjoys the endless amounts of tattoos she's able to do in a day. 
"I love money," Quitugua said. "Typically, I'll do three or four tattoos a day, if that. On a flash day, I can do up to 50 tattoos a day if I was physically able to do that."
The shop decided on the event during one of their monthly shop meetings. They usually hold their events on weekends. 4/20 landed on the Thursday leading up to Earth Day, April 22, opening an opportunity for the shop to combine the two. It also allowed artists to experiment within a broader theme.
According to Bailey Roberts, another tattoo artist at the event, a lot of the shop's ideas come into effect through their monthly meeting or start as ideas in a group chat the artists share. The shop's little community also includes the workers at the front desk, who Roberts says are a huge part of the event's functioning. 
"They pretty much keep [the line] moving for us. They make all the stencils. If they weren't here, then this process would definitely take a lot longer," Roberts said. 
Completely comfortable waiting for about an hour, Lenny Wells attended the event to get their first flash tattoo—two geese—with a friend of theirs. They had heard that other Supergenius flash events garnered lines down the block, and the line wasn't like that when they got to the shop. The two decided to come on somewhat of a whim.
"I was hanging out with my friend, and I had seen the tattoos last night, and I was like 'wouldn't it be fun to get a tattoo today?,'" Wells said. "And then we did."
For Joyner, hearing stories like Wells' are some of his favorite parts of flash events. 
"I really like the busy environment. It's a tattoo shop. I like to see everyone smiling and having a good time. It gets me really excited," Joyner said. "Lots of times people will be making friends out in front of the shop when they're in line. I love hearing those stories."
Meeting new clients and expanding outside of their usual clientele were highlights for both Roberts and Quitugua. Quitugua sometimes feels like the shop becomes stagnant, but flash events cause new interactions.
"You can't pick the artists, so you just end up with whoever was next," Quitugua said. "I might not be your first pick, but then you meet me, and you're like 'oh, I love this tattoo artist.'"
After attending Supergenius' Friday the 13th flash event, I had been excited to go to another. I waited in line for over eight hours, making friends, sharing snacks and laughing about how surreal it was that we'd wait in line as long as we did for a tattoo. Meeting other queer people who had traveled to Capitol Hill specifically for the event was an absolute treat, and while writing my pronouns on their paperwork, I felt undeniably accepted in the space. 
That didn't change this time either, as the artist I met was kind enough to stay past all of their coworkers, even the desk workers, to tattoo me at 10:30 p.m. that night. I had gotten there about three hours earlier and got a little turtle who had a funny looking face.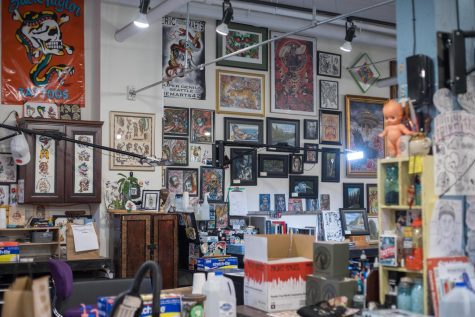 I thought, while getting a needle shoved into my ankle, that I might regret deciding on a design so quickly and rashly. This is especially true for a turtle that has no major symbolism in my life and that my poor mother will find out about only if she reads this article. 
That being said, I had a story to tell an artist like Jaynor, whose favorite part of flash events includes listening to stories about how I got a turtle tattoo for an article in my college newspaper. 
Buzzing with excitement while they line up for cheap ink, Supergenius' clients get a good story to tell for free.
Leave a Comment