MoPOP Brings Visitors to the Magic of the Movie Studio Behind "Coraline"
The Museum of Pop Culture (MoPOP) recently opened an exhibit showcasing the movies of stop-motion studio LAIKA. Entitled "Hidden Worlds: The Films of LAIKA," the exhibit offers a look into how the studio's films are created.
David Burke, chief marketing officer and senior vice president of operations at LAIKA, emphasized how the studio wanted to focus on the "co-mingling of art and science" in the exhibit. According to Burke, these two disciplines are central to aiding LAIKA in creating their films.
"This exhibit shows the very best of what LAIKA has done over the past 18 years and particularly highlights the innovations that are the result of enormous experimentation and collaboration among all the various departments at LAIKA," Burke wrote to The Spectator. "[T]hese are the very best professionals working in the animation, crafts, VFX and practical effects fields."
The exhibit starts from the beginning of LAIKA's history by putting the viewer into the world of "Coraline," LAIKA's first and most popular film. Along with a video going in-depth on the production process of the film, there are many different set pieces, puppets and costumes from the film for visitors to look at. First-year Film major Isabella Trevino is a longtime fan of "Coraline" and was excited at the prospect of being able to learn about her favorite movie.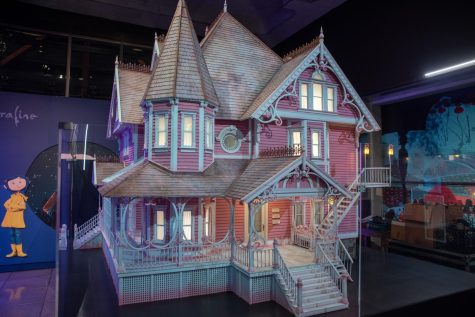 "[Coraline] has been my favorite movie for forever," Trevino said. "Going to visit the LAIKA exhibit and being able to see behind the scenes how everything was made made me a lot more interested in animation and the whole process of it."
The exhibit moves chronologically through all five of LAIKA's released films. Every film has a dedicated room with set pieces, puppets and costumes from the movie and a video explaining the process of making that particular film. Exhibit attendee Nathan Nguyen was particularly interested in the videos about each production.
"[My favorite part] was all the extra facts about production," Nguyen said. "Learning about how [LAIKA] puts the puppets together was also pretty interesting."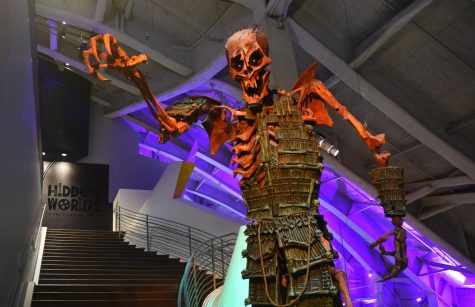 A big focus throughout the exhibit is LAIKA's use of 3D printing to achieve all the different faces needed for their puppets. Since stop motion animation requires so many different expressions for their characters, LAIKA uses 3D printing to speed up the process of making all the different expressions. Priscilla Yin, another exhibit attendee, was surprised to learn about how LAIKA made the faces for their characters.
"I didn't realize that they 3D printed every piece and put it all together," Yin said. " I always thought it was claymation."
Aside from displays of items from the films, there were interactive elements throughout the exhibit. Visitors can try their hand at matching up dialogue to expressions, creating their own stop motion animation with figurines of characters from the movies or generating a short stop motion of themselves in a photo booth. These interactive elements helped attendees, like Trevino, feel more immersed in the experience of the exhibit.
The time it takes animators to animate scenes is another emphasis of the exhibit. Hours of work translate to a few seconds of actual animation. In their most recent film "Missing Link," the crew had to create multiple puppets for every character so different parts of the movie could be worked on at the same time. Trevino was impressed with how much time the animators put into their craft and emphasized how important it was that people recognized the achievements of these creators.
"I feel like [animation is] not taken seriously enough, and people think it's a kids' thing," Trevino said. "But then you go and you see all of these adults working on all these tiny moving parts. Like two second clips that take a week."
Despite the belief that animation is solely for children, Burke shared the sentiment that there are aspects of the exhibit that will appeal to everyone.
"LAIKA is a place for dreamers," Burke wrote. "It's a place where artists and technologists and craftspeople pool their considerable talents to create entire worlds inhabited by our own version of movie stars, that would be our hero puppets and the many other puppet characters that tell our unique stories."
Visiting the exhibit can also be a great way to learn how favorite films have been made. Yin expressed her excitement at getting a behind the scenes view into one of her favorite films, "Coraline."
"Being able to see everything and the scale that they made them in, that was really cool," Yin said.
The exhibit will be open until summer of 2024, so there is plenty of time to explore the worlds brought to life in LAIKA's films. It is a great way to get an inside look into how this studio produces their movies, and to see just how impressive LAIKA's stop motion films truly are.
Leave a Comment