Northwest African American Museum Celebrates Reopening and Black Empowerment
On Martin Luther King Jr. Day, the Northwest African American Museum (NAAM) reopened its doors to the public after being closed for three years due to initial difficulties brought on by the pandemic. The museum still remained active by shifting towards virtual and outdoor programs, but now happily welcomes guests back to their physical space. 
Cali Slair, the education and engagement director at NAAM, expressed that the day was intentionally chosen to spread Martin Luther King Jr.'s message of love and light.
"One of the things that we want to do as a museum is bring attention to the fact that the need for social and racial equality still continues and that fight still continues," Slair said. 
Every year the museum puts on a theme for Dr. King Day and this year it is 'All Here and Now.' It is a quote from a speech that Dr. King gave in 1966 calling for all citizens to have access to equal rights and the immediate need for reform. To further commemorate his legacy, one of the exhibits featured is 'A Long Walk to Hope' that celebrates Seattle's involvement in activism and the annual King Day march. This year will mark its 40th anniversary and the exhibit showcases many moments captured of the march over the years.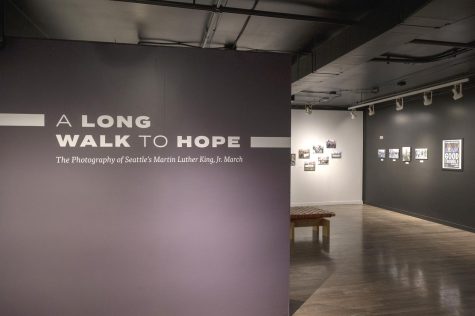 "Having museums for Black art and Black people highlight the lack of attention, effort and the intentional history of white supremacy in Seattle to exclude Black art, history, creative intelligence, the genius of Black expression and the unmistakable presence of Black people," Hasaan Kirkland, Seattle U adjunct professor of fine arts, said. 
One of two of the other exhibits NAAM currently has on display is 'The Colors of Life' that features Black abstract artists LoMar Metoyer, Shantell Jackson, Yeggy Michael and Vincent Keele. The hope is to promote a space of healing and introspection that viewers can identify with as we assume normalcy in our lives again since the onset of COVID-19. 
Michaela Olliviere, fourth year marketing major and co-president of the Black Student Union, believes art can be a valuable outlet for both BIPOC artists and viewers.
"There is a stigma in Black and marginalized communities around the healing process. We carry a lot of trauma and we have to push and keep going because we're on fight or flight all the time," Olliviere said. "With that, I feel like art is a way that you can throw your trauma into something because it eats you alive to have to deal with and see police brutality and all of the injustices happening to your community. It's like 'Oh, I see myself there.' There's no right or wrong answer with art and I feel like that's really helpful to communities of color." 
Museums have roots in white supremacy and more often than not are geared towards white audiences. This can take away from the enjoyment of art for BIPOC individuals because they are being forced to digest a story that isn't their own. Making sure that art is both accessible and representing the stories of marginalized communities allows for them to resonate with art that speaks to their story. It also challenges the glorification of colonization that a lot of our museums showcase. 
Every month, NAAM does a 'Knowledge is Power' book giveaway for pre-K through 12 schools throughout the Seattle region. These books are carefully selected to ensure that Black history is present in classrooms through the voices of Black authors.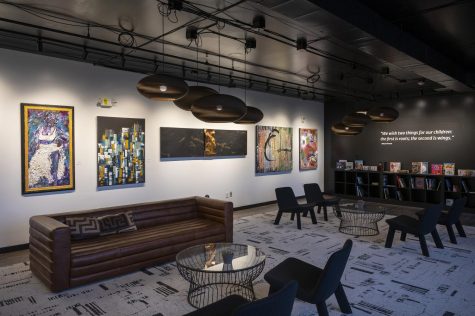 Kirkland asserted that intention is everything when it comes to having a museum that exclusively showcases Black art and preserves the history of Black people in the Pacific Northwest. 
"To showcase or exhibit Black anything is an ephemeral action with an intended end in sight, to have a museum for Black everything is intended to hold high an inclusively dynamic mission, with a set of values that preserves and respectfully honors its history. It inspires through truth and courageously evolves through contemporary innovations that accurately explore the past, present and future," Kirkland said. 
The museum has many events planned for the upcoming Black History Month from writers workshops to well-known keynote speakers. NAAM offers a one-of-a-kind experience to expand awareness of the power of Black art in Seattle, as well as the greater Pacific Northwest.
Leave a Comment