Tasveer Film Festival Returns to In-Person Showings with Packed Theaters
Founded in 2001, the Tasveer Film Festival is currently hosting the 17th annual South Asian film festival. Aiming to create a safe space for underrepresented communities, Tasveer showcases films highlighting diversity and relatability. Each screening includes a post-film Q&A with the filmmakers, and many of the films are available to stream online. Since 2019, Tasveer has worked with Netflix to grant $50,000 of funding to South Asian filmmakers annually. 
The mission of Tasveer is to inspire social change through thought-provoking South Asian films, art and storytelling. 
Mansai Mishra, the marketing manager for the festival has seen representation in Tasveer she hasn't experienced elsewhere. 
"For me personally, this is the only progressive safe place for the South-Asian community in Seattle," Mishra said.
Along with Mishra, festival volunteer Smeeta Hirani recalled the positive nature of Tasveer and its ability to bring new stories to life, recalling it as incredible, mind-blowing and reflective.
"We get a chance to forget about ourselves, and films are an invitation to get into the characters and hear their stories," Hirani said.
The Tasveer Film Festival has a special way of bringing people together, according to Lucy Mukerjee, the Tasveer board's film curator. 
"I always come away from a film festival with new friends and collaborators, and this years' staff is no exception," Mukerjee wrote to the Spectator.
The sense of comradery is not only intended for those working the festival, but also for the audience and supporters who come to view the films as well. The exchange between the viewers and directors makes the Tasveer Film Festival truly unique, adding a layer of depth and allowing viewers to fully experience the stories alongside the creators. 
"Getting to hear their (filmmakers) points of views, I am just blown away," Hirani said.
Throughout the pandemic, COVID-19 made it hard for small nonprofits like Tasveer to hold live events. Despite the inability to meet in person, the film festival was able to adapt to an online experience in some ways.
As a volunteer, Hirani saw how it was hard to engage during the pandemic, but Tasveer found a way.
"During COVID, Tasveer ended up doing a lot of online programming, which was fantastic…people were aching for a connection that was lost," Hirani said.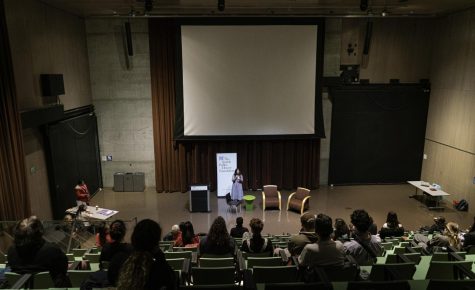 The staff experienced more specific challenges in their respective roles. Mishra, for example, struggled with reaching an audience and recalled how the last three years have been hard on audience engagement. While the showings are bringing in large numbers of viewers, there are still a significant number of people and communities who have no idea Tasveer exists. 
"There are a lot of topics in line with things we care about in Seattle, and it allows you to see the points of views from different places," Hirani said. 
Despite obstacles brought on by quarantine, Mishra feels that this year's festival was the biggest and grandest they have ever seen. 
"Our team has put in a lot of work to curate these films for you and we would love it if you could come and be a part of the festival," Mishra said.
Hirani echoed the necessity of having an audience for the film festival, while also explaining that volunteers and staff put together these screenings for the people to experience, and seeing attendees happy is all they desire. 
"It is a gem right here in the city," Hirani said. 
This year, Mukerjee said Tasveer has the largest number of film festival submissions as well as the biggest program of films representing the most countries in the history of the festival.
Along with getting to showcase their film to a theater full of intrigued viewers, filmmakers are also premiering movies that haven't been seen before.
"World premiere is the first time you actually premiere a film here…The partnerships we are building is a great channel for us to raise our reach," Hirani said.Tasveer is an inclusive, inspiring non-profit dedicated to a worthy cause. The films will be available to watch online from now until Nov. 20, tickets can be bought here.
Leave a Comment