New Vegan Jewish Deli Opens Near Campus
Amidst the vegan options sprawled throughout Seattle, a new addition comes to town in the form of a Jewish vegan deli known as Ben and Esthers. Ben and Esthers is a small West Coast franchise with locations in Oregon, California and most recently, Washington. 
The deli is a ten minute walk from the Seattle University campus and features a wide variety of vegan options to choose from. The main showstopper of the deli appeared to be the bagels as customers indulged in a large range of bagels and spreads that were available. 
Upon arrival, there was a massive line that stretched outside with a bustling but relaxed and welcoming environment indoors. As 90s music played and bagels were made, I got a chance to talk to some customers and hear what they thought about Ben and Esthers new inclusion to Seattle and what it meant for the vegan community.
"Having a deli we can go to that has vegan options is great," said Ben Shank, who was waiting in line. 
So far, Ben and Esthers is garnering support from locals and tourists alike.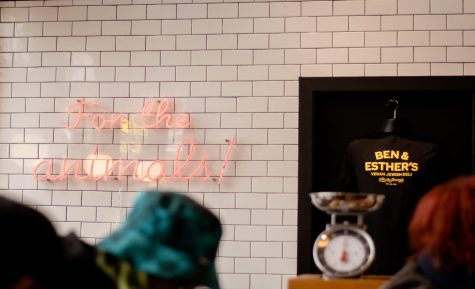 "I really love the idea of having a place where people can go and enjoy good food that they can't enjoy somewhere else, a place where the staff is friendly and treated well, somewhere I can take family and friends to visit out of town," Seattle local Jonathan Adams said.
Ben and Esther's has an impressively large menu. Above the menu, there's a large subset of text that says: "OUR MENU IS 100% VEGAN" followed by a smaller subset that says: "THE INGREDIENTS LISTED ARE NOT DERIVED FROM ANIMALS." 
The menu items ranged from traditionally "meat-heavy" options like "Benny's Brisket", or the "Steak + Eggs" bagel sandwich, to more traditional Jewish staples like the "Noodle Kugel," "Potato Latke," "Hamentashen," "Challah" and of the many favorites, the potato knishes. The menu also included items from European and Mediterranean countries like the dolmas and the one that surprised me the most; Borscht, A beet soup that is derived from Russian cuisine.
Under the impressive menu were friendly staff that were enthusiastic, eager to interact and serve customers and helpful. 
 "(Ben and Esther's) treats their customers well, supports animal rights related situations, they have a good relationship with the homeless, and obviously here they have a relationship with the Jewish community which is cool, they also treat their workers well," Joan Paluska, an employee at the deli, said.
Paluska sensed the excitement from customers during the hectic opening days of the Seattle location.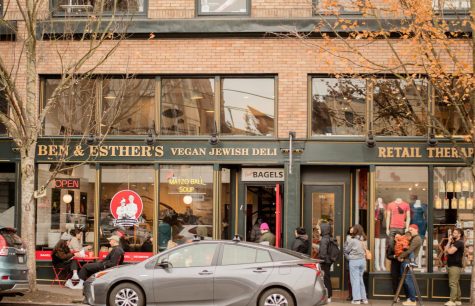 "The original location is in Portland, and apparently some people used to drive all the way over there to get their fix. And there's a pretty big vegan community here, and same with the Jewish community, and so I think for like the first month or so, it's going to be busier than normal," Paluska said.
Many of the customers there also felt strongly that Ben and Esther's recent opening was an important addition to the vegan spots in Seattle.
"There have been a number of restaurants (in Seattle) like Wayward Vegan cafe, that have recently closed. It's becoming increasingly difficult to find vegan alternatives and that's one reason that I wanted to come out today, it's because I think it's important for people who eat plant-based diets to support small businesses," Adams said.
Adams mentioned environmental and ethical motivations for being vegan. 
"I just don't really like the idea of eating something that used to be alive," Adams said. 
Ben and Esthers inclusion in Seattle has created lines that wrap outside, vegan sandwiches that turn heads and an ambience that encapsulates Seattle's diversity. The deli makes for an unforgettable experience that makes customers keep coming back for more plant-based options, and is an amazing way to support a small business.
Ben and Esthers is conveniently located in the heart of Capitol Hill, which indirectly incentivizes students, who may not be from Seattle, and who are looking for more plant-based options, a great opportunity to venture outside of the campus and eat locally. With the positive, inclusive ambiance, it will be a great place to get a quick bite, when the line dies down of course.
Leave a Comment