Bloedel Reserve: A Sanctuary Across the Water
"Nature can live without man, but man cannot live without nature," Prentice Bloedel once said.
Prentice Bloedel co-founded the Bloedel Reserve alongside Virginia Bloedel where they had lived long before the land was open to the public. Once a private residence, the 150 acre site opened its gates to the public in 1988 and has since served as a haven for meditation, connection and nature immersion. 
A series of artful gardens and unique natural textures, Bloedel Reserve is a lush landscape nestled on Bainbridge Island, a thirty-minute ferry ride from Pike Place Market. With the mission to deepen visitors' connection to themselves and nature, the staff at Bloedel works intently to maintain their founder's mission.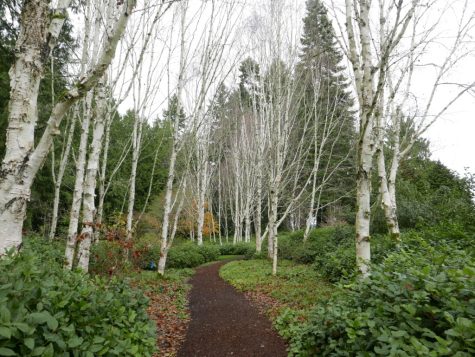 Etta Lilienthal, communications manager at Bloedel, sees the reserve as an opportunity to escape the chaos of daily life.
"Our fundamental mission is to enrich people's lives by fostering their connection to nature. We do that by facilitating the Bloedel reserve to be open to the public, to curate these natural gardens…and provide a place where people can really come away from the modern world and disconnect from the intellect and move more deeply into the body, the senses and emotions," Lilienthal said. 
Bloedel's mission has long resonated with Seattle University students, and a subsequent mutual relationship has formed between the communications department at Seattle U and Bloedel Reserve.
While working with Bloedel through facilitating professional experience for student interns, Seattle U Communications Professor and Internship Coordinator Jim Clune has witnessed the connection between the two.
"The students start the class by creating a communications plan for the clients, and then they execute specific tactics that they described in their plan…this quarter they are doing a research project where they are in the gardens interviewing people and trying to get an understanding of what the value of the garden brings to them," Clune said. 
Each quarter, students work with Bloedel Reserve to progress a different aspect of their personalized communications effort. 
"What is so great about this relationship is that it's a different student team each [quarter] and although the assignments are typically similar, each student team tends to want to focus on different things…it's been really helpful to have these internships, to allow me to do things that I don't always have the time to do, so that I can grow certain arms and aspects of my communications efforts with [the student's] help," Lilienthal said. 
This quarter, Julius Johnson and Paige Batteiger, both fourth-year communications students, are working on surveying visitors of Bloedel in hopes of expanding the reserve's audience and introducing new people to the landscapes. As they reflected on their experience interning with Bloedel, they emphasized the hospitality of the staff and innate beauty of the reserve.
"Everyone that works there is so incredibly friendly, it seems like it's their pride and joy working there. It's such a different world [from] Seattle where everyone is doing their [own] thing. It's been really nice, everyone has been incredibly kind and helpful, and the place is beautiful," Batteiger said. 
Batteiger's image of serenity and escapism is reflected in Johnson's experience. 
"Beyond the communications experience [we have] been getting, I think it's really nice to see how people that work in such a natural environment really benefit from that work. Everyone that we've met there has been super happy, and they really enjoy the space…being able to connect with that and experience that for myself is probably one of the best parts [of the internship]," Johnson said. 
The bustling city life of Seattle U students is starkly contrasted by the lush greenery and open space that Bloedel provides. In contemplation of that contrast, Lilienthal emphasizes the unique freedom of taking time away from chaos.
"Specifically with students coming from Seattle U, they are coming from Seattle to Bainbridge Island, which is more remote and more out in nature. The ferry ride is kind of like a gate you have to pass through, and then as you get to the reserve, it really is a stunning and surreal place of beauty. There is an element of freedom to being outdoors. There is such a sense of peace…and difference from their lives in school," Lilienthal said. 
Just across the water, Bloedel Reserve makes outdoor spaces that aren't commonly accessible in the city available to everyone.
Leave a Comment