The Redhawk Road to Rocky Horror
Receiving red lipstick V's drawn on their foreheads, Seattle University students flooded the Pigott Auditorium for the Inigo Student Theatrical Production's fourth annual performance of the Rocky Horror Picture Show (RHPS). A definitive cult classic, the Rocky Horror experience has been defined by its audience participation, including callouts, costumes and a shadowcast for decades.
Cast and crew recount that the show is just as unique of an experience behind the scenes as it is for the audience.
"We always joke that Rocky Horror is required to be a disaster backstage," Fourth-year Art History major and show technical director Kirvin Ahlers said.
Third-year Forensic Science major and RHPS Director Zachary Dar explained that Rocky Horror is a show that necessitates creative liberties due to the unorthodox nature of a shadowcast, an instance where the actors are mirroring the movie playing behind them.
"You're directing a stage play that's supposed to mirror a movie, so the set is inherently different. Some of the props stay on stage permanently throughout the show, and it's hard to place people and choreograph certain things," Dar said.
Ahlers also noted that while certain production elements such as quick costume and setting changes are easily achievable in a film medium, they are often difficult to accomplish in live theater.. 
"If you've ever put a corset on, you'll know that it takes time, and we're putting on about four in thirty seconds. Our hardest character to get out on time is always Janet, and this year we got her out on time every single show, so that was something I was proud of," Ahlers said.
Rocky Horror has also survived decades of cultural transition, making it one of the longest running productions in history. Club members described how the show serves as a cross-generational bridge, as many parents saw RHPS gain initial traction in the 80's. However, university administration asked to reschedule the production until after family weekend after concerns with its sexual content were brought forward by parents. While the club feels supported by the administration, some members report feeling personally disappointed in this change.
"I think that while the university doesn't disapprove of the show, its concept or its contents, it does not directly support or engage in marketing for our event," Dar said.
Despite production challenges, club members found that RHPS offered them a special sense of community not only as a theater production, but as a cultural piece and source of personal connection. Fourth-year Physics major Sarah Torset, who joined the production as the emcee, explained how Rocky Horror has garnered a following in the LGBTQ+ community.
"It's been a really important movie in queer culture–it's very explicitly queer. It's evolved to be so significant even though it's campy and culty and the plot doesn't always make sense. It's fun, and that's what's important," Torset said.
Inigo Club Vice President Rhy Mack, a second-year creative writing major, also discussed the historical and social context of the show.
"Rocky has a really complicated history, especially because it was made to be transphobic. Frank-N-Furter is made to be a caricature. But most of our cast and crew is made up of queer people," Mack said.
"It's a reclamation," Ahlers said, to a resounding yes from their fellow Inigo members. "I think that's what is so beautiful about the culture around Rocky, it's become a reclamation of our power as queer people and that community is really strong particularly in our club."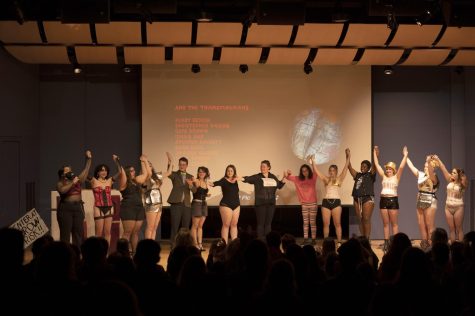 Some cast members said the show provided them an opportunity to explore and affirm their gender and sexual identities. Outside of his technical work with the show, Mack spoke to his experience portraying a motorcycle riding, saxophone playing, leather jacket clad Eddie.
"It was really fun to play a character like Eddie. It did great things for my self image and gender expression to play this chubby punk guy, because that's who I am. A 'low down cheap little punk'—it's so fun for me," Mack said.
Third-year Criminal Justice major and Inigo Club President Abby Robertson described the positive personal impact of portraying the titular character of Rocky.
"It was a very interesting experience for my self esteem, to go out on stage as a character that's made to be attractive. It was very affirming for my self expression to do that role," Robertson said.
For the Inigo Club, Rocky Horror is a cemented aspect of Seattle U's campus culture, drawing in everyone from first-years to faculty and staff to club alumni and founders. They wish to see the tradition continue and the production grow, hopeful that in a decade the crew will be able to complete a corset change in 10 seconds flat.
Leave a Comment