Global Street Fair Springboards Student Cultural Engagement
The annual Global Street Fair aims to showcase study abroad opportunities at Seattle University and invites students to immerse themselves in new culture. This year's fair took place Tuesday, Oct. 11 in front of the Lemieux Library. Throughout the fair, food stands and live music were available for students to enjoy and it was virtually free of charge. Students simply swiped their campus cards and were given food vouchers to use on many of the stands. 
The main attraction was by far the food, ranging from traditional Japanese mochi to Mexican street tacos. The long lines didn't deter attendees as it gave students and professors from all parts of the world a chance to socialize and get to know more about each other and their respective cultures. The community gathering ultimately led to a vibrant environment that encouraged others to join in on the tasty food and the opportunity to learn more about others.
First-year Environmental Engineering major Jaye attended the fair to engage with students she hadn't yet met.
"Seattle U has a large community of international students; I feel that more should go out and advertise their experience," Jaye said. 
For Julie Rios, a fourth-year public affairs major, the event was a great place for everyone to come together. 
"It's just a place where so many cultures can gather and share more information about themselves and their culture," Rios said.
Participating in campus events can make students feel more connected to their peers, especially after years of the ongoing COVID-19 pandemic.
"It gives you a community and it helps to make Seattle U feel more like home," Catherine Mead, a fourth-year nursing major, said.
Moreover, other participating students were very eager to display aspects of their culture they were proud of. A large sign that read "Hidaka Taiko," accompanied with a bowl of Japanese candies and a video of a performing ensemble of traditional Japanese drums being played by Seattle U students. 
Hidaka Taiko provides the opportunity to foster a community where Japanese students feel welcome and have an ability to practice traditional Japanese instruments.
As the event went on, more students spoke about their culture and what it means to them. One student  shared some information about their culture as a person of indigenous background, and for the first time in a while, they said they felt comfortable sharing their ethnicity and cultural background to people without getting an ugly look or a confused side-eye.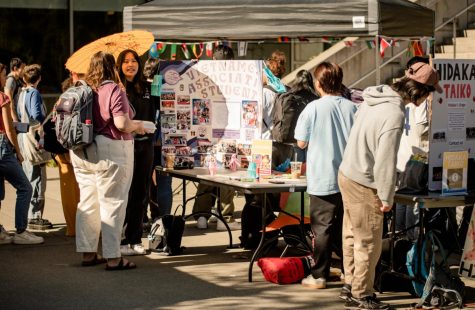 Additionally, many study abroad kiosks spanned the event. Mayra Villegas, an institution relations manager for the Council on International Educational Exchange (CIEE), works to enlighten students about programs offered by Study Abroad. She looks forward to seeing more students study abroad and gain a more global perspective.
 "Education abroad is possible for every major and every student. CIEE even has an amazing program to help with any financial issues," Villegas said.
Many Americans lack prior awareness of international affairs. The Global Street Fair holds a vital role in helping to bridge the gap and beginning to educate students on other cultures. For some, the fair is the first spark towards studying abroad. Fellowships, or other ways to engage more fully with experiences beyond U.S. borders.
"I look forward to seeing more students study abroad so they have a wider perspective on the world," Villegas said.
Leave a Comment