Students Find Refuge in Emotional Support Animals
In seeking companionship for assistance navigating the rigors of college life and preexisting mental health conditions, students sometimes turn to the comfort of emotional support animals (ESAs).
In alignment with the United States Department of Housing and Urban Development's rules, Seattle University allows students to have ESAs that help reduce the impact of their disabilities in their day-to-day lives. The process of getting an ESA requires a submitted request to Disability Services for approval in connection with Housing and Residence Life.
Fourth-year Criminal Justice and Psychology double major Sedona Naifeh has had two ESAs while attending Seattle U: a hedgehog named Nutmeg (who passed before her second year) and a dog named Hazel. She said the process of getting an ESA on campus is not difficult, but acknowledged that she had already had diagnoses from her doctor and a mental health professional, which she did not need to obtain while in school. 
"I called Disability Services and spoke to them before I moved in freshman year and showed them my paperwork, it was pretty straightforward," Naifeh said. "With Hazel, it was a little more difficult because there's more responsibility on taking her out and in an emergency situation, but I got that done in advance."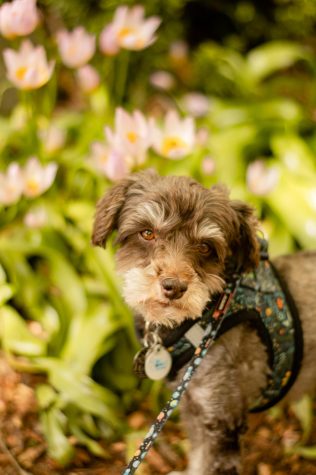 It took some time for Naifeh to adopt a new ESA as she felt the loss of Nutmeg deeply. Nevertheless, she shared what makes Hazel a great companion. 
"She has the perfect temperament and she's very good at her job," Naifeh said. "She's very emotionally intuitive and knows exactly when I need her to be there for me. She's a big part of how I process things."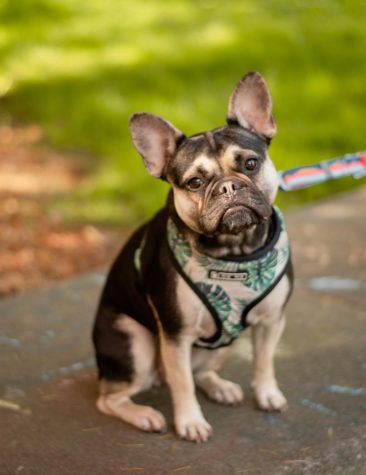 When living in the Murphy Apartments last year, third-year Nursing student Kela Ziegner found that the trickiest part of getting her ESA approved, a french bulldog named Lani, was getting her registered in Washington state (as she was previously registered in Hawaiʻi) and obtaining a psychiatrist's letter. 
"For me, dogs are just more social and want attention from humans than cats who just kind of do their own thing," Ziegner said. "I wanted a support animal that would sit with me and also encourage me to get outside. I take [her] on walks so she keeps me active as well."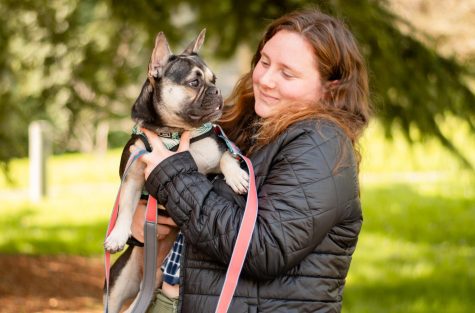 Ziegner got Lani during the COVID-19 quarantine lockdown. Once on campus, she was a little uneasy waiting to see how the ESA process would play out.
"It was kind of difficult because I have classes, so I had to make sure she wasn't loud or bothering the neighbors, but she was really good about that," Ziegner said. " People have been okay with her and she can go into the dining hall—campus is super open to [ESAs] which is super nice."
Arden Yazici, a third-year computer science student, got her cat, Poppy, during COVID-19 as a way to find relief from thinking about the pandemic. As an ESA, Yazici said that Poppy helps reduce the anxiety in her life.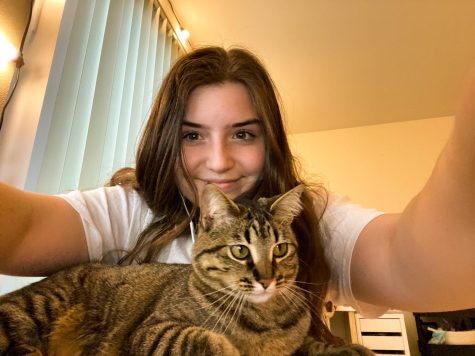 "She is something to go to when I'm really stressed out and it's nice to look down and see a cat looking at you," Yazici said. "It's really cute if you're nervous or freaked out. It's nice to pay attention to something that's not homework or studying—an excuse to take care of something other than myself. Of course, she is also a huge resource for happiness."
Yazici noted that Poppy gets very scared as well, so the pair have been each other's emotional support. She chose a cat to have as an ESA out of familiarity with that type of animal and divulged that her relationship with Poppy is one that keeps growing.
"[Poppy has] actually gotten better at coming around when I'm really sad," Yazici said. "She can tell that I'm in distress many times and that's really nice. She's really shy around everyone, but doesn't have that shy nature around me. Having someone that kind of feels like your best friend in a little fur form is really nice."
It is important to understand that an ESA is not the same thing as a pet. An ESA is a working animal that provides beneficial support to someone with a behavioral, psychological or physical disability whereas a pet may do the same, but not in a clinical presence for those with a diagnosis. It's a distinction that Naifeh finds important—especially because when people try to get a pet while falsifying the need for an ESA. It can create barriers for those who need it. 
"I know that by nature ESAs are very similar to a pet and I understand that," Naifeh said. "But for the people that truly need ESAs as a part of a treatment plan, it makes it a lot more difficult to get those resources when everyone under the sun is getting a pet because they want to."
The biggest example of this problem outside campus is on airplanes in which ESAs are no longer allowed to fly for free with their owner. Naifeh used to have no problems with Hazel sitting on her lap. Now, Naifeh has to pay an extra $100 every time she flies and Hazel must be under the seat in front of her. 
Students also noted that there's a stigma surrounding having an ESA as it's often viewed as less legitimate than a service animal when the reality is that ESAs provide essential support to those who need help navigating stress, anxiety and other obstacles.
ESAs are an important support for students who need them, but as an added bonus, Naifeh also said that Hazel is able to bring happiness to others in her building. 
"She not only provides emotional support to me, but also the whole building," Naifeh said. "She brings joy to a lot of people."
Leave a Comment