Mother's Day from Scratch: Mother's Day 2020
Honking car horns, making signs, and video chatting are common actions people are utilizing to brighten the days of their loved ones especially when missing important celebrations during quarantine. People are tweaking their celebrations—from birthdays to graduations to religious gatherings—to fit current needs, and it just means getting creative. Mother's Day is just one of the celebrations that may be a little different this year, depending on the tradition followed.
Typically, one of the most popular Mother's Day activities is going for brunch. While going out for a meal may not be an option for most states right now, the option of having brunch come to you is a reality. Many restaurants are doing delivery and takeout brunch specials for Mother's Day, so a family can bring the tradition home. This is also leading a lot of people to fire up the ovens and create their own spread.
Benedectine College junior Mary McCowen is figuring out how to still enjoy the day and show her appreciation for her mom despite the change.
"We usually go to the country club and it's a little family reunion with Mother's Day," McCowen said.
Quarantined with her parents, McCowen plans on cooking a large meal to, of course, spoil her mother. She also plans to deliver flowers to her grandmother who is in isolation so she can still celebrate. Though it may take more effort and time, McCowen knows it will be a rewarding thing to do. She says she wants her family to feel as normal as they can during this irregular time.
Some are not changing the way they celebrate the holiday at all at all. Mother's Day can be more of a relaxed day with nothing too out of the ordinary. Yana Silakova, a junior at University of Colorado Denver recognizes Mother's Day is a special day for some people to go all out, but for her it is casual.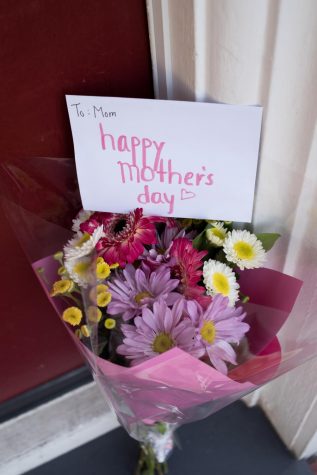 "Honestly, we don't really have any special tradition. I usually get my mom a gift and her boyfriend gives her flowers," Silakova said. "That's kind of it."
For Silakova, whose mother emigrated from Russia, that is the cultural norm as Mother's Day is not even celebrated until November in Russia and is mainly about giving flowers and a gift more than having an extravagant meal or big activity.
However, in America celebrations can be extravagant and big for some families. One recent graduate of University of Northern Colorado, Keeley Nelson, is trying to find some way to create a celebration on the scale of her normal activities, without physically being home with her mother in Fountain, Colorado.
Nelson cannot return home, as her mother is in the high-risk health category. Their family's typical tradition of going out for fancy steak dinner and cake celebration will not happen this year.
"Normally we all get together and recognize how much [our mom] means to us and how thankful we are to have a mom like her," Nelson said.
Even Nelson's sister, who works in North Carolina, will not be able to return home for the holiday, but the family still plans on making it special for their mom. This will be the first time Nelson's mom has a Mother's Day celebration without her children. Nelson is determined to still make it a good day for her and has plans to do so.
"I'm going to call my mom and wish her a happy Mother's Day. Since I can't hand her a gift, it will be there, thanks to Amazon Prime," Nelson said.
The gift is not what Mother's Day is about though for Nelson, it is about being able to celebrate her mother's contributions to the family, so being away from home for this specific holiday pains Nelson.
Even businesses are changing up their traditions for Mother's Day. In Seattle, Pike Place Market will still partake in the 12th Annual Flower Festival in time for Mother's Day. The festival took place on May 9 and was conducted as a drive-thru. People who preordered flowers were able to drive through a pop up vendor stand to pick up a bouquet rather than strolling through and buying flowers.
People may be apart, people may be without their favorite spot for Mother's Day brunch or tea, and gifts may arrive late due to expected shipping delays, but the one thing that doesn't change is the love and appreciation people hold for their mothers.
The pandemic proves that people don't need to follow a typical tradition, but that their love and thoughtfulness is what transcends and stands in the face of obstacles.
Leave a Comment