Mural, Mural On the Wall: Local Artists Paint Murals in Capitol Hill
In the midst of the stress and uncertainty during the COVID-19 pandemic, beacons of hope have been splashed, sprayed and spattered in the forms of colorful murals throughout Capitol Hill, the vibrant Seattle neighborhood known for its rainbow crosswalks.
Many restaurants and shops throughout Seattle put up massive plywood planks to protect the windows of their storefronts in anticipation of extended closures. The near deserted streets of Queen Anne, Ballard, Fremont and Capitol Hill looked even bleaker. In response, some business owners put out calls for local artists to come and add some personality to the dreary boards.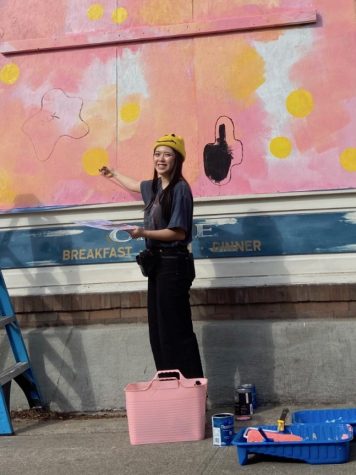 One such artist is self-taught Bella Pham, also known as SADGRRLZ, who was invited to paint one of the first murals in Capitol Hill on the boarded up storefront windows of Oddfellow's Café & Bar. The Seattle U alum responded to an Instagram post by Linda Derschang, the well-known owner of Oddfellow's and other local restaurants, searching for prospective muralists. Within two days, Pham was out on her ladder painting.
With her cotton-candy pink mural, Pham wanted to bring a sense of playfulness to a city that always seems to be clad in black and grey.
"It's like part of growing up makes you abandon crazy colors," Pham said. "I'm trying to bring us back to a place where we feel like it's okay to be a little different and express joy and creativity through color."
She also added cartoon characters—a smiling white bunny and puppy—along with lots of smiley faces.
"It's cute—you don't have to be a kid to enjoy cute stuff," Pham said. "I'm trying to dismantle that. Many people think cuteness is weakness."
Unfortunately, one aspect that comes with the public territory of murals is their susceptibility to damage and vandalism. A week after her mural's completion, Pham discovered silver graffiti sprayed onto a portion of the wall and went out to paint over it immediately.
"It made me really sad, especially because it's in a public place and I didn't want that to represent what I was trying to spread in my message," Pham said.
Specifically, the graffiti said, "Chinese virus," a racist term for COVID-19 that has led to xenophobic aggressions against individuals, spurring anxiety within Asian communities throughout the country.
"I was really upset about it," Pham said. "My mother was already afraid for me to paint this in the first place because of all the backlash Asian Americans have been getting. It probably hurt her more than it hurt me."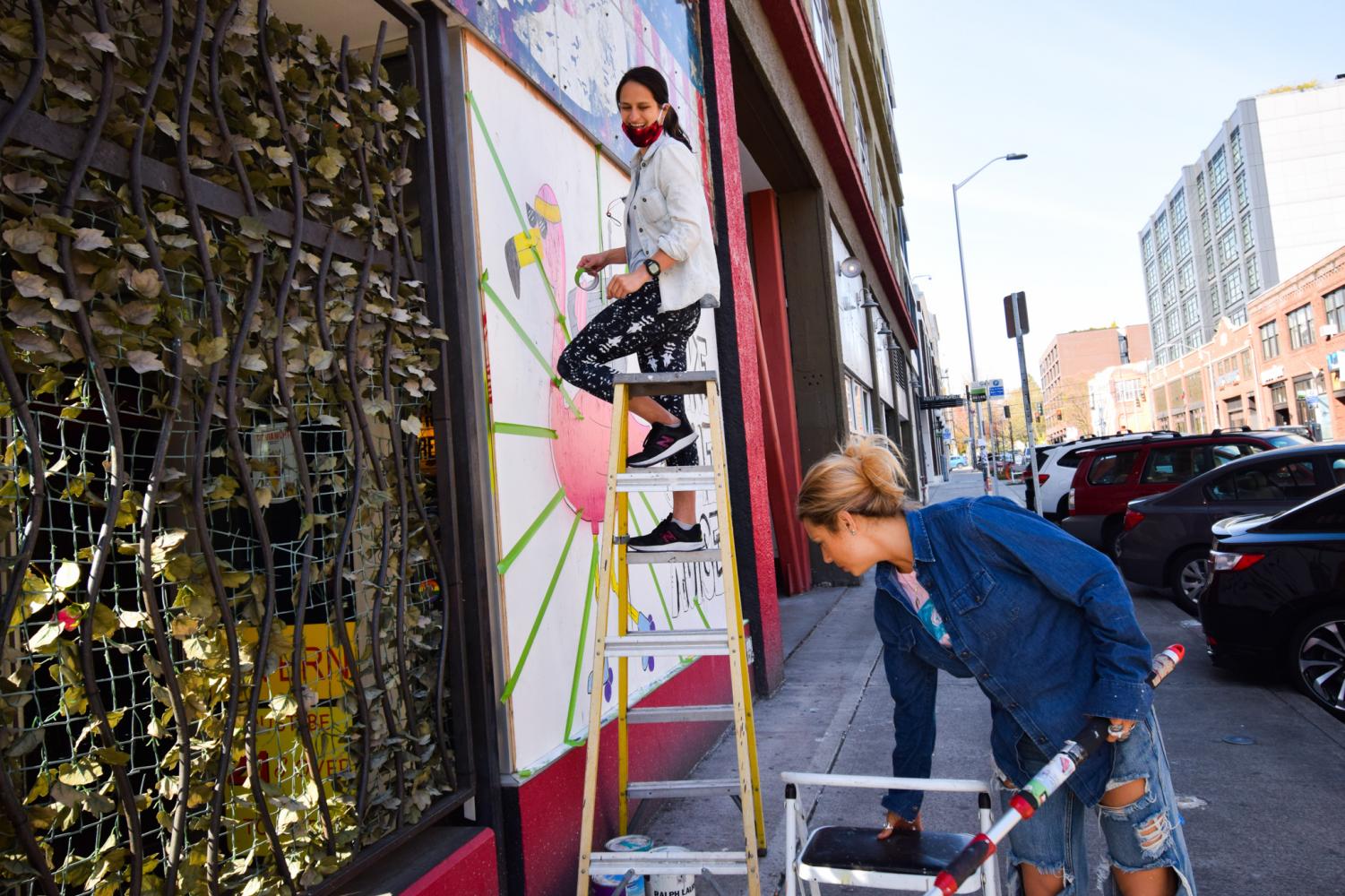 Ultimately, the public's response to the murals in the city has been positive, encouraging and collaborative for community members, especially the artists themselves. Pham worked alongside Stacy Milrany, a fellow artist who also showed up at Oddfellows that day with similar paint colors. The two artists were able to share paint, ask each other for advice, and share the experience of painting their first murals.
The same can be said for Jillian Chong and Morgan Zion, two other artists painting just around the block at Sam's Tavern who have also worked on multiple other murals throughout the city.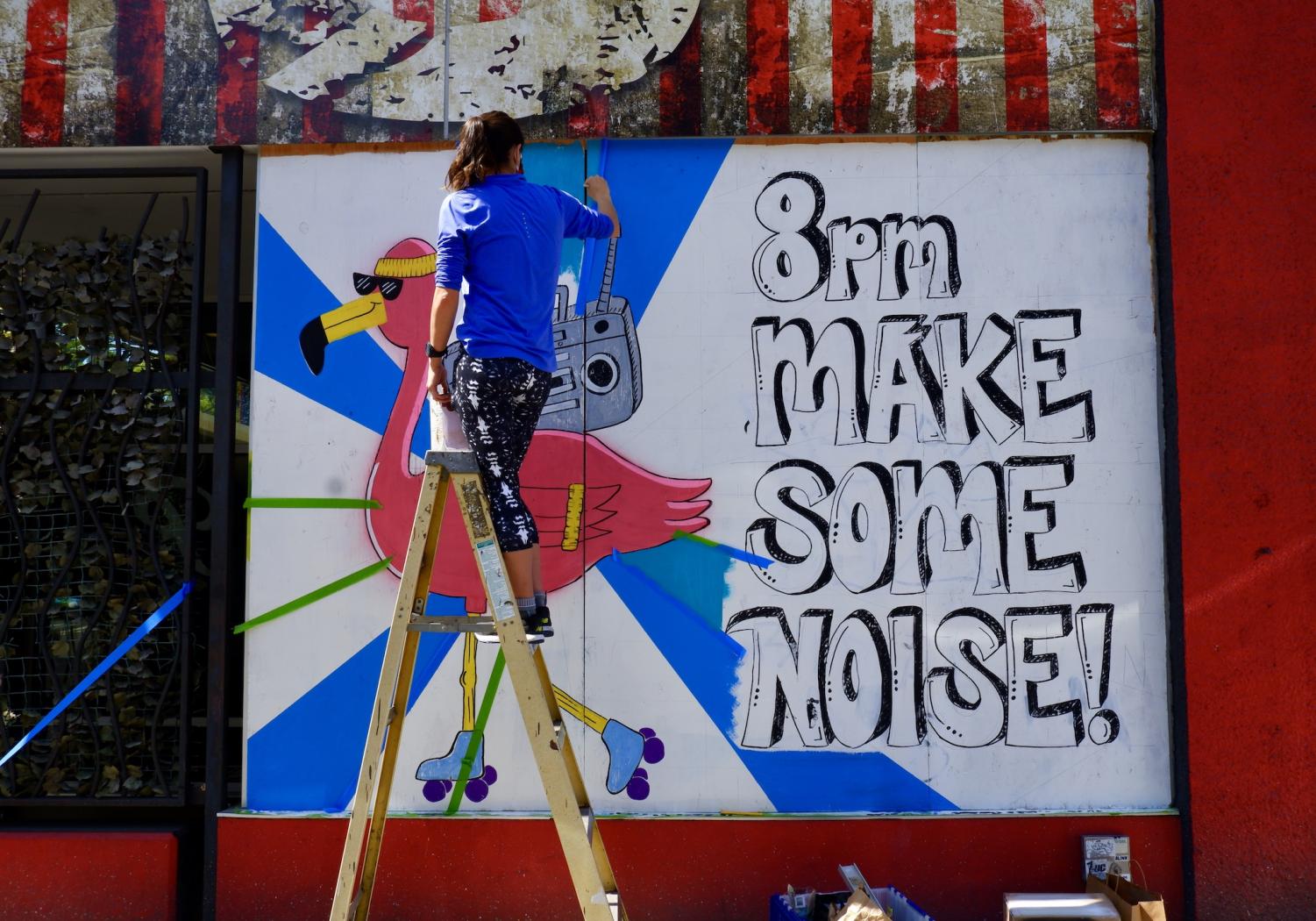 Chong was working on the "Flamingo in Roller Skates" next to Sam's Tavern on Pike and 11th. While she usually does monthly chalk murals, Chong wanted to paint this mural to show support and appreciation for nurses, doctors and medical professionals. She has received a lot of positive feedback from community members who pass by her work.
"People definitely love it," Chong said. "It's a good way to encourage the community, liven up spirits and give a lot of good messages to get through this time."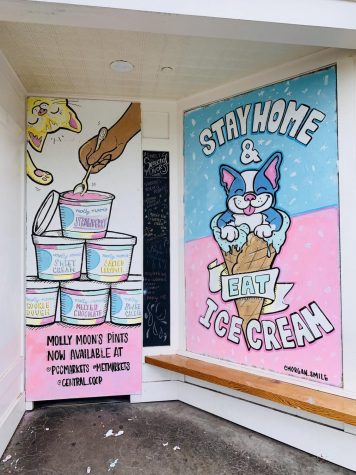 Zion, who had already completed her mural of smiling burgers and fries, was working on her next three-panel mural in front of Molly Moon's ice cream shop. In the past month of quarantine, the artist and yoga instructor started painting murals in Queen Anne and made her way throughout the city. She also painted two adorable hugging sloths on Pike and 10th, and is planning on painting for the Molly Moon's location in Columbia City.
These cheerful works of art require lots of paint, patience and oftentimes hours of painstaking work. For Pham, her mural took five hours to complete—an all-time painting record for her. For Zion, murals typically take at least three days to complete.
Another lesser-known aspect of these murals is the financial cost of painting such large pieces and finding artists who are financially able to do so. Zion explains that while artists want to provide beautiful artwork for the community, it can be difficult to do so unless they already have the paint and materials laying around from a previous project.
In order to address this, most artists and business owners are able to compromise and come to financial agreements. In some cases, businesses offer to cover the financial costs of the materials if they cannot properly compensate the artists for their work.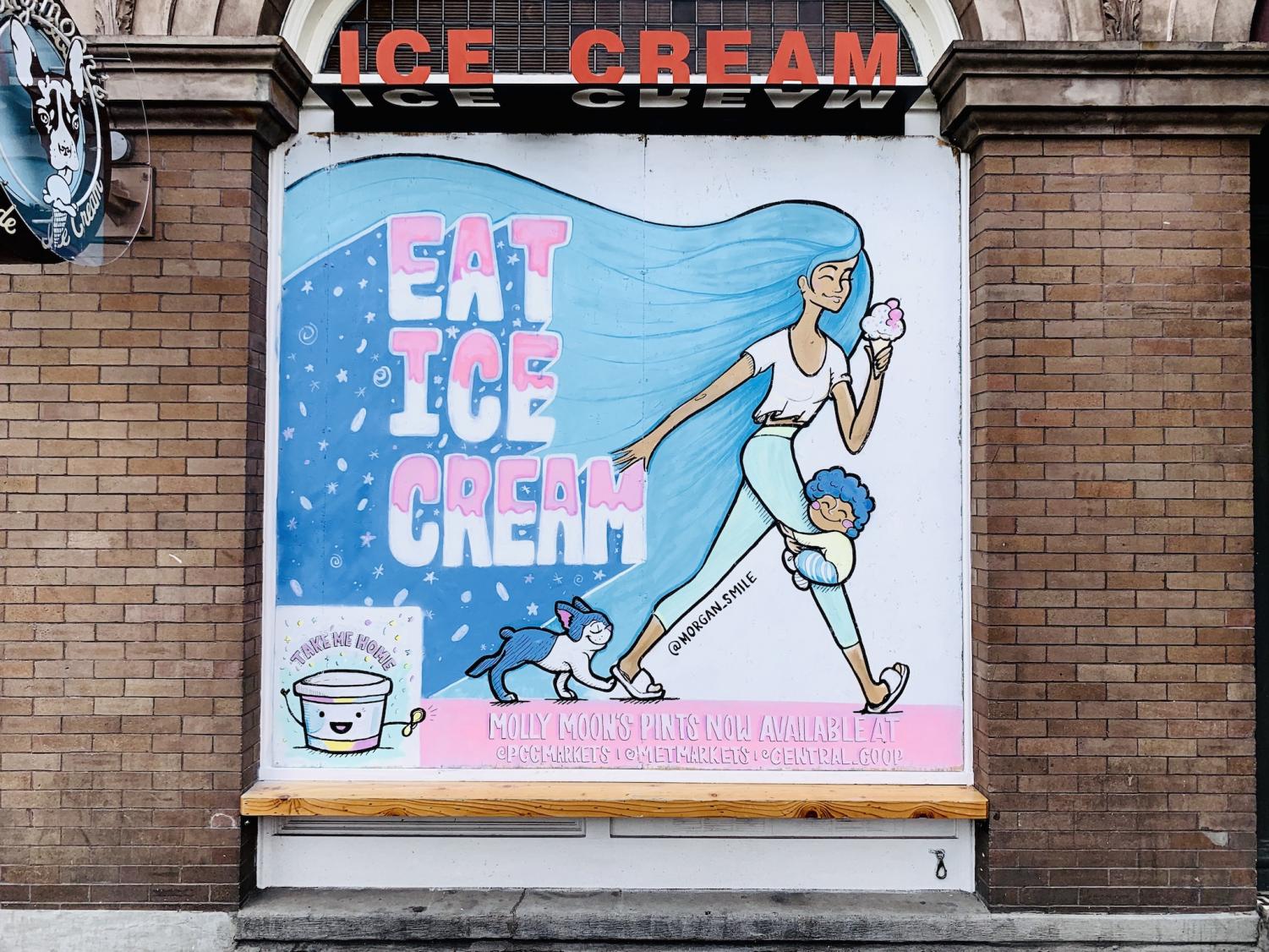 At the end of the day, these artists' goal is to bring beauty and hope to others in a time where it is easy to let negativity get the best of us. Zion centers her work around positivity, as seen in her Sam's Tavern mural which encourages viewers to "Keep Smiling, Seattle."
"My job is to make a difference in people's lives, so when I'm not able to do that in a way that is normal to me, I still feel the impact because I see people's faces and I see when they tag me on Instagram that they're really enjoying this art," Zion said. "I also know that making a difference is asking, 'How am I able to change people's imagination about this situation in a circumstance from something so negative into something that is actually quite positive?'"
With dozen of murals across the city, send The Spectator photos and stories of your favorite murals to add to our photo collection.
Michelle Newblom contributed to the reporting of this article.
Leave a Comment