Trees, Green, and All Your Nature Needs
Trees, flowers and gardens have been an important part of Seattle University campus. From the Urban Oasis located between the Student Center and Lemieux Library to the Columbia Orchard located on the East side of Columbia Building along 14th Ave, each campus greeneries carry a special meaning to the Grounds Team, and each of the gardeners help cultivate the unique urban landmark that distinguishes Seattle U from the rest of the city.
The Kubota garden, created by Fujitaro Kubota in the 1950s and 1960s, symbolizes a Japanese tea garden; the garden is marked by Japanese maple trees and legacy trees that were planted at Seattle U by Kubota. Seattle U's Kubota garden follows Kubota's Japanese tea garden setting which was inspired by the original Kubota Garden in the South Seattle area.
Seattle U's commitment to maintaining gardens and campus foliage keeps a vibrant, natural campus where sustainability is encouraged at the highest level. Talking about the campus' trees, Shannon Britton, grounds and landscaping manager, said that trees make her feel connected with the Earth" Britton has been with Seattle U for more than 30 years.
"I like catalpa trees. Another tree that I highly recommend you to take a look at is the magnolia tree," Britton said. You can see it near the Admin building."
Britton also noted that Seattle U's gardens were pesticide-free. In the last few decades, the Seattle U Ground and Landscaping team has taken the next step to maintaining a sustainable gardening system on trees and flowers—which meant that they no longer applied pesticide on trees and flowers.
To treat trees around campus, Britton said that she and her team would keep them "as natural as possible."The Grounds team would only interfere when accidents, such as broken branches, occur. Moreover, Britton said that the Grounds Team would only feed trees with organic fertilizers and compostable materials. This treatment preserves wildlife, like bird populations, around the Seattle U campus.
Britton said that Seattle U's garden collected a diversity of trees with nuts and flowers. The variety of trees will provide birds population nutrients that they need and also shelter them from the urban atmosphere.
Longevity of the trees and their complicated roots system can put Britton and her team in a hard scenario. She said that it is hard to correct the roots system of trees, but at the same time, not to harm trees.
"You can see that there is a little bump on Marion Hill, between Pigott and Bayan due to [roots system] of trees," Britton said.
Despite their upkeep challenges, Britton said that she loves trees and she cares about "living things."
"Sometimes [trees] are like humans and you have to take care of them," Britton said. "Definitely, it is hard to correct them, but I care about the living things."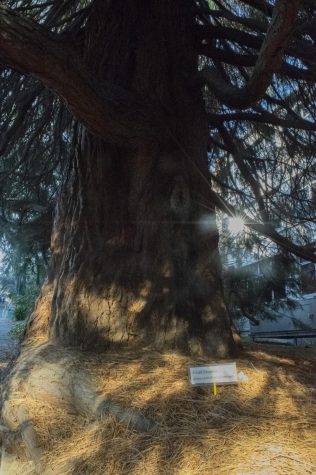 Diversity of trees and flowers distinguish the Seattle U campus from its urban surroundings, and truly symbolizes the culture of Seattle U. From cherry blossoms in Bellarmine turnaround to birch trees near the library to the Giant Sequoia close by the Quad, all of them proved that Seattle U aimed to be a green campus in more ways than one.
Britton also said that during her time with Seattle U's gardens, she and her team observed the decrease of Cherry Blossoms due to high moisture in the atmosphere. Britton explained that Cherry blossoms used to be a huge part of Seattle U's gardens, but the change of moisture affected cherry population and consequently led to the few we have left, the small group of Cherry blossoms along the Bellarmine building.
I would recommend you to take a look at the Biodiversity Garden near the Nursing Building. The collection of trees and flowers in that garden will amaze you, especially the invasive species English ivy tree. Spring is coming, so please come out and enjoy some green coverage.
Leave a Comment