Drip Tea With That Drip Drop
For the boba novice like myself, and with so many options on Capitol Hill and beyond, getting your start in the boba world can feel daunting. In Capitol Hill, Drip Tea, conveniently located near Seattle University, is a haven for self-proclaimed boba lovers, with more than just the milk tea to bring customers in.
Operating with a semi-hype beast slant, Drip Tea is located on 10th Ave. just off Pike, and incorporates more than just bubble teas on their menu. With an array of blended drinks and desserts, there is plenty to choose from, even if you're a little apprehensive when it comes to boba. If you're looking for even more, they also have a small selection of designer items from Supreme to smaller scale brands in the back of the store resembling somewhat of a capsule collection.
With a line spilling out on the sidewalk and wrapping all the way around the building during the weekend of their soft opening, I wanted to talk to someone with insight on Drip Tea's creation and its apparent mass appeal.
I spoke to the three owners—Justin Ngyuen, Paul Kwon and Lena Phan—who are working to bring Seattle a concept they felt is lacking: quality boba and a quality retail experience all in one.
"A concept store is a pretty broad subject, but it's turning two of an existing concepts into one," Kwon said. "There were two things that Seattle lacked in our opinion, and that was high quality boba drinks and retail, or a good serviceable retail space where smaller brands can be showcased. That's kind of what we do, we give brands life that they otherwise wouldn't get."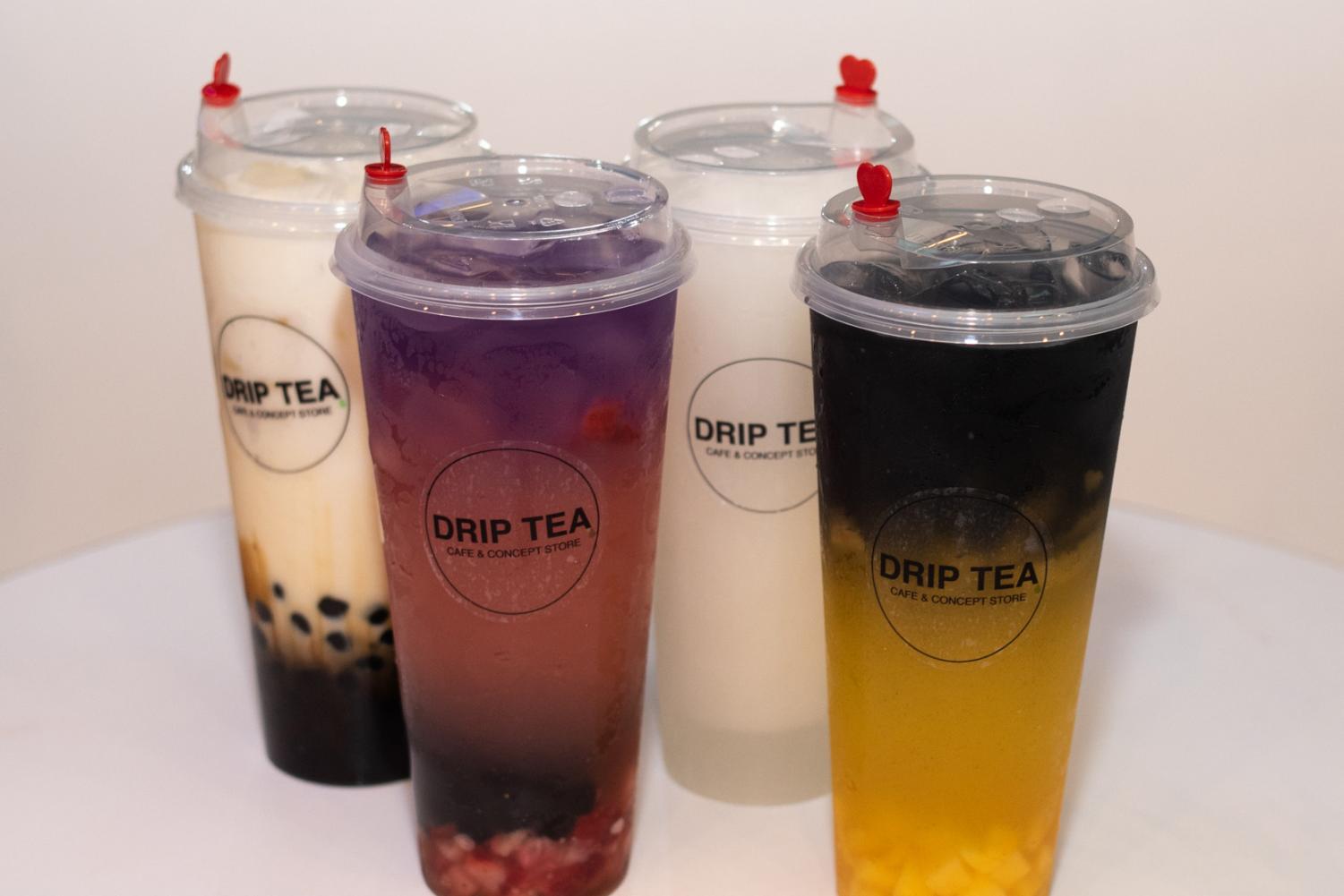 Right now, the three owners are showcasing one of their friends' brands—fatboyeats.us— which has never sold anywhere physically before Drip Tea, vending exclusively online.
"We're his first brick and mortar, and it's been doing really really well. It's fun to execute stuff that way because we give people a reason to come other than just for the drinks," Kwon said. "That brings two streams of revenue and two streams of traffic too, because somebody that might not otherwise drink this kind of stuff gives it a chance while they're here because they're more fashion forward."
For people who come for the fashion, they can easily grab a drink while they browse, or sit and chat. Drip Tea also showcases the Bearyaki, an egg puff pastry in the shape of a bear with soft serve ice cream that has taken over my Instagram feed.
"I think we're the only people in the States with it right now—it's custom," Nguyen said. "Seattle hasn't really had much of a Taiyaki presence, there's a few but they're all different, like the fish shape, but ours is the bear."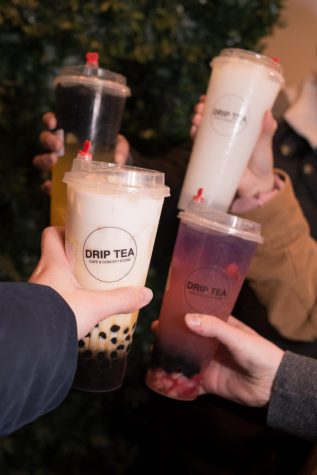 From the molds, batter, teas and recipes, everything is made in house. With the grand opening on last Saturday, the Drip Tea team was working the entire week prior to perfect their process of every recipe in hopes of delivering the highest-quality experience.
"We're just trying to give people as many options as possible without sacrificing quality. You have a lot to pick from all with high quality ingredients," Kwon said. "The support has been unreal, and the feedback has been really good."
Right now the retail space is showcasing clothes, but that could change on a monthly basis as Drip Tea begins to rotate through new ideas, like a plant pop-up space, or a rented space for local craftspeople.
"It's a concept, so it doesn't have to just be retail like clothing," Nguyen said. "It allows people to get that pop-up space and put anything they want. In the months that people want to rent it out though, it can be anything."
For a "concept store" such as Drip Tea, it's unique that the concept itself is flexible and community-serving.
"Anybody who is an artist in any form, or anyone who wants to express their creativity in any form, we're gonna give it life in that corner of the store," Kwon said.
Look out for the future of Drip Tea, because with a versatile cafe and concept store, there can only be more innovative additions coming from not just the menu, but the multi-use space they have conceptualized.
With such close proximity to Seattle U, the Drip Tea team is excited to integrate into the community, and will also be offering a student discount.
"We're trying to be as community involved as we can," Kwon said. "With welcome arms, everybody in the community and Cap Hill has been so friendly. We wouldn't want to be anywhere else."
Leave a Comment