A Feline Feelin' Fine and Playing the Bass, Thundercat at the Showbox
Few people play music that sounds like punk rock, prog rock, jazz, funk and sped-up Super Mario Kart music all at once. And even fewer people do it wearing cat ears and Gucci shorts, while playing a hot pink six string bass. Thundercat did all of these things and more when he played the Showbox on March 1.
Thundercat, born Stephen Lee Bruner, is a genre-less musician. People apply the titles of funk, jazz, crossover thrash and electronica to his music, but none of them fully define his sound. His music is too unique—especially when played live—to be assigned a single genre. The closest musical act to him would be if the Doobie Brothers played with Weather Report and had Earl Hudson from Bad Brains on the drums.
Thundercat sings like Michael McDonald and plays the bass like Jaco Pastorius. For years he was the bassist for the punk band Suicidal Tendencies. His list of contributions to albums is massive and includes names like Mac Miller, Jhene Aiko, Kendrick Lamar, Childish Gambino, Erykah Badu and Kamasi Washington. His unique sound and diversity of collaborative efforts speak to his incredible talent.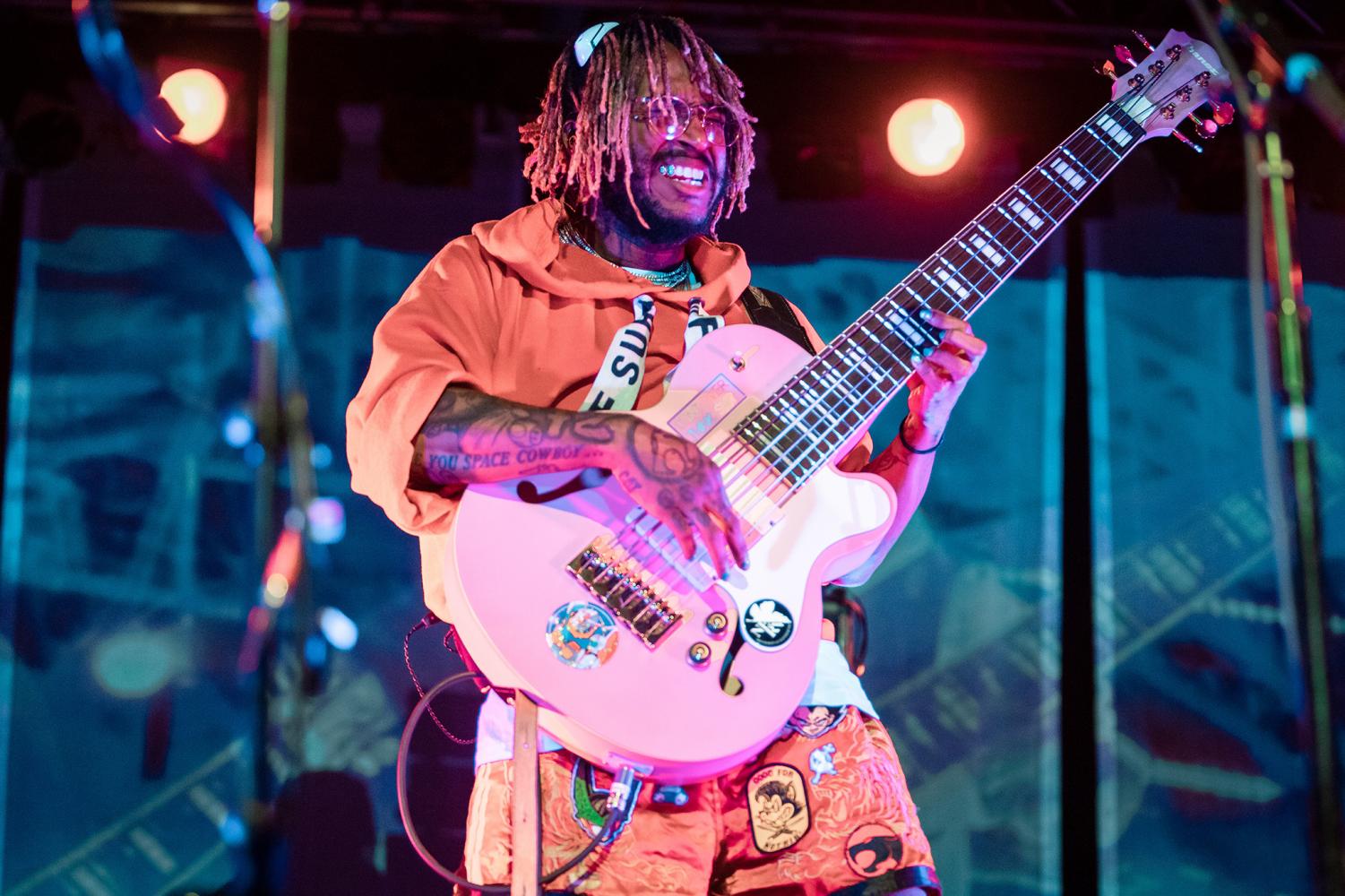 When he solos, which he did on nearly every song he played, his hands look like spiders crawling around his bass, plucking its strings. His fingers are constantly moving and the resulting sound is one that can change a viewer's idea of what the instrument can do. At different points of the show it was hard to tell what music was coming from Thundercat and what was being played by his keyboardist, Dennis Hamm.
Hip hop artist Guapdad 4000 opened the show for Thundercat. Murmurs of confusion could be heard in the long line leading to the Showbox doors and inside the venue when Guapdad 4000 began his set. Within the first ten minutes of his set, Guapdad introduced himself to the crowd as an artist that has worked with rappers like J. Cole and Chance the Rapper.
Guapdad also introduced himself as a man who "happened to have drank a substantial amount of Hennessy" before coming out on stage and as a victim of a tragic crime: his Gucci pajamas were stolen after a four-way. On top of this, the up-and-coming rapper started two separate simultaneous mosh pits during one of his songs. The artist performed the role of an opener—he got the crowd energized. Anyone who entered the Showbox not knowing Guapdad 4000 left with memorable quotes from him, at the very least.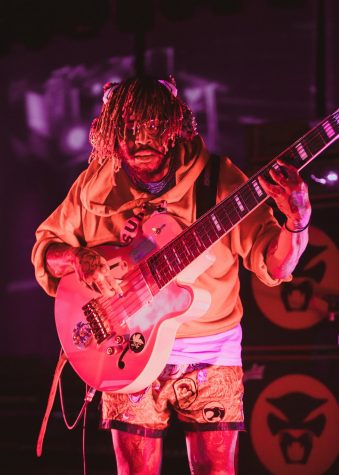 Shortly after Guapdad ended his set, Thundercat and his bandmates came on stage to a round of applause and cheering from the eager crowd. The show started out as a very standard Thundercat show. He played wild bass solos in a deep hunched "cat stance" with a scrunched facial expression that told the audience that he was feeling the music. The audience loved every minute of it. They even started chanting his name out of pure appreciation.
The show got even stranger when a woman in cat ears, a cat nose, a low-cut leopard print unitard, fishnets and very high platform high heels came out and started dancing to Thundercat's cat-themed songs. The audience showed their appreciation for the performance with multiple rounds of applause during the few songs that she was on stage.
The evening that Thundercat shared with his Seattle fans was a wild night, but he did take time to touch on more somber topics. He paused in between songs to talk about how much he has changed—and how much his life has changed—since he first started making music. He talked about friends he had lost over the years and dedicated the show to Mac Miller.
Mac and Thundercat were close friends up until Mac passed in 2018. Before beginning his third-to-last song, "Them Changes," Thundercat said that it was Mac's favorite, and that from now on, it was always for Mac.
The show ended after a predictable encore and fans calmly funneled out of the Showbox's small exit. As I tried to shuffle through the crowd, I heard one fan say this was the best experience of their life, showing that Thundercat's fans really, really love Thundercat.
Leave a Comment