How Fun Is Eating Outside in the Rain?
Colorful food trucks line the street at Alki Beach on an overcast afternoon, but I was not here for the beach or the cold water of the Sound. My focus was on the sweet scents of pad thai, burgers and pastries of the various trucks that people darted between. My destiny awaits.
Alki Beach hosted a Winter Beer and Food Truck Festival in tandem with the polar plunge, held by the Special Olympics, on Feb. 22. Before taking on the assignment, I thought about whether food trucks were really that good, and if they deserve the hype. 
While many people love the concept of food trucks; the main difference in opinions that I found at the event stems mostly from what people value from a food truck roundup, be it atmosphere, community or general food quality. 
Patrick Halim, an attendee from Auburn, Washington, commented that the venue made a big difference in the experience of a food truck festival.
"I went to a couple different food truck festivals, but at Alki Beach, [this is] my first one," he said. "The beachfront definitely makes it more fun."
Others commented on the creative twists on classic dishes that many food trucks employ. Lake Stovall, a worker at a nearby restaurant, Harry's Beach House, noted the wide variety of food trucks.
"You got to try new things," he said. "Definitely expand on your palette and get a taste for something you've never really tried [before]."
On the other hand, there is me. I am neither a detractor nor an aficionado of food trucks. I think there is some novelty in standing around to eat food; however, the price seems a bit constricting. Food trucks are not necessarily the place to get cheap eats.
I first tried Off The Rez, a burger truck that specializes in fry bread. The Powow burger was nice at first, as the fry bread was nice and soft with a hint of sweetness, but it quickly became overwhelming fatty tasting. The burger could achieve a better balance between fatty and fresh but it instead felt heavy and underwhelming, especially at a $14 price point. 
I moved onto the Piroshky Piroshky truck, part of the famous Seattle bakery of the same name. I asked for a classic Russian Piroshky, and they delivered that with the Cheese and Potato Piroshky. Preface: It was my first time having a Piroshky. It was hearty, like I expect of Russian meals, and the bread had a flavorful wheat taste to it that left a nice aftertaste. It was tasty and set at a very fair price point.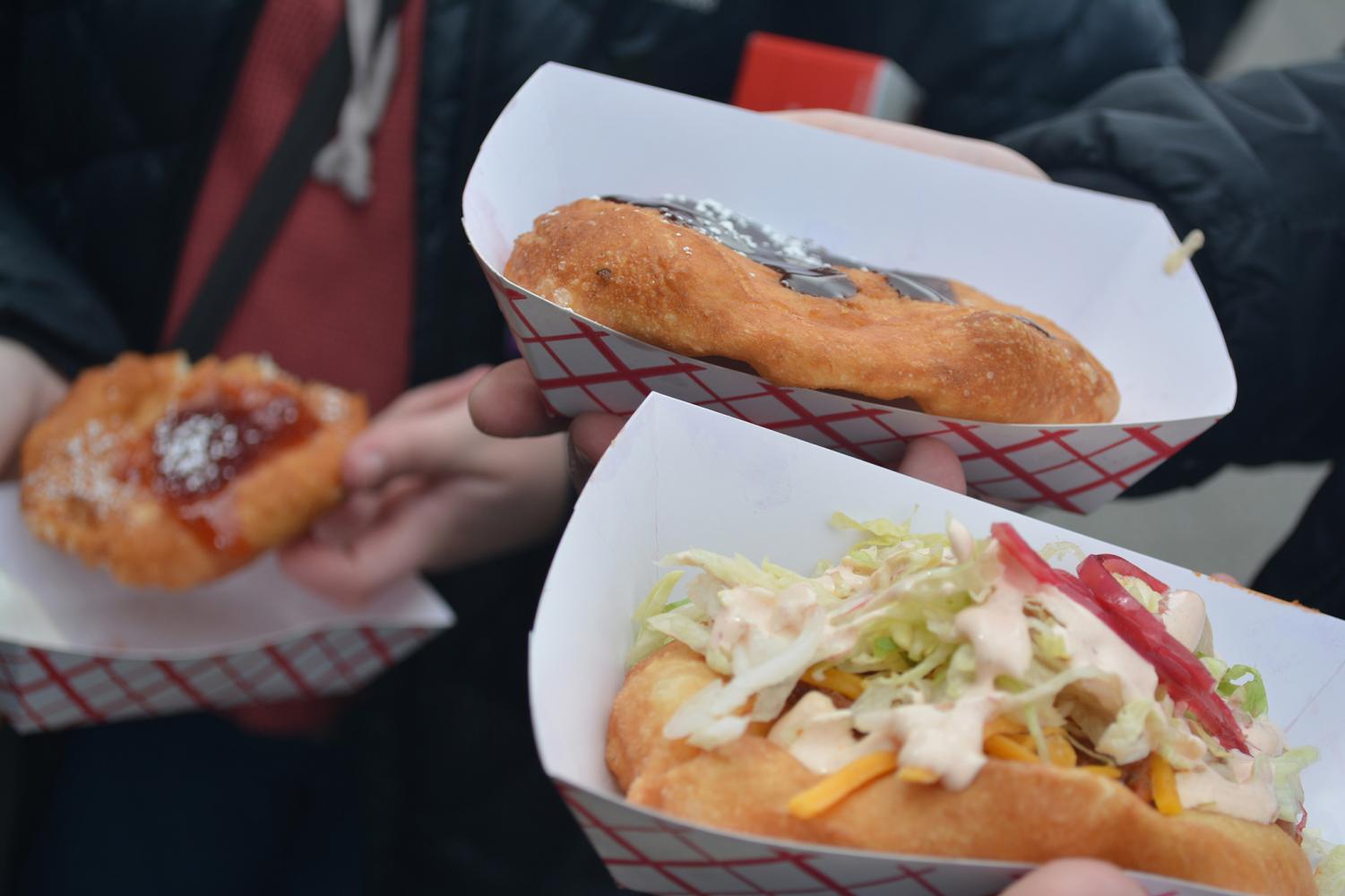 I decided to skip the other food trucks, like Ezell's, Pecos Pit BBQ, and Thai-U-Up because they serve the same food as they do at their brick and mortar store but on-the-go. Thai-U-Up was fine, if somewhat pedestrian, Thai food while Ezell's and Pecos are appetizing Seattle classics.
My opinion was not unaccompanied. Judy Chen, a transplant from Toronto, said that food trucks were expensive to go out and try. She does not go out to them very often, but she found there was some novelty to the experience.
Alex Xhi, another recent transplant from Toronto, agreed and brought up how food trucks encourage social engagement, which seems pretty unique in a city where social interaction seems quite low.  
"[Food trucks] make you go outside so there is some social space around it," Xhi said. 
While I was not a huge fan myself of a lot of the offerings, I felt there was a sense of community there with so many people walking around and talking to one another. Additionally, the festival had offerings that anyone could like. I was grateful to have tried the different food
Stephanie Housden, head of Food Trucks for Pecos Pit BBQ, felt similarly.
"I honestly think that it's really awesome to try different foods from people," she said. "There are really great chefs and recipes from people that can't afford a brick and mortar. And it's really fun when they all come together."
Leave a Comment