Review: what happens next after their happy ending?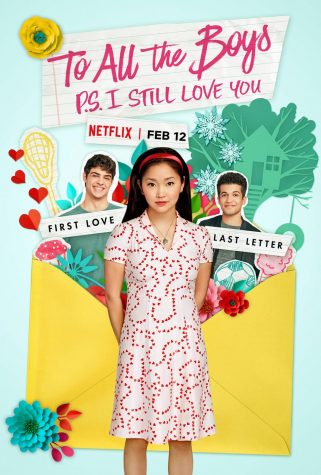 Netflix released the teen romantic comedy "To All the Boys I've Loved Before," based off a trilogy book set written by Jenny Han, in 2018. The second movie in the trilogy, "P.S. I Still Love You" was released this year, two days before Valentine's Day. The sequel follows the main characters Lara Jean Covey (Lana Condor) and Peter Kavinsky (Noah Centineo).
According to Netflix, "To All the Boys" is one of their most popular original movies with over 80 million views. The trilogy features an Asian-American lead, portrays a mixed-heritage household—an overdue representation of mixed cultures in romantic comedies.
"To All the Boys" came out the same summer as "Crazy Rich Asians," progressing the movement toward better representation of Asian-Americans leads in movies.
The first movie, directed by Susan Johnson, introduced Lara Jean, a timid 16-year-old girl and caring sister who wrote five love letters to boys she felt strongly for throughout her life growing up, but never intended for the letters to be shared with anyone. Lara Jean's meddling younger sister steps in and mails the letters to each of the recipients leading to a confrontation with Peter Kavinsky, the school's reigning jock and heart-throb.
They both end up agreeing to pretend to be a couple to make Peter's ex-girlfriend jealous and to help Lara Jean cover up her feelings for Josh. The next hour of the movie goes through ups and downs with their attempt at a fake relationship, leading to Peter and Lara Jean ultimately realizing that they developed real feelings for each other. The ending scene shows Lara Jean going to Peter and expressing her mutual feelings for him and they share a passionate kiss as the camera pans out slowly.
Romantic comedies do not usually have a sequel, as one would assume the ending of Peter and Lara Jean accepting their feelings and being together is the final ending to a 90-minute rollercoaster of emotions and events.
"P.S I Still Love You," directed by Michael Fimagnari, dives into the less-than-perfect elements of a fresh relationship and experiences. Life is far from perfect and "happily-ever-after" does not come without hardships. This sequel portrays an honest adaptation of navigating relationships in daily life.
The sequel begins with Peter and Lara Jean going on a picture-perfect first date at a fancy Italian restaurant. Lara Jean expresses her lack of knowledge in how to be a good girlfriend, where the theme of personal doubt begins. Lara Jean also starts comparing herself to Peter's ex-girlfriend Gen and their very public relationship.
Lara Jean's insecurities begin to fuel the rocky beginning of their meant-to-be relationship. Just as things seem to be going better with Lara Jean and Peter, Lara Jean receives a letter from John Ambrose McClaren, her fifth recipient of one of her famous love letters, which creates another divide between Peter and Lara Jean. Just as Lara Jean debates answering the letter, fate steps in and John Ambrose is Lara Jean's co-volunteer at a retirement home. In the book, Lara Jean does respond to the letter, and that is how they eventually meet up. The movie storyline adds the element of fate and creates the idea of who Lara Jean should be with in the newly formed love triangle.
The plot continues as Peter gets upset with Lara Jean for spending time with John Ambrose and Lara Jean getting mad at Peter for not cutting ties with Gen. Lara Jean questions how she could have feelings for someone else at the same time as Peter and why her relationship with John Ambrose seems simpler than with Peter.
Peter and Lara Jean get into a fight where they decide to end their budding relationship, placing Lara Jean in the hands of John Ambrose. The retirement home they volunteer at hosts a ball where Lara Jean and John Ambrose share a kiss. At that moment, the seemingly unmagical plot begins to unwind. After the kiss, Lara Jean realises Peter is the one. As she runs out the front door, he is already walking up to the door to find her. They share the same passionate kiss to end the anti-climactic plot in the same way the first movie ended.
A happier ending was inevitable for these two star-crossed lovers, but their problems seemed unresolved. Peter made mistakes throughout the film like showing up late to a coffee date, claiming a poem he wrote himself for Lara Jean actually by Edgar Allan Poe and running to Gen when she needed to lean on him. Lara Jean confronted Gen about her insecurities with her and Peter's old relationship, which was promising for Lara Jean, given that that was a roadblock for her and Peter's relationship.
The two never had a conversation resolving the dumb mistakes the teenagers made and will likely continue to make while they navigate their romance. The ending was wholesome, but it left a distasteful feeling of unresolvement and slight confusion. The third and final movie in the trilogy is already in the works, and if the final movie follows the book plot, Peter and Lara Jean are in for another rollercoaster of ups and downs that hopefully answer some leftover questions and concerns from the second film.
Leave a Comment