Country Music's Drive to be Different
One of 2020's newest artists to watch, Yola's genre-bending mix of sultry soul-infused Americana country, has helped usher in a new age of country music.
Yola's debut album "Walk Through Fire," released in Feb. 2019, propelled her to new heights—including a nomination for Best New Artist at the 2020 Grammy Awards. For her subsequent Walk Through Fire tour, Yola and Tennessee singer-songwriter Amythyst Kiah decided to add more excitement to their Seattle performance.
On Feb. 15, Washington's own Brandi Carlile announced via Instagram that she'd be adding her name to the next day's setlist and open for Yola at the Neptune. The five-time Grammy winner's message caused ticket sales to skyrocket, and the show was sold out shortly after.
Longtime fans Suzanne Hubner and her niece Caitlin Myers were ecstatic to see some of their all-time favorite artists under one roof for one night only.
"What initially got my attention was Brandi Carlile, because I'm a huge Brandi fan," Hubner said. "When I told my niece about the concert she was excited because she had listened to some of Yola's music, so we were talking about her sound and the fact that they've collaborated in the past."
For Myers, Yola's collaboration with all-female country music group, The Highwomen, was her first exposure to the up-and-coming artist.
"I started listening to Yola, because she collaborated with Brandi Carlile and some other women that call themselves 'The Highwomen,'" Myers said. "They came up with this new country group that's about empowering and uplifting women within [not only] the music industry, but overall as well."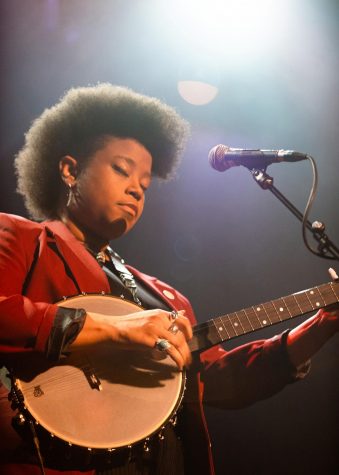 The show began promptly at eight, with Carlile performing a rendition of her song "The Joke" to kickstart the show. Although usually performing with bandmates Phil and Tim Hanseroth, she took the stage alone. Her solo acoustic set was one that captivated the crowd, leaving many teary-eyed and speechless.
Amythyst Kiah took the stage shortly after Carlile, sustaining the crowd's energy before Yola came on stage.
Empowerment was widely discussed throughout each performance. Both women would regularly take breaks to introduce a song's meaning, reminisce on amusing parental moments, what it means to finally find love and how focusing on and accepting yourself can completely transform your outlook on life.
With newer additions to the country-folk music scene preaching inclusion within the industry— take Kacey Musgraves and Yola, for example—I asked concert attendee Roberto Guerrero what it was that brought him across the country from Washington D.C. to the Neptune.
"I can relate to it all. I have never been to a Yola show, but I can speak to Brandi Carlile. I can relate in a way that I enjoy Americana music, being gay and being a parent, I can relate to her music," Guerrero said. "I mean, I was crying the whole time."
Finally, it was time for Yola to take center stage. She thanked her fellow performers and acknowledged that there is a dire need to include more underrepresented groups—specifically women and artists of color—in the country and folk music communities.
She kicked off her set with a rendition of her song "Lonely the Night." She blew the roof off the Neptune with her rich, tuneful and uplifting vocal abilities.
About halfway through the set, Carlile joined her onstage to sing "Highwomen" and "Faraway Look" before she left the stage for the night. Later, Yola performed an unexpected yet gorgeous rendition of "The Air That I Breathe," which was originally a major hit for British group The Hollies in 1974.
After the show, local singer-songwriter and performer Sarah O'Dea praised Yola and Carlile for their spectacular performances. She said that she loved to see Carlile's opening support of smaller artists.
"What I love most about going to live shows is hearing the stories of why they wrote the song. It's something that you don't get when you're just listening to it in your room. So to hear them explain what compelled them to write it and listening to the album in a live setting changes the way that you relisten to their album versus how you heard it the first time through," O'Dea said.
If you missed watching Carlile and Yola perform or you're just starving for more, you can purchase your ticket for their June 6 Gorge Amphitheater performance with special guest Sheryl Crow.
Leave a Comment