Ways to Celebrate Black History Month, 365 days a year
With each passing February, elementary school teachers enlighten students on the teachings of Dr. Martin Luther King, Jr., his "I Have a Dream" speech, and how Rosa Parks sparked the Montgomery Bus Boycott by refusing to give up her seat in the front of the bus to a white man.
In recent years, many have begun to acknowledge the lack of the awareness and appreciation for Black history within this country. Often the version of Black history portrayed is a polished and simplified version which has led some to question the legitimacy of how our country teaches history.
Each year, organizations launch social media campaigns that shed light on inventions created by Black Americans that revolutionized the modern world, but there are restaurants and organizations that contribute to the Black community of today, to support Black History Month in alternative ways.
It all starts locally—within Seattle there are plenty of Black-owned restaurants and businesses that reflect the history of local and regional communities.
Upholding the legacy of the previous tenant, Catfish Corner, Fat's Chicken and Waffles is a black-owned, woman-owned, New Orleans style restaurant that continues to preserve the spirit of the central district.
"A lot of people that work here are from the community. If you're in need of family, comfort or support I feel like we give that," owner and general manager, Erika White, said. "For me it's not about taking someone's money, serving them some food and getting them out of here, I want to give them an experience."
Fat's opened in late August of 2015, which happened to coincide with the 10-year anniversary of Hurricane Katrina. White saw it as a way for the New Orleans style restaurant to pay homage to the region.
From then on, White and her business partner, Marcus Lalario, created a space that cultivates and embraces the power of a loving community.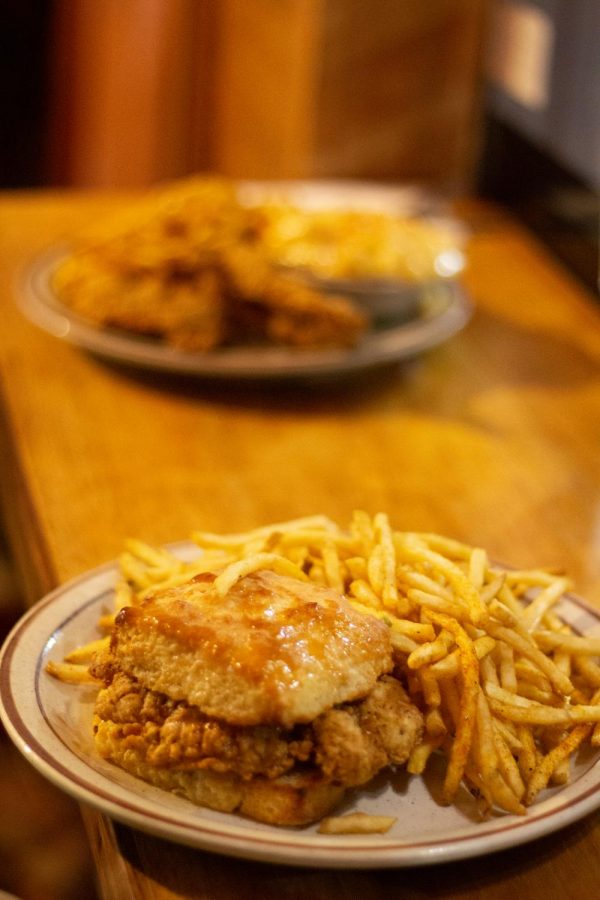 "I'm really big on community and I believe in supporting anyone that needs community, but if you come here you have to one, come here to eat, but come to get to know someone," White said. "You never who you're going to sit next to, even if you're not sharing a table, the tables are so close to each other that people are often striking up conversations."
The Northwest African American Museum is another local landmark that symbolizes the Central District's importance to the African American experience within the Northwest.
The museum hosts exhibitions that showcase Black Americans' migration to the region and how the community established and expressed its survival through art, music, literature and history.
Currently, the museum's main exhibition is Christopher Shaw's "Algorithm: Archetype," a minimalist clay work that poses the question: "How do objects personify culture?" It's on display until April 5, 2020.
If you're looking to support Black cinema, check out Issa Rae's Valentine's Day flick "The Photograph."
The romantic drama portrays a story weaving between two timelines. It stars Rae as Mae, a young woman who discovers an old black and white photo of her now-deceased mother and a past lover.
The photo leads her on a path to self-discovery and love as she begins a relationship with a journalist named Michael, played by LaKeith Stanfield. The film premieres in theaters on Feb. 14.
Lastly, there's no other family-owned restaurant that embodies local black history like Ezell's Famous Chicken.
After Lewis Rudd and Faye Stephens moved their family from Texas to Washington, they decided they wanted to start a business making chicken just how they used to back home. In February of 1984, they opened up their first Ezell's Famous Chicken in Seattle's Central District across from Garfield High School. From then on the business has become a local staple, even receiving a stamp of approval from Oprah herself.
These are only a few ways you can support black-owned businesses throughout Black History Month, but as White says, "Black History Month for me is 365 days a year."
So, finding ways to support black businesses, organizations, entrepreneurs, artists and more doesn't have to be relegated specifically to the month of February, but all year long.
Leave a Comment