Artist Creates Her Own Universe to Inspire and Energize
"I thought her color palette would be a bright spot for the gloom of a Seattle February—a little dose of artistic lightness at a time of year usually devoid of brightness," said Weston Jandacka, owner of Glassbox Gallery in the International District.
Nikita Ares, the artist with the vibrant solo show now on view at Glassbox, is a Seattle-based Filipino artist specializing in colorful, large abstract work. On Feb. 6, Glassbox Gallery hosted an opening reception for her exhibit "CHADA!"
"Chada" means "wow" or "nice," and is associated with Kagayanons—people from Cagayan de Oro, Philippines. Ares received her BFA from Cornish College of Arts and is from Cagayan de Oro. Glassbox Gallery isn't Ares's first show; previously she had a show at the Specialist Gallery called, "Sugar Babies Only." Ares also painted the entrance door of the Museum of Museums, a new Broadway contemporary art space.
Ares originally began interrogating realism, but said she feels that her personal style started to develop more when she took the dive into impressionistic art. Impressionism uses visible brush strokes and an emphasis on light, and Ares combines impressionistic art with the abstract to make it wholly her own. Ares typically uses oil pastels, colored pencils, crayons and acrylic.
More noticeable in her larger pieces are the lines in the outward edges of the canvas that lead the viewer's eye to the pool of dots and squiggles in the center. The many textured lines show the impressionist influence in her work and create movement and a deepening effect, as though looking into the depths of a pool.
Glassbox Gallery's walls and floors are white, casting a spotlight on Ares' bold and uplifting colors. Some of her smaller pieces have more blank space. Seemingly simple, this blank space actually serves to open up more possible geometric interpretations.While at times the colors and forms can seem abstract, the geometric shapes are reminiscent of things in nature—in Ares's smaller pieces there are clear paintings of trees and flowers.
"[I create] anything that looks fun—some things that I like are stars, yellow lines and pink," Ares said. "[My art is] also a curation of a whole different world from ours."
For several of the attendees, the fun and energy that she puts into her work translated to their own response to her art.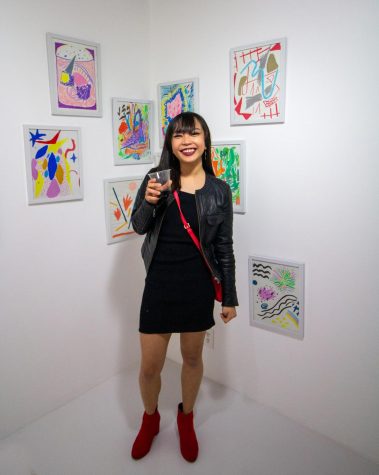 Ayan Abshir is a 24-year-old currently doing a fellowship with King County, and a friend of Ares.
"Her art reflects who she is. The colors always reflect how vibrant she might be," Abshir said. "When I see her art I see that it's happiness. It's the parts of you that light up."
Some of Ares' work was on sale at the reception. One was titled "Ka Chada sa Bulalakaw (Meteor's Insane)." The titles of Ares' work show a clear homage to her Filipino roots; Ares explicitly stated even the title of her show is a way for her to "bring her old home to her new one."
The titles of her works are uplifting and happy, mirrored by the positive buzz of energetic guests. Titles like "Malipay Na Unta Ka (I hope you're happy)" and "Kalingaw Sa Imong Utok (Your mind is WOW)" are representations of such.
Jade Jost is a 22-year-old that moved to Seattle six months ago and has been attending many museums and galleries. Jost is half-Filipino and has been looking for Filipino art and artists that represent her culture. Jost compared other artists' work that she's seen to Ares'.
"A lot of contemporary artists won't use a lot of colors," Jost said. With her art— just from what I've seen so far—anybody can extend their imagination to what you want to see."
Jost recommends others to come to see Ares's art. For art done by a diverse artist community, specific experiences can be translated, and easily accessible to a wide art public.
"You've got to support immigrants and people who are outside of America and their art and what is important," Jost said. "I don't see this art not being fit for somebody."
Ares's bright, interpretive color displays invites the Seattle viewer, who is all too familiar with the grays of the winter months, to imagine a reality within the bold shapes, vibrant colors, and welcoming atmosphere of the "Chada!" show.
Leave a Comment