"Chicken of the Sea": A Multigenerational Collaboration
Elliot Bay Book Company hosted a reading last Saturday for "Chicken of the Sea," a children's book about chickens, pirates and courage. The adventure of the chickens is just as inspiring as the story of the authors, Pulitzer Prize winning writer Viet Thanh Nguyen, father to six-year-old co-author, Ellison Nguyen. Nguyen's "The Sympathizer" won the Pulitzer Prize for Fiction in 2016. 
The event brought in a full house, with more adults than children. Before the reading, Viet spoke of the inspiration for "Chicken of the Sea." Ellison was inspired after meeting Thi Bui, the illustrator of one of his favorite picture books, "A Different Pond."
 "A Different Pond" is about a refugee father-and-son relationship, where the father tells his son stories of his birth country. Parallels between "A Different Pond" and the authors of "Chicken of the Sea" can be drawn, focusing on refugee relocation and passing down of experience.
Ellison came up with the entirety of "Chicken of the Sea" while his father wrote it down with him. "He drew it and told me the entire story. And I wrote the words for him, but all the words were [Ellison's]," Nguyen said.
After reading the book with Ellison, Nguyen answered some questions on the ways in which he breaches the subject of being a refugee with Ellison.
"There's different ways to talk about the past, without replicating the trauma in the way that you raise your children, which apparently is a thing for Vietnamese American people," Nguyen said. "All four of his grandparents are refugees, for example, and his mom and his dad are, so we talked about those terms."
When asked about his identity and experience with activism, Nguyen connected it to his son and how he is trying to teach his son what he has learned of his national identity.
"So now I'm the older generation, and [Ellison's] the younger generation. And I feel like I'm the guy telling him about identity and activism," Nguyen said. "We talked about what his identity is, and I say, 'You're Vietnamese American.' He says, 'No, I'm an American.' So I think that for me, having a child means having to negotiate with his own personality, his own view of the world and trying to learn from that. Not just trying to tell him what to do, but also trying to listen to him." 
Nguyen applies his philosophy of this further by working to see better communication and understanding between generations and different cultures.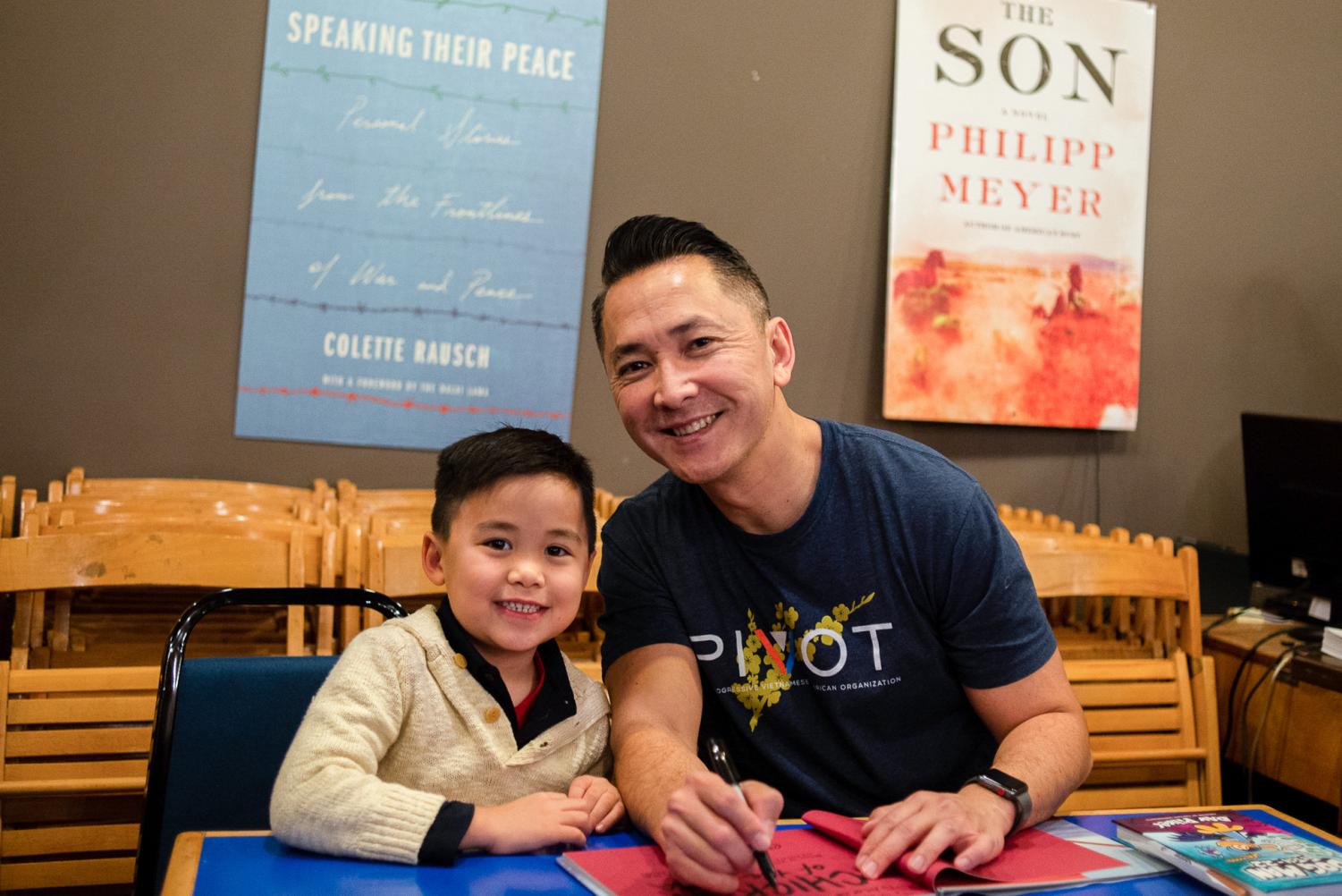 Nguyen is proactive in Ellison's Vietnamese language learning because he does not want his son to have the same experience as him when learning Vietnamese.
"I had to start my own Vietnamese language group with Vietnamese American parents of my generation. And the major impetus behind that is when I teach the kids Vietnamese we will not teach them religion, or a hierarchy or a cultural conservatism or nationalism or sexism or patriarchy." 
The event concluded with book signing of "Chicken of the Sea" and Nguyen's other books, "The Sympathizer," "The Refugees," and "Nothing Ever Dies." Nguyen stated that perhaps a sequel and prequel are in the making if he can convince his son. Both younger and older Nguyen agree that writing this book brought them closer together.
Karen Maeda Allman is one of the event coordinators and  has worked at Elliot Bay Book Company for 20 years. Allman spoke about the importance of having an author event for  Nguyen, who is "an author who's very well known, [and] doesn't come to Seattle all that often." 
Allman also encouraged students to visit Elliot Bay to partake in the variety and diversity of events that occur in the neighborhood  bookstore. 
"There's a lot of diversity in form and a lot of diversity in terms of racial-ethnic diversity, international writers, sometimes we have bilingual [events], Farsi and English or Spanish and English. We always welcome student attendance and interest," Allman said. Students from Seattle University and Seattle Central College receive a 20% discount with their student ID.
Rick Simonson, one of the other event coordinators, spoke about how Elliot Bay chooses the books that are displayed and sold and the changing role of children's literature such as the Nguyen duo. 
"We're given lists by publishers and [we] think about who walks in the store, who might walk into a store," Simonson said. "The kind of books getting published for kids are more reflective of the more real world"
The minds behind "Chicken of the Sea" represent  a multigenerational collaboration of Vietamese-American authorship and illustrations, that making for an endearing and inspiring children's book and heartwarming event.
The editor may be reached at [email protected]
Leave a Comment