A Haunted High Tea
Before all of the high rises, cranes and multi-billion-dollar companies, Seattle had mostly been visited by gold-rush enthusiasts, entrepreneurs and tourists. When the Hotel Sorrento opened its doors in 1909, the warmth and inviting nature of the hotel made it one of the hottest spots in First Hill.
The historical landmark is seven stories, featuring world-class Italian Renaissance architecture modeled after architect Harlan Thomas's muse, the Vittoria in Sorrento, Italy. Harlan's vision gave many intellectuals and creatives the perfect place to dine, dance and discuss. He originally built the hotel in its triangular shape to give guests a view of either the Puget Sound and the Olympic mountains to the West, or Lake Washington and the Cascade Mountains to the East.
Embracing the property's spooky past while paying homage to one of America's ultimate holidays— Halloween—Hotel Sorrento hosts multiple themed events, such as Witches High Tea.
Witches High Tea at Hotel Sorrento has been a tradition for the past two years. Hosted in the famous Dunbar Room, it's a twist on the typical high tea, but one where witches can gather together with show-stopping costumes, a choice from a variety of local teas and a tower of goodies.
After being seated, I glanced at the menu while the harpist played a beautiful rendition of Mad World by Gary Jules in the background.
The menu reflected a traditional high tea, light and nourishing. Egg salad finger sandwiches, orange-cranberry scones, macarons and lemon tarts are just a small list of what is brought to the table. My personal favorite was the leek and gruyere quiche. The sweet and lightly salty gruyere paired with the leek and buttery pastry crust made for a creamy and irresistible bite- sized treat.
In my seat, I examined the Dunbar room. There was a pair of women sitting, snapping selfies while waiting for their tea and food. One of them, Stephanie Perciful, was wearing all black and the traditional witches' hat. The other, Katelyn Daugherty, beamed after receiving several compliments on her ornate feather collar.
Perciful and Daugherty are both intrigued by and respect the practice of witchcraft, believing the Dunbar Room gave the event a welcoming environment to meet other witches in addition to lively discussions over tea.
"I find witchcraft to be very magical and very grounded in the earth. Especially in this day and age, I think that we need more of that. There's a respect for the earth, environment and nature that always draws me into it," Perciful said.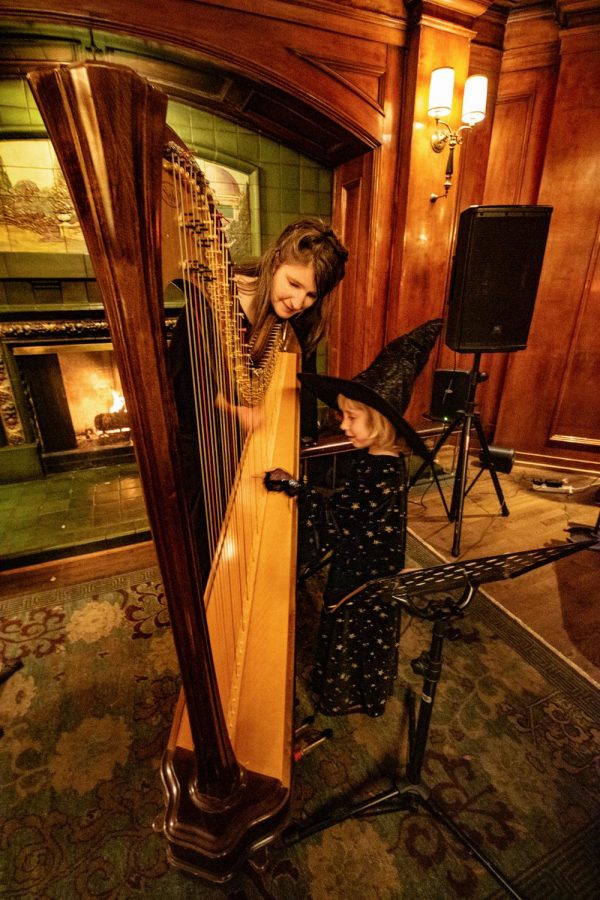 "Just seeing everybody's costumes and everybody is equally excited about the creativity here. People are open to approaching each other, it's great comradery," Daugherty said.
Tiffiny Costello, Hotel Sorrento's head of press, and Jeremiah Khan, director of sales for Hotel Sorrento, gave me a personal tour and history lesson following teatime.
"Over the years this was a hotel where the celebrities stayed—because we have a secret entrance—and it's also close to downtown, but far enough away where they can slip in and out," Khan said.
Billie Burk, the actress best known for her role as Glinda in the 1939 classic "The Wizard of Oz," stayed at the hotel among other famous local and global entertainers, poets, musicians and artists. According to Costello, there's a private note available for purchase on eBay that Billie wrote to a friend on the Sorrento's stationery.
The hotel has one permanent resident they like to acknowledge: Alice B. Toklas.
"She is our friendly spirit that still hangs out," Costello said. "She lived here for quite some time in Room 408, and that's the room that people report activity."
For those who are unfamiliar with Alice B. Toklas, she was an American writer involved in the Parisian avant-garde movement. The movement brought together some of the greatest artistic minds of the 21st century, such as Pablo Picasso, Ernest Hemmingway, Salvador Dali and the Fitzgerald's (think of the 2011 comedy "Midnight in Paris"). Toklas met American novelist Gertrude Stein during her time in Paris, and they remained life- long partners.
"She plays a big role in Sorrento's history," Costello said.
Other activity in the hotel is not menacing whatsoever, but it's uncanny, to say the least.
"If anything, people have had things move, but it's also a feeling that people have. When I go there, I feel very heavy my chest and heart, an uneasy type of feeling." Khan said. "The meeting room, where no guests spend the night, has had people hearing the piano play in the middle of the night."
My experience at Hotel Sorrento is unsurpassed. The magic, the detailed craftsmanship and the thrilling mystery that lies behind the hotel's walls are unchanging in an era that's fixated on modernization.
The reporter may be reached at [email protected]
Leave a Comment