The Stories Of Climate Change At The Vachon Gallery
Seattle University's latest art exhibit "For the Record" has come to an end following a closing reception on Thursday. The instillation's creator, Artist Carol Rashawnna Williams, is the Seattle U Artist in Residence (SUVAIR), who has worked with university for the past several months.
The exhibit showcases the work of Seattle U students and the public in an interactive collection of art and stories. The gallery is composed of works with short narratives from students and the community on their experiences with climate change.
"I want to reach people who are into art but are also into the environment… and I want to be able to document it," Williams said.
This installation is an extension of a previous project Williams worked on during her residency in Spain the year prior. During her time abroad, Williams witnessed firsthand the effects of climate change on a local river and felt inspired to create an art display that would encompass the locals' experiences dealing with this issue.
Williams' career extends beyond art as she is a prominent representative of the environmental and racial justice scene in Seattle. She is a member of the Environmental Professionals of Color and a founder of the Race and Climate Justice organization. The Race and Climate Justice organization's influence in Seattle is so far reaching that other environmental organizations sent their members to attend trainings held by Williams and her group. Her diverse career as an artist as well as her involvement in race and environmental advocacy inspired her to merge these concepts.
"Both worlds have the same problem. Especially about equity," Williams said. "The art world has this concept that art is a product and so we have to make all these sales and you're not supported unless your artwork sells… and the environmental world, they don't necessarily have a product, but their attitude and mentality plays out like that."
Williams pitched the exhibit idea to Molly Mac, Seattle U's Gallery Curator and Instructor, and has been working on the instillation since late September.
The artwork was collected over a three-week period where individuals could participate in a pop-in style workshop to write their stories and create a style of art called "monoprint" on the papers.
"[Monoprint is] a form of printmaking using images and lines that can convey a grand theme or just a beautiful design. It's a relaxing form of painting," Torren BroussardBoston, a senior visual arts major and one of Williams' interns, said.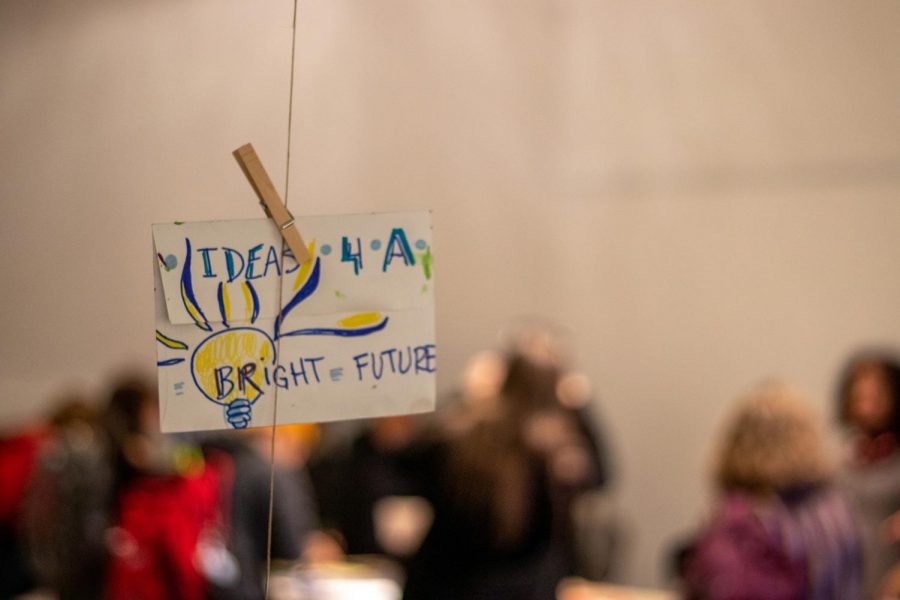 The artwork is held together by clothespins fastened to strings that hang from the ceiling. Up close, the stories on the works can be read and the details of the art are clearly visible. Participants whose first language was not English were encouraged to write their stories in their native tongue. Once one takes a step back and looks at the exhibit as a whole, the vibrant colors from the monoprint art and the diverse designs on the papers spin at varying speeds to form a sea of stories, colors and ideas that fill up the center of the gallery. From this perspective, every individual's story is reflective of the greater issue of climate change.
The closing reception was a lively event with music, refreshments and a live demonstration on monoprint art led by Broussard-Boston. All attendees were encouraged to share their personal narratives on climate change and create their own pieces that were later displayed in the exhibit.
The closing reception gave the senior arts students and interns an opportunity to display their pieces alongside community members. Through Williams' guidance, her students are encouraged to put storytelling at the forefront of their art.
"The whole process that Carol does is just spectacular," Broussard-Boston said. "She really wants someone else to understand what's going on, but for you to say it back to her means she's getting it without you even having to tell her."
Her students are encouraged to create pieces that will relay their own narratives but can also connect to a broader audience through sharing the process of the art itself or telling stories that anyone can connect to.
"Working with Carol is one of the best experiences anyone could ever have," Broussard-Boston said.
The installation's final day was Oct. 11, but for those who missed the opportunity to view it, all of the art created will be collected and turned into a comprehensive book that Williams will donate to Seattle U.
Natasha may be reached at [email protected]
Leave a Comment