Get the Scoop on Salt & Straw's New Cookbook
This year, co-founder of Salt & Straw ice cream Tyler Malek released "Salt & Straw Ice Cream Cookbook," the product of six years in the making. His ice cream company is known for their unique seasonal flavors and this book allows customers to bring these flavors into their homes all year long.
Tyler Malek co-founded Salt & Straw with his cousin Kim Malek in 2011. Even though both founders call Seattle home, the company is based in Portland, Oregon. The pair started their business with a vision and passion to make their mark in the industry but lacked recipes.
"We realized that ice cream is a perfect soapbox to tell amazing stories from. I like to think about all the amazing ingredients that I can find in the city and the nonprofits I can work with to elevate people's stories," Malek said.
As business boomed, they developed a revolutionary ice cream base that could be sold to customers through Williams Sonoma. Malek describes this base as being extremely user-friendly and "impossible" to mess up when making your own ice cream flavors.
I want people to take this book and use it almost as a blueprint to think about flavors found in their city in different ways.
After creating this base and experimenting with flavors that gained traction all throughout the West Coast, they wanted to bring the recipes of classic flavors like Sea Salt with Caramel Ribbons, creative ones like Roasted Strawberry and Toasted White Chocolate and scandalous ones such as Buttered Mashed Potatoes and Gravy to their customers.
"We focus on transferring magic [found in the kitchen] into one scoop of ice cream, and that's what creates these amazing flavors," Malek said.
Following the release of the book, Salt & Straw partnered up with Williams Sonoma to go on a nationwide tour. The promotional tour began on May 1 in New York City and continued westward, finally ending in Seattle.
On May 29, Malek traveled to Williams Sonoma in University Village to take part in an ice cream making demo and book signing. May 30 marked the end of the tour as Malek stopped by Salt & Straw's Ballard location for a final book signing.
Malek wrote this book to tell the world how Salt & Straw found inspiration from different cities and then transferred their discoveries into a scoop of ice cream. The demos that took place during the tour were meant to show the audience how easy it can be to make their own ice cream, and Malek further hopes his book inspires others to experiment with recipes and discover new ice cream flavors.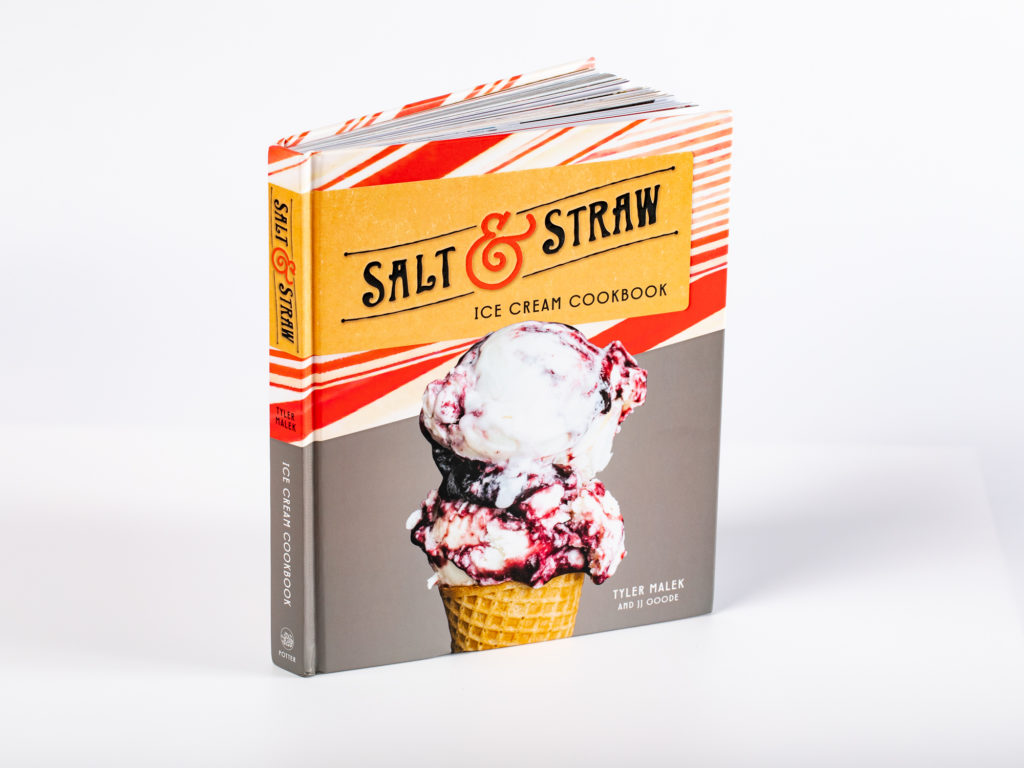 "I think ice cream is one of the easiest forms of pastry to make but people get scared from it," Malek said. "In reality, it is so fun, and at the end of the day, I want people to take this book and use it almost as a blueprint to think about flavors found in their city in different ways."
Garry Horvitz and his wife, subscribers to the Williams Sonoma and Salt & Straw mailing list, attended the event together. As active ice cream makers, they knew they had to take advantage of this event.
"We love ice cream and wanted to find new and better ways to make it. We have an ice cream maker and have purchased lots of ice cream-making books. This event helped us learn new and useful techniques," Horvitz said.
Blair Hite felt inspired to attend the event as his friend owns a donut business and was excited for Malek's tour. Hite proudly mentioned that he has gone into every Salt & Straw location in Portland.
"I'm from Portland, and because Salt & Straw is a local business, I wanted to hear what Tyler had to say and learn how ice cream is put together," Hite said. "I came in not so excited to make ice cream because it's something I hadn't done, and now I would love to try."
Gia Go attended the event with her sister and mom. They have been strong followers of Salt & Straw since the company launched in 2011. They have not tried making ice cream before but try to support the business in any way possible.
"I would definitely be willing to try [making ice cream] but our main purpose was to come and see Tyler in person, support him and since we live nearby, it was such a cool event to come to."
Myrea may be reached at
[email protected]