Diversity on Display at the Frye Art Museum
Two new exhibitions opened at the Frye Art Museum, featuring "After Preparing the Altar, the Ghosts Feast Feverishly" from Seattle-based Chinese American writer Jane Wong and "Give It or Leave It" from Los Angeles-based African American artist Cauleen Smith, and they are a remarkable breath of fresh air.
With a full house attending Saturday's exhibition opening, both exhibits are visually striking and enjoy considerable floor space at the Frye. Both exhibits retell the stories of women of color through art, which resounded particularly well with many community members at the exhibition, and portrays one of the most diverse lineups many attendees have seen in some time.
---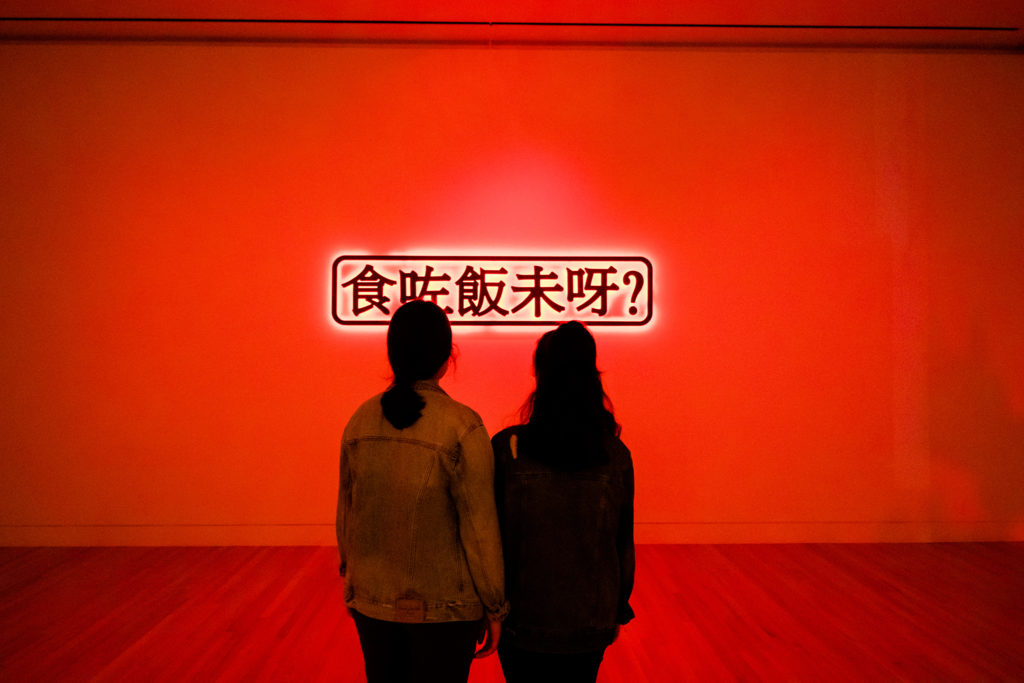 Jane Wong's exhibit had different kinds of people thinking about their heritage and upbringing.
---
Lilian Ang, a 23-year-old Chinese American woman and long-time Seattle local, connected with Jane Wong's exhibit through their common upbringing.
Ang spoke about how her parents grew up during the great famine in China, much like Wong's parents did, which inspired this exhibit.
Wong's collection of poems, artifacts and photographs speaks to her upbringing in a New Jersey Chinese American restaurant, highlighting immigrant narratives in the United States and displaying the intergenerational trauma in their families.
The art on display tells the story of her family's experience in China during the Great Leap Forward, the Maoist reform campaign that claimed the lives of more than 36 million people and comments on the contrast between contemporary American abundance and rural Chinese famine.
"My parents would tell me about it, but I don't think I really understood the enormity of how terrible and how hard it was to live through that," Ang said. "I think this exhibit does a really good job of capturing that."
A common theme that can be seen throughout Wong's exhibit is the importance of food in adolescence, how it can be used to bring people together and how much pain it causes when it is hard to find. This juxtaposition can be seen clearly in many aspects of her work.
"I think sometimes art goers get really caught up in what is now, what is modern and forget what it's been."
Wong decorates traditional Chinese altars with her favorite childhood snacks and candies, along with photographs of her grandparents during and after the famine in China. Another exhibit displays a vast number of ramen bowls, many of which are filled with lines of poetry highlighting food scarcity in her family's history.
Smith's exhibit, "Give It or Leave It," is a blend of various mediums and inspirations, from short films that she directed to collected artifacts and art pieces. She pulls inspiration from genres such as Third- World Cinema, science fiction and Afrocentric feminism.
Her new exhibit is an energetic and optimistic reimaging of the phrase, "take it or leave it," and Smith attempts to imagine a future that is "black, spiritual and unabashedly alive."
Smith takes advantage of the many different mediums in her work to create an exhibit featuring many unique textures.
Naa Akua, a WITS writer for Seattle Arts and Lectures, an educator and a poet was impressed by the exhibit.
"It's multidimensional," Akua said. "I like the fact that I am being given that, that I am being shown many versions of something that takes my time and patience to really devour the foundation and the message that's being given."
---
Visitors commenting on Jane Wong's exhibit "After Preparing the Altar, the Ghosts Feast Feverishly."
---
Anastacia-Renee, a writer, Seattle Civic Poet and former Hugo House Writer-In-Residence, was particularly interested in the blending of contemporary art and ancestral tradition, which can be found in both exhibits.
"I think sometimes art goers get really caught up in what is now, what is modern and forget what it's been," Anastacia-Renee said. "I think these two pieces are doing a lovely job of showing both."
"Give It or Leave It" displays this marriage between contemporary and ancestral art in its use of ancient African sculpture and references to multiple inspirations from Alice Coltrane to Sir Thomas More, blending them with modern film techniques, lighting and perspective.
The harmony between ancestral and contemporary is a central theme in Wong's exhibit as well, combining ethnic Chinese cultural artifacts with objects that a contemporary American viewer would be more familiar with, such as Chinese take-out bags and ramen bowls.
These aspects serve to highlight an important focus for the Frye this summer: using art that draws on diverse traditions and experiences to imagine a future that builds off of these experiences, one that is aware of and hopeful for these "shared histories".
"I'm just grateful that the Frye decided to take on both of these artists' and writers' work," Anastacia-Renee said. "I think it's really important and meaningful."
"After Preparing the Altar," "The Ghosts Feast Feverishly" and "Give It or Leave It" will be on display at the Frye throughout the summer until Sept. 1. As always, admission to the Frye is free for all.
The editor may be reached at
[email protected]