MEChA Celebrates Latinx Culture at Celebración
The MEChA (Movimiento Estudiantil Chicanx de Aztlán) club at Seattle University recently held its annual Celebración in the Student Center. The event recognized different aspects of Latinx culture, outside of Mexico-centrism, and featured food, dancing, music, and games.
MEChA is a Mexican-American student group, national organization, and political movement founded in Santa Barbara in 1969. Tied to the Chicano Movement of the 1960s, MEChA was fundamental in the adoption of Chicano Studies programs and departments in academia, and lead to better educational conditions for Latinx students. Recently, conversations about the Mexico- centrism of MEChA have been taking place. On March 31 of this year, at a meeting in Los Angeles, MEChA student leaders voted to drop "Chicano" and "Aztlan" from the group's name due to concerns that the words may be perceived as homophobic, anti-indigenous, and anti-black.
Most agree with the changes happening within MEChA, including the use of gender-neutral "Chicanx." However, some have voiced their concern over MEChA's shift away from Mexico-centrism and feel resistant to change.
---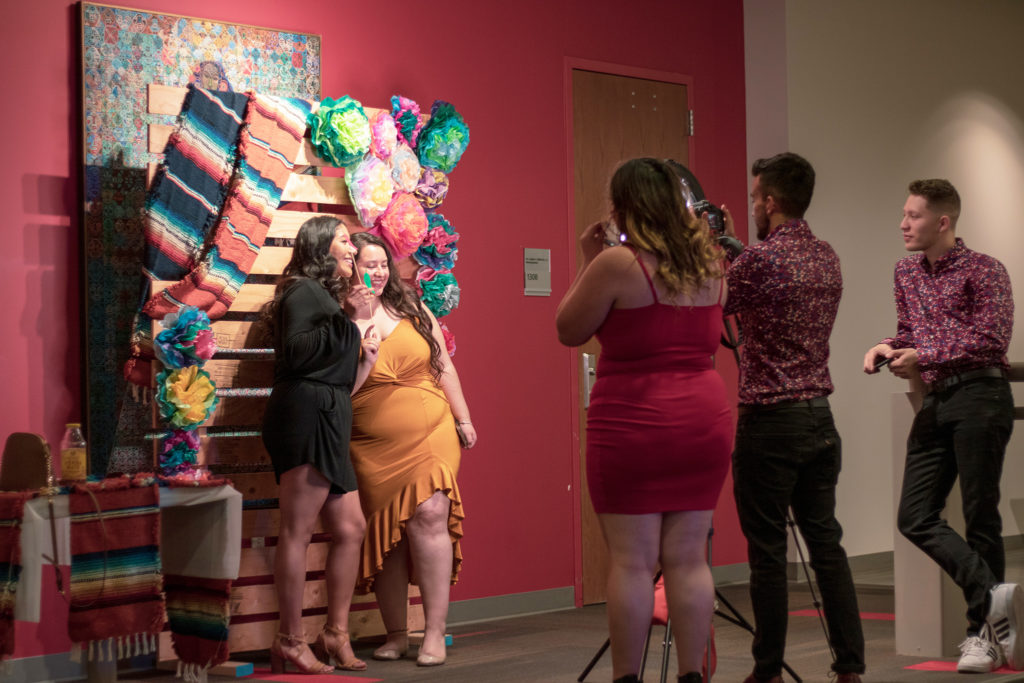 MECHA hosted its annual fiesta celebración for a night of dancing and dining centered around latinx culture.
---
In a widely-shared document, titled "Reflections on Aztlán and its Role in the Chicanx Student Movement," Nicolás Cruz, a member of MEChA's Seattle University Chapter, defends MEChA's name changes, writing: "The members of the more than 60 other Indigenous tribes of the land contained within the nation-state of Mexico, or those whose ancestors come from the many tribes located south of Mexico, do not claim Aztlán as their homeland…As a political identity, Chicanx doesn't have to be tied to Mexico as a national identity."
Dominique Friz, a MEChA club member, discussed how recent conversations regarding MEChA's Mexico-centrism affected this year's Celebración theme.
"Culture, religion, and all parts of life are really different in all parts of Mexico, Central America, and South America, so one of the aims of this year's Celebración is to be more intentional about the folks that inhabit this space and to be more intentional about those differences," Friz said.
The club's efforts to embrace diversity were evident throughout the event. Tables within the event room featured facts about different Latin American countries. A huge map of Mexico, Central America, and South America was displayed on the event's entrance wall with polaroids of club members next to where they're from.
Friz also talked about what Celebración is and what it means for Seattle U. She discussed how Celebración not only celebrates Latinx culture, but also gives back to the Seattle U community.
"Celebración, in its beginnings, was a cultural event. In the last two or three years, MEChA has framed the event as a celebration for the food workers here on campus because they represent a lot of different identities of club members," Friz said. "We fundraise for Celebración and Celebración, in itself, is a fundraiser to have a barbeque or some sort of appreciation event for the food-service workers here."
The event itself kicked off with dance classes to teach attendees some basic moves before Celebración's festivities officially began. Energetic participators crowded together on the open dance floor and a DJ kept the music flowing until the end of the night.
At one point during the event, MEChA club members performed a dance routine to different Latin genres of music, such as bachata (originating from the Dominican Republic) and cumbia (a folkloric genre originating from Columbia and Panama).
Agua de Jamaica (Hibiscus/ Jamaica Tea), pupusas (a delicacy from El Salvador), tamales, and conchas (a Mexican pastry) were just some of the traditional dishes available for attendees to enjoy. Sofia Ramirez, a second-year student and the winner of Celebración's raffle, received a chocoflan cake.
A MEChA club member, who wished to remain anonymous, reflected on his favorite aspects of MEChA and Celebración.
"It's really nice to talk to people from other parts of the country. Growing up in Los Angeles, I was around a lot of other Latin Americans. Now that I'm in Seattle, it's nice to see the different cultures of Latin Americans and how their experiences differ from my own. The sense of fellowship and the celebration of Latinx identities is great," he said.
Friz echoed his thoughts."The sense of community, beyond us as students, is important. Just because we're at the university level doesn't make us any better than our food-service workers and our custodial services," Friz said. Being able to be in a club where those conversations and that kind of community is facilitated, is really neat."
The editor may be reached at
[email protected]