Let's Taco 'Bout It: El Xolo VS Tacos Chikis
There's a new taco in town and it is located inside Nacho Borracho, a 21+ only bar. El Xolo serves Alta- Northwest Mexican street food, a play on Alta California cuisine which blends Mexican dishes with Californian ingredients. This week, I set out to compare El Xolo with the popular Tacos Chukis to find which has the top taco in Capitol Hill.
Tacos Chukis is near and dear to many Seattle University students, with many considering the restaurant chief amongst Mexican food in the city.
I arrived at El Xolo with high expectations and a craving for Mexican food. Dimly lit but colorful, El Xolo sits in the back of Nacho Borracho behind a window that you order from. The bar was a cool backdrop and stylized very well.
---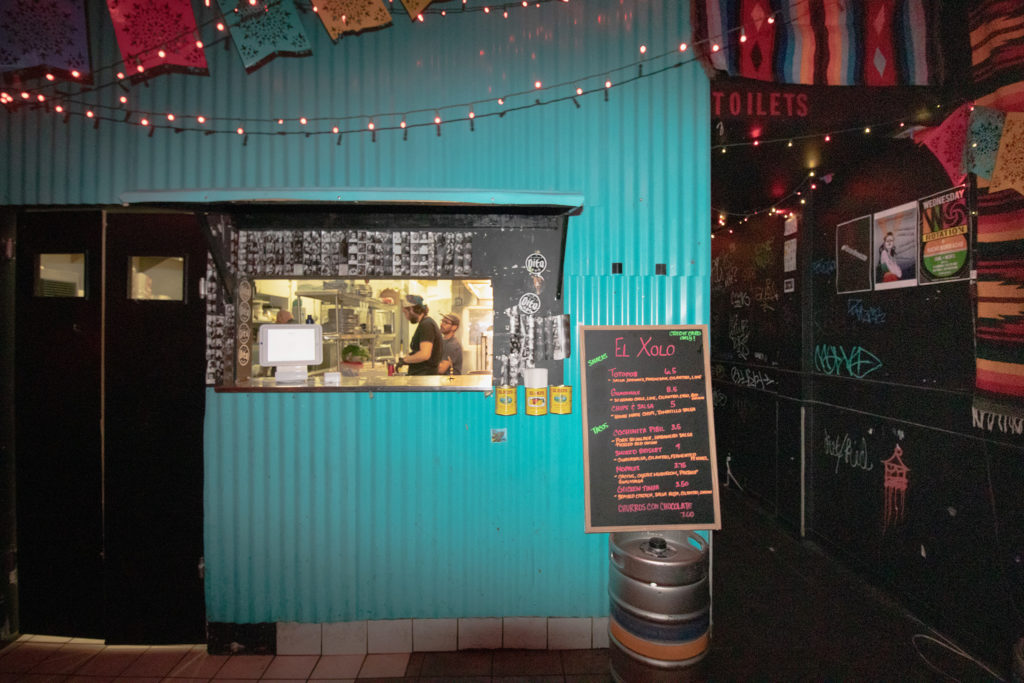 Inside the bar "Rancho Borracho," the hole in the wall "El Xolo" accompanies the experience with fantastic snacks and tacos.
---
The menu was unique and drew from several regional foods to condense into a single taco. Colorful and flavorful, the taco itself yielded a pleasantly flavorful bite and stood apart from being just another generic taco from any run-of-the-mill joint.
I had to agonize over which taco I wanted, because a single taco was so expensive it deterred me from navigating the cramped restaurant to try and order any more.
A single taco was upwards to $4, so ordering four tacos plus tip would be upwards of $20 for four tacos.
Normally, I would happily drop a few more bucks for tipping, but the service was abysmal. I've never felt so cheated while tipping a restaurant that served me over-priced food and treated me so rudely. While I at least still enjoyed my taco, that was not the consensus among other Seattle U students.
"The tacos at El Xolo were overwhelmingly average to me," Sophomore Matt Gess said. "I tasted the tortilla more than anything else, the meat tasted pretty bland. The sauce in it was probably the tastiest part, but it was very liquidy and most of it dripped out."
Sophomore Anna Petgrave had a similar experience.
"The meat in the smoked brisket taco that I ordered was tasty, but nothing that wowed me. It was a good taco, but it wasn't worth $4," Petgrave said. "That's all I can say about it. But my experience with El Xolo was buried in the shadow of Tacos Chukis."
Tacos Chukis, not even a block away from El Xolo, is more similar to your typical, authentic Mexican restaurant. The absolute worst part about Tacos Chukis is the long line to order, but it is unsurprising to anyone who has been.
With tortas, adobada (a rarity outside of Arizona), and horchata, there is something for everyone. I have never once had a bad taco from Tacos Chukis, and neither has anyone else I know. Because of this, however, it is hard to catch a table during lunch and the wait for food might get backed up, but it is absolutely worth the wait. In the meantime, grab a Jarrito or beer and enjoy the lively environment.
You know it is a good meal when the food arrives and the table goes silent—everyone digging into their food, mouths too full to talk. The only negative is that there never seems to be enough lime to accompany your meal.
Seems to me like Tacos Chukis is still the taco king in Capitol Hill.
The editor may be reached at
[email protected]