At long last, spring quarter is here. Classes seem more cheerful, plants and trees are in bloom, and the sun is returning to warm all of Seattle. And what better way to celebrate the best quarter at Seattle U than with a drink outside? Soak up all that springtime has to offer on these bar patios, handpicked for every occasion.
The College Bar: Captain Black's
Turning 21 has taught me many lessons, and while some should stay out of print, there is one worth sharing: being 21 is… expensive.
Thankfully, there are a good number of cheap bars nearby, providing financial safe havens for us poor students. One such watering hole is Captain Black's, just down the hill from campus. With a daily happy hour until 6 p.m., affordable drinks, and a full menu of street food,Captain Black's provides everything a recent twenty-one-year-old could need at a price they can handle.
But this well-loved establishment has something else that other options just can't match: not one, but two patios. The front deck feels like a friend's porch, and the back deck is well lit and spacious, jutting out over lower Capitol Hill for a great view of downtown and the Olympic Mountains (though the Space Needle is hidden by an apartment building). Overall, Captain Black's is a top contender for your go-to summer hangout.
Worth the Walk: The Lookout
---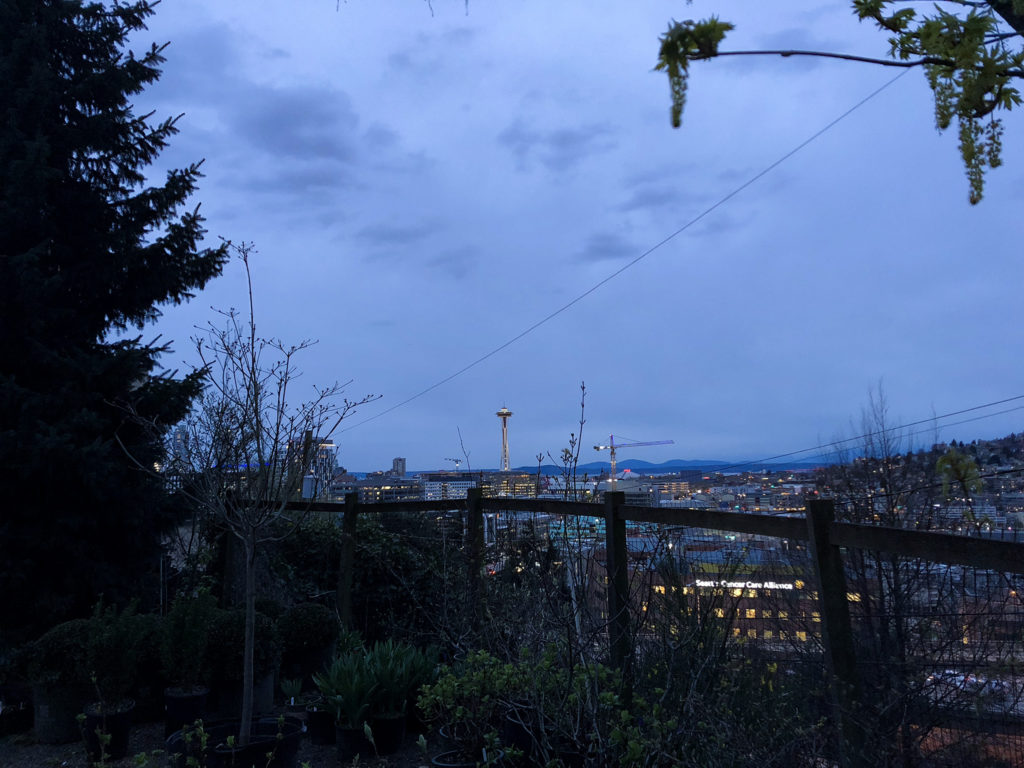 The view from The Lookout, located a few blocks from the north end of Broadway.
---
Located a few blocks west from the end of Broadway, this unique, cozy neighborhood hangout is about a thirty-minute walk from campus – but worth every step. The bar decor is fun and homey: scattered eclectic lamps give the room a warm glow as a pinball machine and jukebox hum in the corner.
The drinks are solid, the food tasty and satisfying, and everything served by the friendly staff is fairly priced at $9-10 for a cocktail. Even better is all- day happy hour on Mondays, though that's not the only weekly event. You can also look forward to Trivia night on Tuesday (which is surprisingly difficult but also rewards the last-place team with a free round of Rainier), live music most Wednesdays, and "Theraputic Thursdays."
Of course, what really makes The Lookout worth the trek is the view for which its named. Their beautiful and spacious back patio has postcard- worthy views of the Space Needle, Queen Anne, and Lake Union. Of all the patios I visited, this was the best by far for its greenery, size, ambiance, and view. So next time you feel like taking a stroll in the sunshine, consider heading across the Hill to The Lookout. I promise it'll be worth it.
The Hidden Treasure: Saint John's
---
The garden patio behind Saint John's is a hidden gem of Capitol Hill.
---
From the outside, Saint John's Bar and Eatery looks like most other Capitol Hill bars: hip and eclectic, somewhere between grungy and bougie. The drinks are creative and tasty and pack a punch (I'd recommend the refreshing Pamplemousse). Their prices aren't bad at $7-10 a drink, and their $2 Rainier happy hour is hard to beat.
But step past the bar and you'll forget you're in the middle of Capitol Hill. Tucked behind the 1905 brick apartment building is the quiet magic of Saint John's garden patio. Half the garden is occupied by a smattering of brightly-colored tables, with heaters along the back wall and a long wooden booth on the other side. The other half is a small hill rising up behind the booth, covered in shady trees, rocks, and ferns. Oh yeah, and dinosaurs. Dozens and dozens of toy dinosaurs are carefully arranged all around the garden as if lifted from the pages of the "I Spy" books of my childhood. So grab a fun drink and spend a spring afternoon making some new reptilian friends at this shady urban oasis.
A Bar to Impress Your Date: The Cloud Room
Chophouse Row on 11th Ave. is already a popular Instagram location, but perched atop the strip of boutique shops is a lesser-known spot worthy of any influencer's story: The Cloud Room. The chic and retro décor makes the whole bar and lounge feel like a scene in "La La Land." The beautiful patio seems to float over the Pike Pine corridor, with string lights woven into plants and glass fire pits to keep you warm.
Even more impressive than the setting are the drinks. Before crafting you the perfect cocktail, the cool, courteous, and charismatic Jay Kuehner walks you through a conversation to determine exactly what kind of drink you're in the mood for. No worries if you're a craft- cocktail newbie like me, either – you'll feel right at home with Jay, and learn a thing or two while you explore your tastes. Best of all, these custom creations won't break the bank.
While the Cloud Room frequently hosts events and mixers, I'd strongly recommend dropping by during a less popular time so you can fully take in the ambiance and enjoy a chat with the incredible staff. If the full charm of the Cloud Room can't help you get a second date, then I'm sorry, but I just don't think it's meant to be.
Sam may be reached at
[email protected]