A record-breaking snow storm hit the city of Seattle, and with ruthless wave after wave of snow flurries, Seattle University canceled campus operations on Feb. 4, 11, and 12, announcing late starts on several other days, as well. This, paired with professors canceling their own individual classes, has left students with unexpected free time and professors scrambling, unleashing a plague of cabin fever on the Seattle area, with no cure in sight.
"I haven't been able to go to work, so I've just been floating, and now I have a bunch of homework to do because I, like, forgot I had school," Third-Year Social Work major Jenna Abbassi said.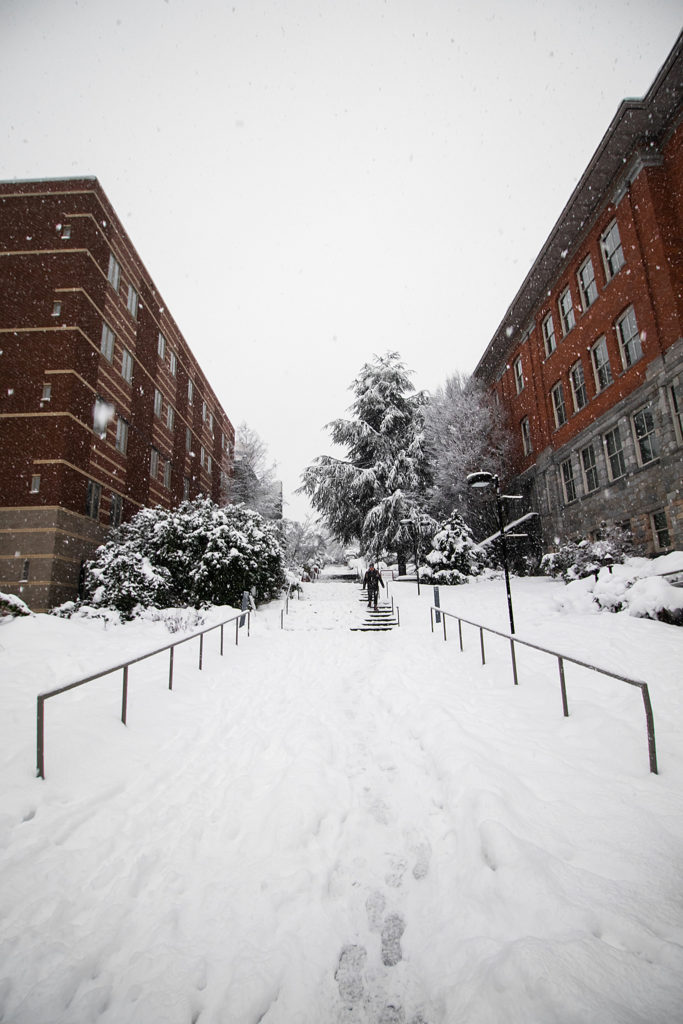 One of the stairways to campus covered with snow during one of the latest flurries to hit Seattle.
The decision to close campus requires consideration of both the weather and traffic, but Director of Public Safety Craig Birklid said that his primary concern is accessibility.
"We look at regionally, what's happening as far as people commuting in, but most importantly we look at what do the campus grounds look like," he said. "Can we get [students and faculty] into the parking lots; can we get them from the buses down the sidewalks into our buildings so they can go to class and get to work?"
After such consideration from Public Safety, Facilities, and the Office of the Provost, the university would decide whether to keep the campus open or close down non-essential operations, and then make the announcement.
Regardless of its decision, Public Safety and Facilities work to ensure that students on campus remain safe during snowy weather and cold temperatures. One of the primary steps they took was to clear paths to make sure emergency vehicles had access to campus. That way, medics and fire trucks were able to access the residence halls in the event of an emergency.
Though the university has worked to get those pathways cleared, the heavy fall of snow has made it difficult to clear all of the campus walkways for both students and faculty, resulting in several days of closure.
"About every inch and a half, two inches of snow, it takes about four hours to clear the campus," Birklid said. "Of course, as you know, we've had multiple days of snow, which has made that challenging."
So far, an average of 14 inches of snow has fallen across the Seattle area over the past week, according to The Washington Post. With Birklid's estimation of four hours per two inches, that adds up to 28 hours that facilities would spend clearing all of the sidewalks on campus. As of Feb. 12, however, Birklid was confident that the school would clear the snow in time for classes the next day.
February broke the record for the snowiest month in 50 years, so it's no surprise that Seattle was unprepared for managing such a storm. Across the city, Seattleites have been grounded, working from home or forced to take days off from work.
---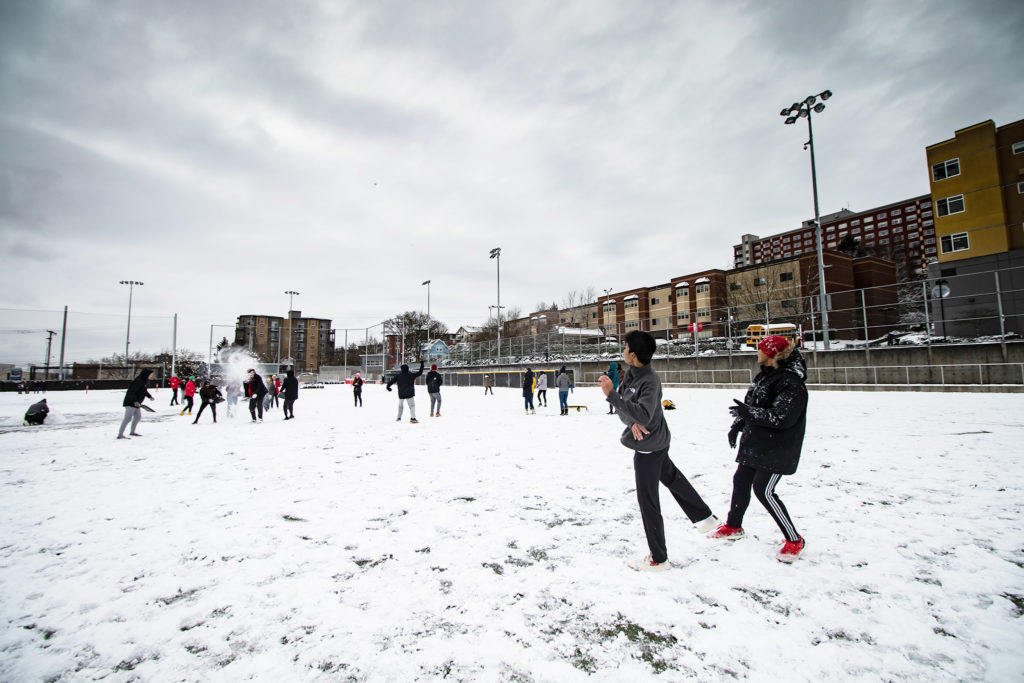 Seattle University students play in the snow during one of the most surprising snow storms in recent years for Seattle.
---
"I've never seen it happen like this," Abbassi said, citing that December of her fifth grade year was the last time she'd seen Seattle nearly as snowy. "I've never really had my life disrupted like this. I'm pretty bored of it."
Given the university's closure, faculty are no exception to the mandatory time off, though some university employees have continued to come to work, including many of Chartwells' employees.
Food service is considered one of the essential functions at Seattle U— many first- and second-year students don't have much cooking space in their dorm rooms, aside from a microwave and mini-fridge. In making snow- closure decisions, Chartwells has had to consider this need and the safety needs of their staff, who may not be able to commute safely to Capitol Hill.
"We certainly take into consideration the population that will need to be served, and then we also take into consideration our ability to have staff on-site," Chartwells District Manager Michael Graupman said. "The safety of our associates getting home and to-and-from work is certainly just as important as making sure that we're serving the community."
To work with this balance, Chartwells has prioritized Cherry Street Market as the main dining center on campus, then trying to staff the Hawk's Nest Bistro and the Cave.
"We make sure that we're open for the core meal periods and that we have stations open to offer variety," Graupman said. "We had managers stay in hotels nearby a few nights to make sure that we had enough hands to at least get the doors open and to be able to start cooking."
In this way, other employees have been able to take more time to commute to their jobs. As far as "non-essential" university employees, school closures have placed a financial burden on workers who have been unable to work as much as they need.
Abbassi works two on-campus jobs as a tour guide and an Arabic conversation group leader, and she hasn't been able to go to work because of school closures. Even more, she hasn't been able to pick up her paycheck with all campus offices empty.
Overall, this snow storm bewildered many out-of-staters with flurries they hadn't ever seen before, but after several days of cancellations, many students, like Abbassi, feel exhausted and anxious about all of the disorganization of surprise days off.
"It's like this whole weird limbo that I didn't ever think I would be a part of."
Josh may be reached at
[email protected]