Numbers to Measurements: Sémillon's Unique Background
You're walking down 11th Ave., heading towards the Fine Arts building when suddenly, your stomach growls and you have a hankering for some coffee (because living in Seattle, how can you not?). Right on the corner of 11th Ave. and Madison sits a quaint gem, Sémillon Bakery & Café, where foodies can unite over an apple turnover or an Instagram-ready avocado toast.
However, the café is far more than just yummy treats and drinks, it has a unique story. Sémillon has no culinary school trained baker, only Debbie Nam, a graduate of Northern Illinois University, whose background is in computer science. Hold the phone—computer science to baking? How does that transition occur? Well, for Nam, the driving force behind it was her heart.
Nam was a software engineer turned IT project manager. She worked for various organizations including Quaker Oats and British Petroleum during the oil spill, and got to see the engineering behind the cleanup. Even though Nam got to see all the incredible technological happenings, she said something was just missing. She found that her heart was no longer in computer science when she moved to Seattle about five years ago.
When asked why she no longer worked in IT and chose to bake when she moved to Seattle, Nam laughed and said, "mid-life crisis, that kind of thing."
Nam always enjoyed baking, whether it be with her kids or on her own. She took classes whenever she had the time to do so. She has been baking and trying out new things and experimenting with flavors and food since high school.
It was her family that suggested switching professions to baking full-time.
"You look at magazines, books, the internet and just collect so many recipes," she said. "My family was like why don't you just do what you love?"
The café is inspired by French cuisine, but she added, "inspiration is whatever tastes good. Our bakery products are quite different because they are not generic."
Now to tackle the question of how did Nam switch from engineering to baking? Originally, she was an art major, but realized realistically, it was not going to work for her.
"There has to be a good balance of what is going on right now and what your dream is," Nam said. "Go with a major that will earn something, and then later in life you can do something you're passionate about, like me."
She does not think the transition would have been possible without the support she received from her family.
"It took a lot of courage. My identity was a project manager for 17 years. It is really scary, but I have the financial needs and support system, so let's go do it. There is only one life."
---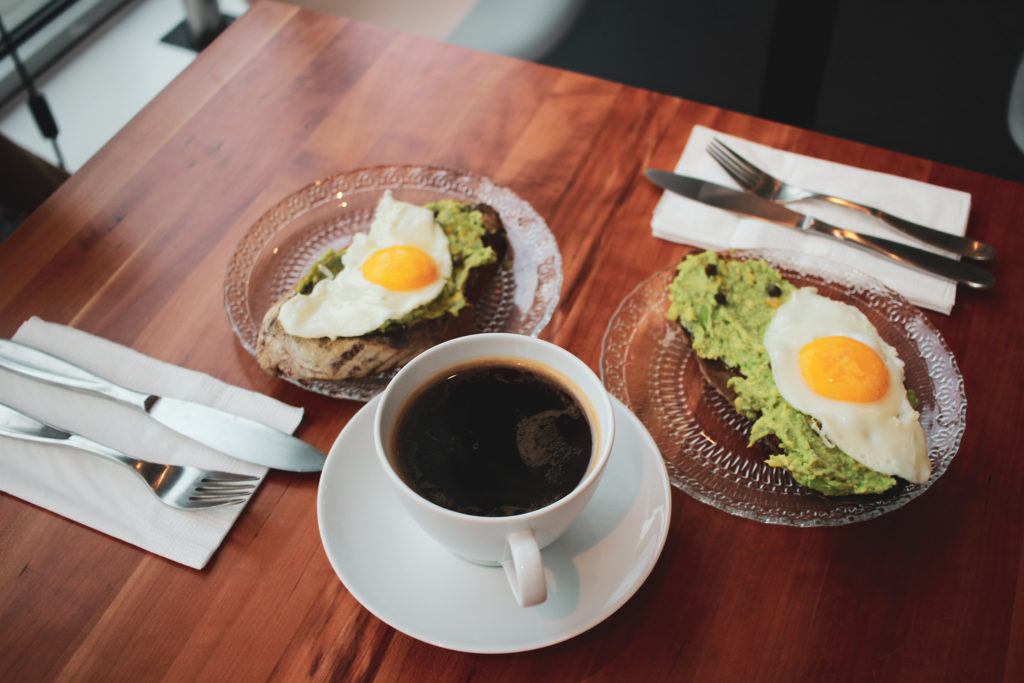 Delicious avocado toast and a sunny side up egg for breakfast at Sémillion Bakery.
---
Out of that, Sémillon was born. Nam went to work at commercial bakeries just long enough to learn how the mixers and ovens work so she could do it on her own.
Of course, baking is Nam's passion, but there is also more to the story of her bakery. She was just not into the corporate life anymore.
"This is my place. I need to please customers. I really enjoy face-to-face, it is instant gratification essentially because you actually make something, and somebody is enjoying it," she said. "In a corporation, you don't get that instant gratification."
The engagement is priority for Nam, and she loves the fact that she sees happy people walk into her bakery.
I can attest that customer engagement is her priority. Someone walked in and she already knew what to make him, asking if he wanted what he typically ordered. She greeted people by name, including myself, after meeting her only one time prior to our interview. Sémillon has a comforting atmosphere and the food and drink are no exception.
If you love coffee, you're in luck. If you are a tea drinker, you are also invited. I ordered a chai latte, which was perfect mix of spicy and sweet with a foamy top. I loved the richness of the drink, which I followed up with one of Nam's favorite pastries to make, the apple turnover. The pastry was so fluffy, flaky, and crispy with that delicious apple filling Nam loves to caringly make.
If your mouth is watering, which it should be by now, Sémillon is the spot. Especially for Seattle University students, because if you bring your ID card, you will receive a 10 percent discount. If you feel that you knead a pick me up during the long winter quarter, Semillion will be there for you.
The editor may be reached at
[email protected]