Enchanted Xmas Lights Up The Holiday Season
With Christmas trees up to 80 feet tall, giant light up ornaments, reindeer, and Santa in a glittering sleigh, Enchant lights up Seattle's Safeco Stadium with over two million lights from Nov. 24 to Dec. 31.
Enchant made its first debut within the United States in Arlington, Texas last year. This year, Enchant expanded to Seattle. This season, Seattleites can get lost in the world's largest christmas light maze while unwrapping new holiday traditions in Seattle's first, most scenic Christmas wonderland.
Enchant was brilliantly set up within Safeco's covered stadium to protect all wonderland adventures from the outside elements. Your ticket gives you two hours inside the stadium to wander and explore the magical wonderland. Within Enchant, you can expect to find various vendors set up in booths along the upper level concourse. These Christmas market vendors sell and display gifts ranging from home decor and gourmet foods to jewelry.
---
---
There are other exhibitions throughout the event, as Santa and Mrs. Claus will be hanging out in their beautiful golden palace, awaiting all the eager attendees. Head down the stadium stairs to the field and get lost in the World's Largest Christmas Light Maze. The maze is decorated with charming light up tunnels, diamonds and of course, Santa's reindeer.
Upon entering the maze, Enchant helpers handed out a postcard from Santa with the note: "After a terrible snowstorm hits the North Pole, Santa wakes to find all of his reindeer are lost inside Enchant, a hidden pocket of visible magic. Come explore the World's Largest Christmas Light Maze, and help Santa find his nine missing reindeer in time to save Christmas!"
On the other side of the postcard, nine of Santa's reindeer are listed above little scratch off circles. As you navigate through the maze and find Santa's reindeer, you can scratch off the circle below each respective circle.
After you finish the maze, you can head over to the 350 foot ice rink and skate with your family and friends through a fun light up rink, right next to the maze.
Enchant offers discounted tickets for Jolly Days, three specific dates with tickets for $25/$20, and Merry Hour— the last two hours of the night—for $27/$20. Enchant also offers family pack deals for two adults and two children for weekend passes, weekday passes, Jolly Days, and Merry Hour.
VIP tickets are more expensive, but include an all-you-can-eat dinner and dessert bar with seating in an exclusive bar area, with alcoholic drinks available for purchase, and VIP access to Santa for visits and photo-ops. VIP weekday passes are slightly cheaper than the VIP weekend passes, but are $65 for children, $85 for adults, and $240 for family pack.
Enchant 2018 was an incredible first time experience. Back home in California, my family has the holiday tradition of visiting San Jose's Christmas in the Park event every year. I used to look forward to spending the night with my family for the chance to explore the different booths and vendors set up along Mistletoe Row.
This year, living away from home, I was able to experience a different holiday experience with Enchant. I really enjoyed navigating through the maze and getting lost within the stunning light up sculptures. While trying to help find Santa's reindeer, I found adorably decorated nooks perfect for individual and group pictures. These staged photo areas are both hidden and in plain sight, and can be found throughout the entire maze.
---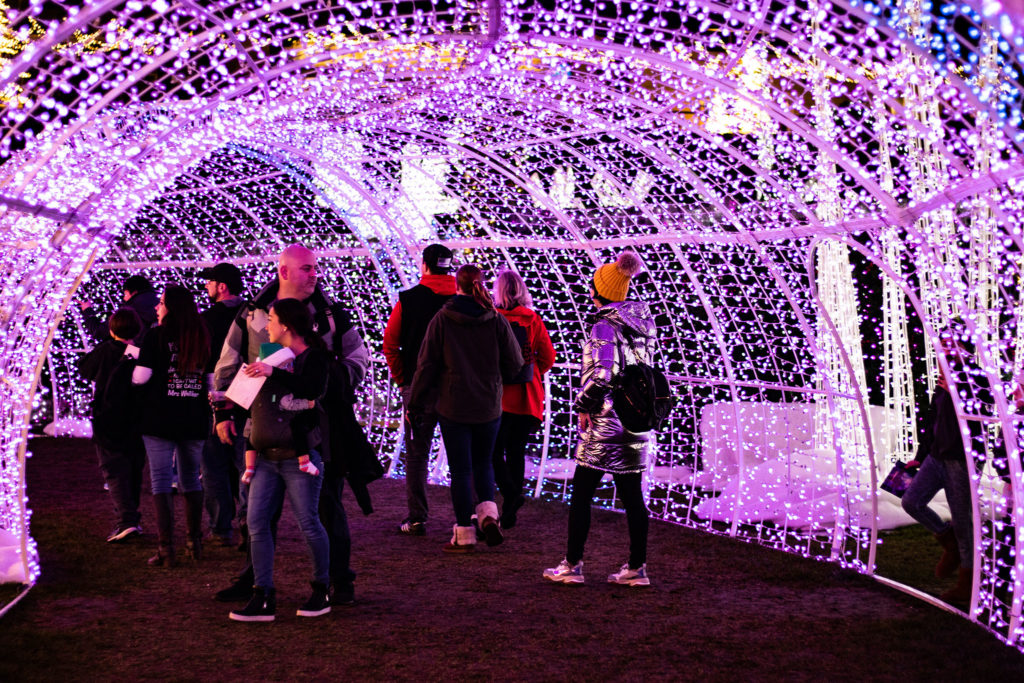 People check out the Christmas light displays at Enchant Christmas, located at Safeco Field.
---
Enchant was a really cool experience, however it fell a little short of what I had originally expected. With weekend tickets priced at $33 per adult and $24 per child, I found Enchant to be slightly overpriced compared to the overall experience. The lights and towering Christmas trees were definitely something I had never seen before and thoroughly enjoyed, but Enchant wasn't much more than that.
I enjoyed browsing the Christmas Market and even found a few gifts for family and friends; however, I wouldn't buy a ticket just for the market. There aren't very many vendors, and you can find all the products showcased online or in stores.
Despite being a little disappointed with how much money I spent on tickets, I still had a wonderful time. The biggest thing that made this whole trip worth it for me was the fun pictures I took with my partner. There are so many areas for cute holiday photos— something I find pretty difficult to do on a regular basis, so having the excuse to take fun pictures together definitely made my night.
If you can afford a ticket and want to experience Enchant, I highly recommend you do so. You won't be disappointed by the lights and beautiful theme. However, if $33 is too high for your holiday budget, don't worry, you're not missing out on anything super spectacular.
Round up a group of friends or family and head on over to Seattle's first ever Enchanted Christmas. Don't forget to help Santa find all of his missing reindeer and stop by the Christmas Market for a few holiday gifts.
Kaela may be reached at
[email protected]