Office of Multicultural Affairs Hosts First Queer Friendsgiving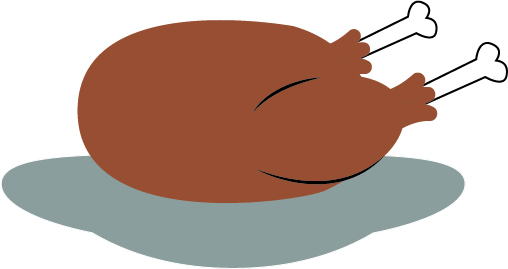 "When I heard about Queer Friendsgiving I thought about a safe space for our queer folks on campus to celebrate Thanksgiving," Rita Manalastas said. "Especially for those who can't go home for Thanksgiving."
On Nov. 13, the Office of Multicultural Affairs (OMA) hosted a Queer Friendsgiving event, planned and organized by a student committee. Manalastas, a second-year nursing major, was a member of the committee. Manalastas said that she had heard that Tyrone Brown, assistant director at OMA, was looking for volunteers to help organize an event, and that's when she first reached out. Initially, it was only her and the OMA staff working on what came to be Queer Friendsgiving, until Manalastas put out a call on social media and additional students joined the team.
Manalastas started becoming involved in the Seattle University LGBTQ+ community when she became an Orientation Advisor and signed up for the LGBTQ Open House during Welcome Week. The Open House consisted of multiple clubs and organizations, including Queer and Trans People of Color, Triangle Club, and Health and Wellness Center. It was hosted by OMA to showcase to new students the resources they have available at Seattle U.
After her involvement in the LGBTQ Open House, Manalastas became interested in having a more direct role in similarly themed events, which is how she became involved with OMA in planning Queer Friendsgiving.
The event itself was intended to be a casual and welcoming environment, according to Manalastas. Once people began to enter, they received plates of Thanksgiving-themed food provided by Chartwells. Once they found their seats—either on the floor or at a table—the guests were free to mill around and socialize with each other. There was a photo booth, a raffle for a gift card to Central Co-Op, and karaoke.
"I heard a lot of people saying [at the meal] that a lot of our students can't go home and feel safe during Thanksgiving because of their identity," Manalastas said. "This is a space to be safe."
Queer Friendsgiving primarily served as a community gathering for queer students to feel comfortable and safe, but it also promoted OMA's new food pantry, which launched this year. In fact, a canned goods donation was required for entry to the event, in order to stock the pantry's supply. Brown was interested in the intersection between their event and food insecurity, believing that an event like Queer Friendsgiving was a perfect opportunity to let the attendees know how the event was funded.
"Funding from the food pantry is paying for this [event]. Because it's all aligned with this whole thing of food insecurity, and we're using Queer Friendsgiving to highlight it," Brown said.
The student planning committee said they were happy that OMA's food pantry program was able to fund their event, especially given that it is a new program that officially launched Fall Quarter.
Queer Friendsgiving was a debut event at Seattle U, and the planning committee hopes to make it an annual tradition with continued support from OMA.
Manalastas said she was excited to work with OMA in the future, namely in the upcoming Queer Prom. Nic Lee, a graduate program coordinator at OMA, is planning this event, scheduled to take place in winter quarter. Although the details on the upcoming event are still in the early stages, Manalastas imagines it to be a more formal affair than Queer Friendsgiving.
"Queer Prom will kind of be like Fall Ball, but specifically for our Queer Community," she said.
Manalastas and the other members of the student committee firmly believe that the intention of community-building through these inclusive events is what makes Seattle U a unique campus. They all recognized the importance of student leadership when it comes to inclusivity at these events.
"We are so grateful that OMA gave us the opportunity to put on such a great event for LGBTQ+ members of the SU community," second-year Nursing major Michelle Yee said. Yee was also a member of the planning committee.
Above all, the organizers saw the importance of creating spaces where students can express their whole identity and feel a sense of community they may not feel elsewhere.
Asma may be reached at
[email protected]
Leave a Comment