Mackle-No-More Fast Fashion
The thrift shops of Seattle are the stuff of legends—or famous Macklemore songs. Seattle's second-hand hype, the musical muse of Macklemore's 2012 hit, remains a staple of fun and fashion for Seattle University students.
Third years Renee Soliman and Andrew Manley have cultivated a collective and eclectic closet during their weekly ventures to the thrift shops. Inspired by her older sisters vintage finds, Soliman built her wardrobe around second-hand vintage stores once out on her own. Manley entered onto the thrifting scene in high school looking for marked-down ski gear, finding more unique looks not found in normal stores, bit by the thrift bug since then.
---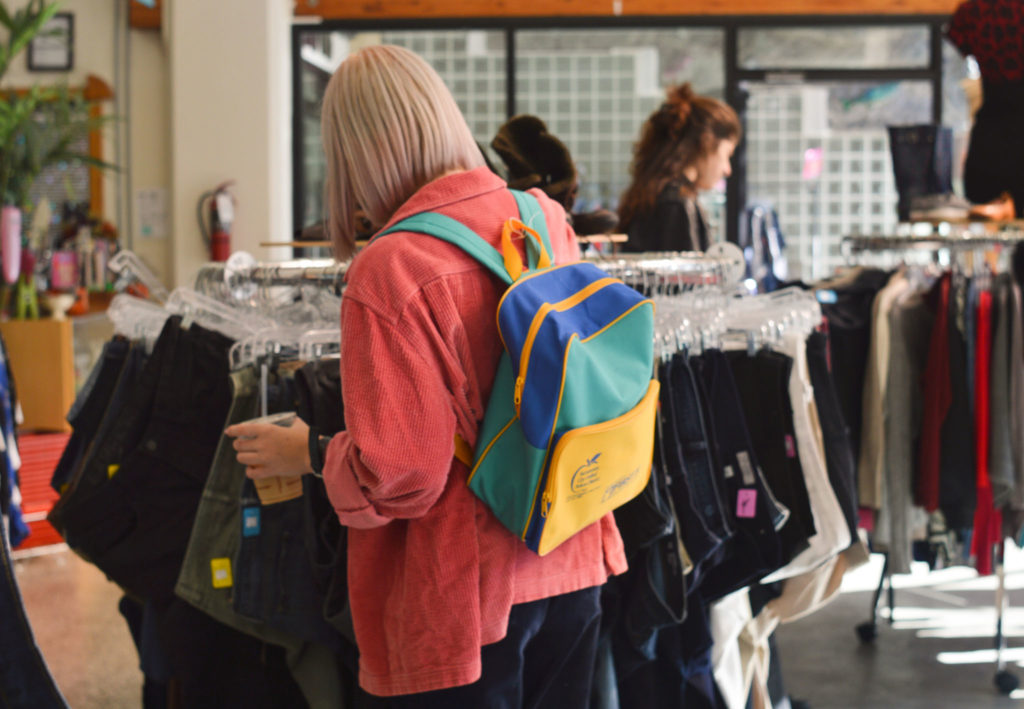 Only got 20 dollars in your pocket? Go pop some tags in Capitol Hill's many local thrift stores to search for funky, affordable finds.
---
"Especially here in Seattle, there is a lot of thrift shopping available, so that makes it easier to get into," Soliman said.
The duo frequents the massive International District Goodwill, noting that the Capitol Hill Goodwill is usually more expensive. The International District Goodwill is not just a large Goodwill, but it is the largest Goodwill in the U.S. On the Hill, the higher-end vintage shop, Rove, is a favorite stop for "special occasions," as well as the Lifelong thrift store, which has affordable fashion that also supports individuals with HIV/AIDS and other chronic conditions.
"Flea markets are great. For a good, dense place that is not overpriced, the Fremont Market on Sunday mornings has a lot of choices," Manley said. "The people have picked [the clothes] that are more desirable, so they charge a little extra but nothing outrageous. It's a little more [expensive] than Goodwill but less than most of the other stores on Capitol Hill."
Mastering the perfect grunge-hipster facade of Capitol Hill cost a pretty penny at the second-hand stores in the neighborhood. Abigal Thomas, a junior Art History and Marketing major, finds her thrifting options limited by the expensive options around campus. Instead, she takes her thrifting talents and rubber gloves to the Goodwill Outlets, affectionately referred to as "the bins," due to the piles and piles of reject clothes that fill the bins.
"The bins are so cheap. It's where Goodwill clothes go to die, it's like their last chance [before being thrown out]," Thomas said.
She stops into thrift shops every other week, but makes the trip to the Goodwill Outlets in SODO about every other month. She spends about an hour combing through trash and clothes, and buys clothes by the pound. Thomas's most recent thrift from the bins includes a 99 cent rug. Thomas makes an effort to make sure the cheap value doesn't override logic.
"You kind of are shopping 'ethically' by thrift shopping. I mean Goodwill is not the most ethical, but you're still buying into consumerism and capitalism by going past a point of reason," Thomas said.
Saraya Ittidecharchoti is an English Creative Writing major and sustainable fashion enthusiast who engages with sustainable fashion culture while working for Moorea Seal, a store that represents more than a hundred other designers that practice sustainable ideals. They make their jewelry in house and Ittidecharchoti practices sustainable shopping in her own life.
"There are many approaches you can take depending on what you want to accomplish by shopping sustainably. If you are trying to reduce your waste or reduce production, then you can shop second-hand, like thrifting, which is a good way to be sustainable because you're not adding to more resources being used," Ittidecharchoti said.
Through shopping second hand, buyers limit the pollution caused by the production and waste of the fashion industry. There's less dyes being used, less water for raw materials, and less energy harnessed to produce and ship clothing.
Although thrift culture has certainly boomed in the last decade, Ittidecharchoti is cautious of the effects of such popularity.
"One of the problems with shopping second hand is that people still view that clothing as disposable in the same way that you would purchase new ready-to-wear clothing," Ittidecharchoti said.
The cycle of thrift clothing does not stop at a purchase, and is dangerous when consumer buy clothes for a few wears, only to be thrown away or donated back in the future.
"When you donate a lot of clothing to thrift shops, that could actually have really harmful effects on other countries because a lot of the clothing you donate doesn't actually get sold, it gets shipped somewhere else. That actually displaces the economy and also the workers in that country, because now it's cheaper for people to buy clothes that are shipped from other places than it is to buy clothes that are actually manufactured there, like local artisans," Ittidecharchoti said.
Ittidecharchoti thrift shops by looking at each item as a long-lasting purchase, making a list of her sought after items to ensure she is not buying an impulse purchase. Since she shops for specific items, Ittidecharchoti favors the burgeoning online shopping scene of second-hand finds that can be accessed easily in apps, like Poshmark. It is easier to read up about clothing items or on a brand's sustainability philosophy.
Before buying those perfect acid-wash denim jeans for $5, or a windbreaker your mom insists she had in her closet if only you asked, do not just view these finds as your next Instagram post, but a new lived-in and loved-in look, uniquely you.
Jacqueline may be reached at
[email protected]