Clearly I'm not Cut Out for This
Next time you run into a member of the Reserve Officers' Training Corps (ROTC) on campus, tell them thanks, give them a hug, buy them a drink or all of the above because they deserve it. I had the experience of spending the day—half a day because I am weak and couldn't last any longer—in the boots of ROTC students as they spent the weekend conducting training exercises outside Joint Base Lewis- McChord near Tacoma.
I have absolutely no military experience whatsoever, but have many proud members of my family who have served all branches of the armed services. As a city kid who grew up in a suburb outside of Portland, I had not had any sort of experience that remotely resembled military training. So I jumped on the chance of spending the day with members of Seattle U's ROTC program, and getting to experience just a taste of what they go through during a typical training session.
I spent six hours in full gear shadowing cadets (trainees in the armed forces) as they participated in various exercises and missions. The first sign that I was in for a tough day began when I had to arrive at the ROTC office on campus at 4:30 a.m. on a Saturday to collect my gear for the day. I am willing to call anyone who wakes up before 9 a.m. (or noon) on a Saturday a hero, but in my opinion, this was rather extreme, even for the Army.
---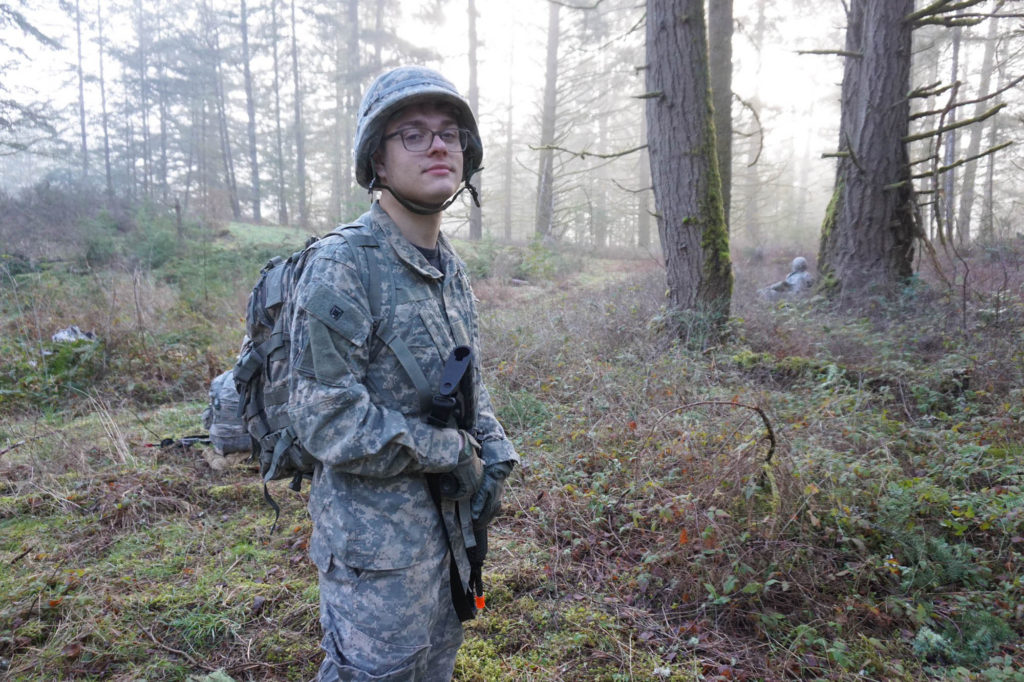 Spectator writer, Jared Fontenetter, recieved the opportunity to partake in missions with SU's Brady BN ACo 1st Sqaud.
---
As soon as I arrived, a cadet handed me my gear and told me to change into my camouflage uniform for the day. I proceeded to put it on wrong, which meant the cadets had to coach me on what proper uniform code is. After being fitted into the proper attire, I was then given the run down by first year Cadet Jack Hoheisel on the matter of food. I was given my rations, which consisted of "Veggie Crumbles w/Pasta in Taco Style Sauce."
The meals in the Army are meant to, in his words, "ensure you're clogged up on a mission" which means you will not be having a proper bowel movement for quite some time after the meal is consumed.
Hoheisel further explained that the Army also supplies laxative gum in the bottom of the ration. The gum is meant to be chewed only when you have enough time to properly relieve yourself in the field.
Upon arrival I was immediately assigned to my squad for the day (I assume they all drew straws and my squad lost), along with a BB gun that is designed to replicate an M4 automatic weapon that would be used in actual combat.
I did not receive any BBs, which goes to show the level of trust the military has in me operating a weapon but at least I looked official. My squad received their mission assignment and then we were off. I followed my squad as they planned out and conducted two missions: the first setting up an ambush and the second conducting an attack on enemy forces. For the ambush we took up a position on the side of a road and waited for an enemy patrol to arrive. Once the enemy was in the desired position, the squad leader gave the signal to engage by opening re and all other members of the squad sprang into action.
The second mission I participated in consisted of tracking down the location of enemy forces using a compass, coordinates and map, and launching an attack once the squad came across the enemies' position.
I was absolutely no help whatsoever in either of these missions, but I felt exceptionally cool in my camo hiding as my squad "took down" enemy forces by only ring blanks of course.
At this point, it was obvious that the military was not my calling, but I was curious why others at Seattle U had chosen to sign up for ROTC, especially knowing that they would have at least an additional four years of service after they graduated.
One cadet, senior Mechanical Engineering major Michael Moser, said that for him, it was about giving back.
"I think everyone should do some sort of service at some point." he said. "It doesn't necessarily have to be in the military either, I just see the value of giving back and serving others."
Hoheisel explained the deep reverence and duty to country he feels through ROTC.
"When most people look at the flag, they see a flag representing America," Hoheisel said. "When I look at the flag, I look at the men and woman who gave their lives for that flag and our country. The only way I see to repay them for that sacrifice is to serve."
Regardless of the motives behind service, it was clear to see that many students participating in ROTC at Seattle U felt a calling to serve their country and uphold the historic and important tradition we have at Seattle University.
The ROTC program at Seattle U was started in 1951 and has since produced over 9,400 graduates including Major General Patrick H. Brady, a Medal of Honor recipient for his service in Vietnam. In the ROTC office on campus there is a special room called the "Hall of Valor" which is a memorial to the eight graduates of the program who lost their lives in service to our nation.
After participating in their training for a day, I—a self-proclaimed city-kid with no prior military experience— developed a deeper admiration and respect for the cadets on campus and the extensive training they endure over the course of four years to prepare them for service after graduation. After witnessing the tradition and history being upheld through ROTC on campus I have no doubt that the program here at Seattle U is alive and well.
The editor may be reached at
[email protected]
Leave a Comment