Witty, well-spoken, loving, creative and fabulous are just some of the words Robert Duggan and Megan Castillo, Seattle U alumni, have used to describe April Jingco.
Jingco is a 2017 Seattle University graduate that works as Northwest Folklife's communications coordinator from nine to five. Outside her office hours, Jingco works with Duggan to run their Instagram plant business, Plant Mamas, and produces a podcast with Castillo titled "Growing Girls".
In Jingco's fourth year at Seattle U, she recognized she had not given herself time between classes, internships and extra-curricular activities to explore her creative interests. So, she took the time she had left in school to rediscover her passions with the help of her two friends and now project partners, Duggan and Castillo.
"I started to think about the things I [was] passionate about and how can I do these things that [was not] necessarily on that career path," Jingco said. "Plant Mamas and Growing Girls was a way for me to explore my creative passions with folks who were also passionate about those things as well."
One of these passions was plants. Jingco said her love for plants stemmed from a gift she received sophomore year.
"Specifically for me, I was experiencing a lot of mental health issues my sophomore year. Someone gifted me a plant and I realized the ability to take care of something other than myself was very life giving to me," she said.
---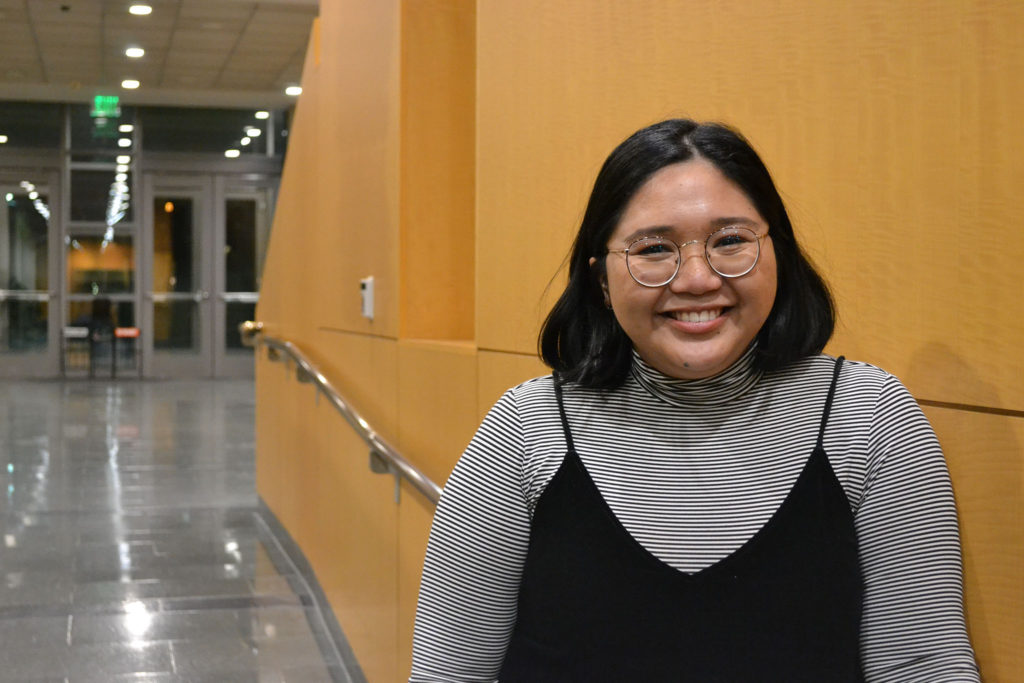 April Jingco is a co-founder of both "Plant Mamas," which sells affordable hand-picked plants in Seattle, and "Growing Girls," a podcast about a variety of important and/or fun conversations.
---
She quickly began accumulating new plant babies with Duggan. The two would visit plant shops, explore nurseries and find dishes at thrift shops that had the potential to house new life. Then on April 25, 2017, they officially started Plant Mamas.
"It was us taking a leap. We didn't really know what was going to happen…Plant Mamas started from our love for doing what we're already doing and then seeing if other people would be interested in supporting the things we were already doing," Jingo said.
Their almost year-long journey as business partners has greatly impacted Duggan.
"Learning how April works has been hugely influential in my life. She's so succinct and efficient in doing things. Her [communication and operation] in a business setting has always impressed me. She's just so professional and on it all the time," he said.
Similar to Duggan, Castillo has also enjoyed the time she and Jingco have spent creating Growing Girls.
"April was the best person to work with. She makes such an amazing partner and [we] work well together. I grow [and] learn so much and I get pushed to be better. Part of why I wanted the podcast was to have an outlet to work with April," Castillo said.
Growing Girls posted their first episode on Feb. 15, 2017. Jingco said it started with the conversations she and Castillo shared.
The two have covered topics like women in music and ways to practice self-care. They have also interviewed local Seattle artist, Emma Lee Toyoda, on their podcast. Currently, they are in the works of moving platforms from Soundcloud to make their content more accessible.
"We wanted to open that space and conversation for other folks who might be wanting to listen. It was [also] a reason for us to get together [and] explore topics [we] were interested in [or] knowledgeable about," Jingco said.
For Jingco, these two projects have not only allowed her to explore her creative interests but, they have also given her the opportunity to continue to learn new skills.
"None of us went to school for podcasting or [running] a small business. While we are expressing our passions [we are] also gaining a lot of knowledge and growth at the same time," she said.
Not going to school for these two projects actually held Jingco back for a long time because she felt that she lacked the needed training and creativity. She encourages others to just take that leap and follow that passion.
"Just go for it because if I didn't tell myself to just do it and have the encouragement of other folks, I wouldn't have realized how nourishing it has been for my life. If you just give yourself the opportunity to try it, you'll learn and gain more than you won't," she said.
Everything Jingco does, especially the projects she has taken on, she attributes to her family and the values they have instilled upon her.
"There is so much resilience and hard work that comes from the people in my family, especially the 'womxn,'" Jingco said. "My actions [are] rooted in the idea that many people before me have done the same thing or worked hard to allow me to do things that they haven't been able to do."
Hunter may be reached at
[email protected]