Salty and Sweet Ice Cream Arrives in Capitol Hill
It was Valentine's Day and the smell of love was wafting through the air, that is, if you think love smells like waffle cones and chocolate. I waited with a friend in the line that stretched out the door and wrapped around the building for a first taste of the infamous Portland-based ice cream shop, Salt and Straw.
The first Salt and Straw was opened in the 2011 by Kim Malek with a vision to create a local shop that supports the community. Her cousin Tyler who went to culinary school helped her in the company's creation and would be the mastermind behind many of the delicious and strange ice cream flavors offered at Salt and Straw. Since its founding, locations have opened in Los Angeles, San Diego, San Francisco and, most recently, Seattle.
Salt and Straw has become a creature of myth and lore. I remember my first time trying Salt and Straw when I went to Portland a couple years ago. The first thing that struck me was the strange and eclectic flavors displayed on the menu. There was a flavor that included cereal and one that had potato chips in it. The two Seattle locations also offer some strange flavors, like Beecher's Cheese with
peppercorn toffee.
Customer Aprille Perez thought that the best flavor is the Elm Coffee and Westland Whiskey.
"It tasted very Seattle because of the coffee-whiskey combo," said Perez. "They hit it right on the nail. It didn't taste like a cheap coffee flavor but like a rich roast in ice cream form. The whiskey flavor was subtle but added to the richness."
I decided on the Coconut Mint Chip Cupcake, one of the two vegan offerings. I was quite impressed with the flavor, it still had a creamy consistency despite being dairy free. The real catch was the large chunks of chocolate cupcake throughout the scoop. The chocolate was rich and flavor packed, making for a perfect desert.
---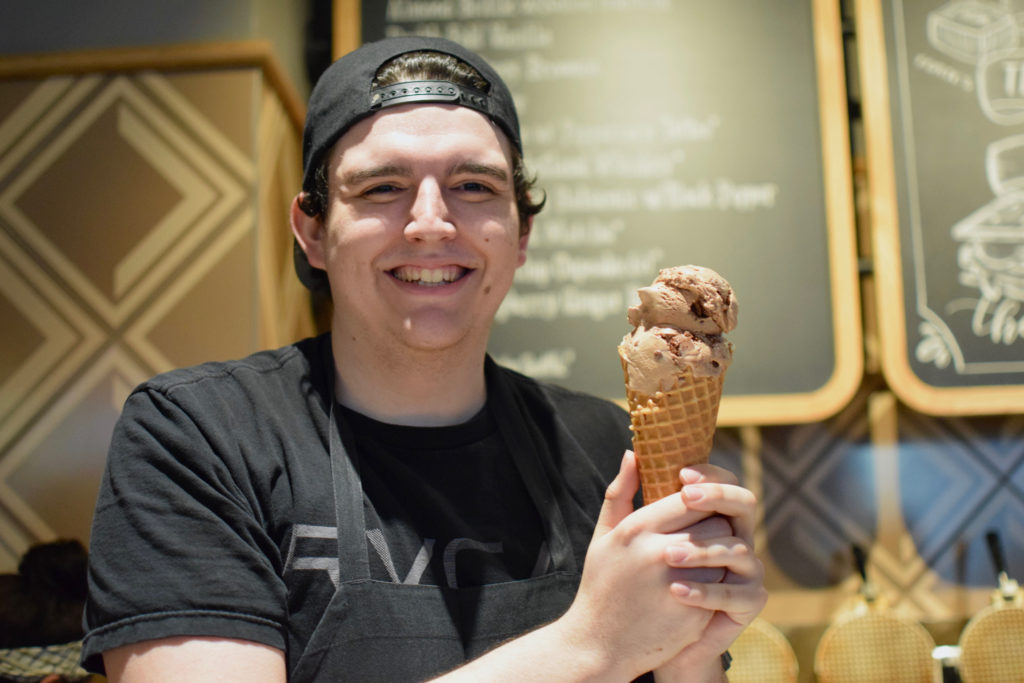 Salt & Straw employee and SU student Michael Spinney poses with a double scoop of Chocolate Gooey Brownie ice cream.
---
On Friday, Salt and Straw's second Seattle location opened its doors. Just a quick jaunt from campus, the Capitol Hill location resides at 714 East Pike St. I got there in perfect time, because soon after getting in line, a mass of people arrived and the line stretched out the door.
The Capitol Hill location offered the same flavors as the Ballard shop, so I mixed it up and got the Rachel's Raspberry Ginger Beer. I quite liked this flavor; it had a nice and light sherbet texture and a tangy yet sweet kick of ginger and raspberry.
I could honestly eat a whole pint of this stuff and not feel bad about it. It's not like I ever really feel bad about eating a whole pint of ice cream, but the light sherbet texture would even further justify this behavior. I used all of my willpower to stop myself from buying a pint from the freezer.
Many friends and couples around the shop had ordered the tasting flight, which was a sample style plate of four different ice creams. The sample plates were home to a variety of vivid colors from green to purple to pink.
The only negative comment I heard about the ice cream came from a girl in line who sampled the Almond Brittle with Salted Ganache. She let out a cough and crinkled up her face and complained that it was too salty. The shop is called Salt and Straw, but perhaps that particular flavor was a bit too reliant on the first half of the title.
I wanted to try every flavor to give a balanced and diverse review of my thoughts on the ice cream, but I haven't eaten more than a bite or two of dairy for months, and I really didn't want to deal with the repercussions of forcing my now weak and lactose intolerant body to consume a bunch of ice cream. I instead took to sauntering around and listening to people discuss their sweet treats. From what I could
tell, everyone was quite content with their frozen dessert.
I was really hoping I would find someone with the courage to try the Beecher's Cheese and Peppercorn Toffee flavor, but had no luck there. My friend didn't want to order it, saying that it seemed too savory for ice cream and it was a strange mixture.
Salt and Straw periodically cycles new flavors through their menu and, with the shop being so close by, there will be plenty of time to try the sweet, rich and downright strange flavors. If the long lines and comments of approval speak the truth, Capitol Hill just got its new hip ice cream shop. Frankie and Jo's and Molly Moon's might have to step up their game.
Bailee may be reached at
[email protected]
Leave a Comment